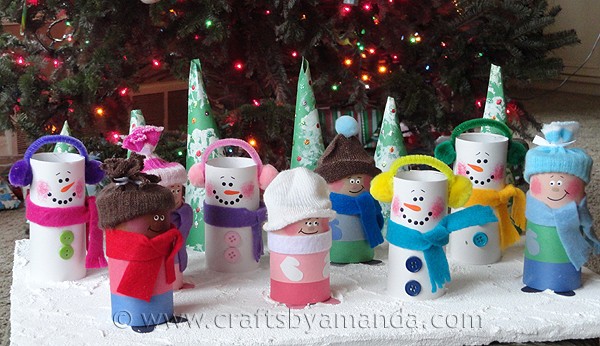 Cardboard tubes are one of my favorite mediums. They are definitely readily available and I always have some in my supply stash. They are easy to transform into fun little characters, and that's exactly what I was thinking when I came up with this little snow scene. Do you remember building snowmen with your friends? Going sledding? Having a snowball fight? I do. Fondly. :) And so the cardboard tube children and their snowmen were born.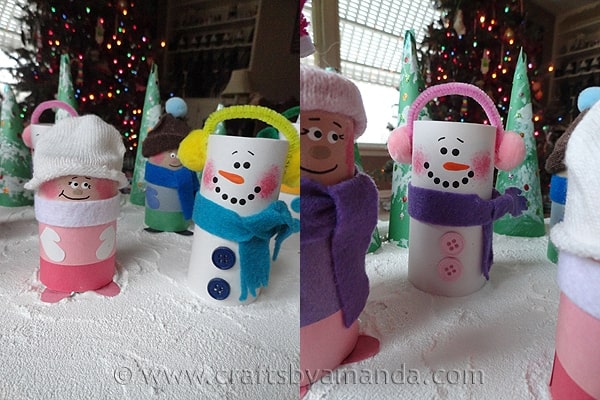 I've always loved crafting. Creating something from nothing is so relaxing to me. This particular project literally brought a smile to my face. While I was painting faces and cutting out mittens, I couldn't help but smile as they all came to life.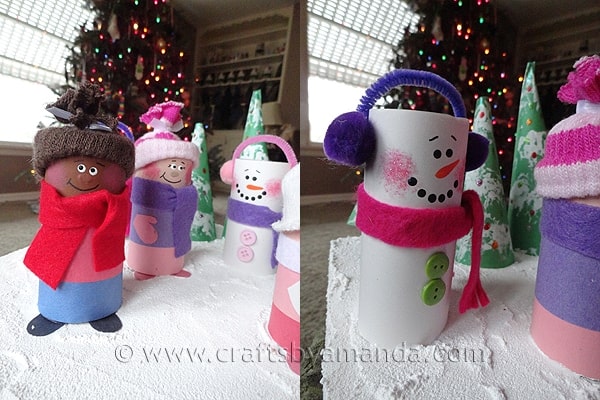 After all, they were all the center of a roll of toilet paper in a former life. What better reincarnation than as a happy child playing in the snow?
If you just want to make some with your kids you can simplify a bit, like I originally intended to do with these. But my creativity got the better of me and I found myself happily embellishing their little construction paper clothes.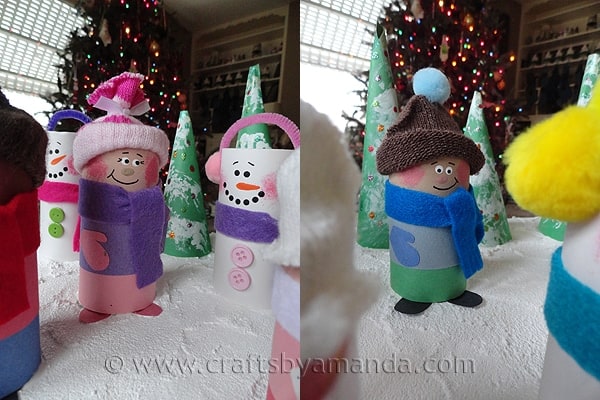 Who knew toilet paper could eventually bring me such happiness??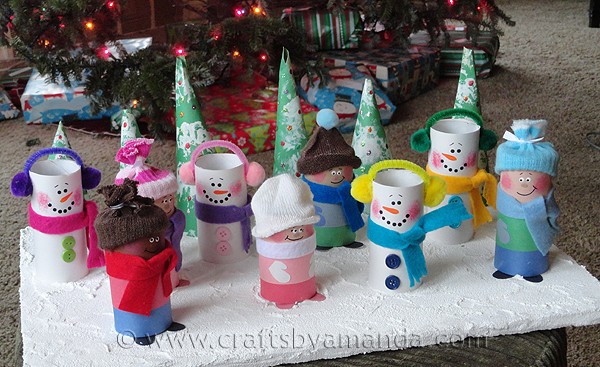 The tree line in the back is very simply green construction paper cones on craft sticks. I used different colors of glitter paint and dotted on the lights. The snow is just white paint blobbed on with a paint brush, all willy nilly like.

I painted the "flesh" area first for the faces. Then I wrapped them in construction paper. The children's hats are made from dollar store toddler mittens. You know, those pretty much useless and cheap mittens that don't keep your kid's hands warm and unravel after 2 or 3 wearings? Those. They're cute, and perfect for little hats. The scarves are just strips of felt, fringed at the end, another step you can skip to simplify this craft. The snowmen are wearing ear muffs fashioned from pom poms and chenille stems and I've added some buttons too.

To make these with the kids you can use googly eyes instead of paint and skip the extras like boots and mittens. I chose to cover a sheet of Styrofoam with Sno-Tex paint, you could skip that step too if you wanted too.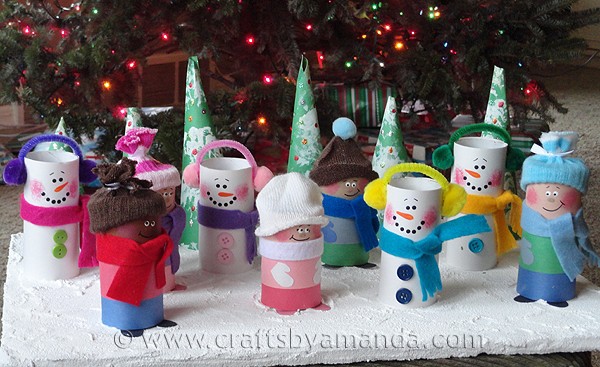 I hope you enjoy these as much as I did. Well, you probably won't enjoy them as much as I did, but I hope you like them anyway. :)
Latest posts by Amanda Formaro
(see all)