This is so easy. I made this several years ago. It can be made by kids and adults with minimal supplies. Nothing fancy, just a clay pot, a little paint, and some felt and you have yourself a project! She's really cute and looks great sitting on your Thanksgiving table :)
Get the pattern here.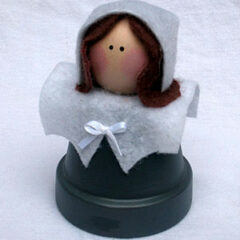 Print Project
Clay Pot Pilgrim craft
A lovely but simple decoration for Thanksgiving. These would make adorable place holders if you make several!
Supplies
2 1/4

" terra cotta pot

1 1/2

" diameter wooden ball

felt: white and brown

acrylic paint: gray

flesh, black and pink

thin white ribbon

hot glue gun

scissors

paintbrush

black marker

scruffy brush or roughed up cotton swab

patterns
Instructions
Paint clay pot gray and let dry. Paint a second coat and let dry completely.

Paint the wooden ball with flesh colored paint and let dry. Paint a second coat and let dry completely.

Using the patterns, cut out hair from brown felt and collar and bonnet from white felt.

When paint is dry, spray entire surface of pot with acrylic sealer.

Position the collar on top of the inverted clay pot. Hot glue the collar to the pot and use white craft glue to attach the ball to the collar. This will take some time to dry but will adhere much better than hot glue.

When the glue has dried, use a scruffy brush or roughed up cotton swab and a small amount of pink paint to add the cheeks. Be sure to dab off excess paint before adding cheeks, use a dry application. Use the black marker to dot on eyes.

Position the hair onto the wooden ball so that it frames the face. If you need to, felt stretches if pulled gently. Be careful not to rip it. Once in position, glue in place.

Position the bonnet on top of the head, centering it, tack in place with a dot or two of hot glue. Position the bonnet in place along the sides of the head, tack down in back and on sides with hot glue gun. Tie ribbon into a small bow. Trim the ends and hot glue to the center of the collar at the point.
Latest posts by Amanda Formaro
(see all)