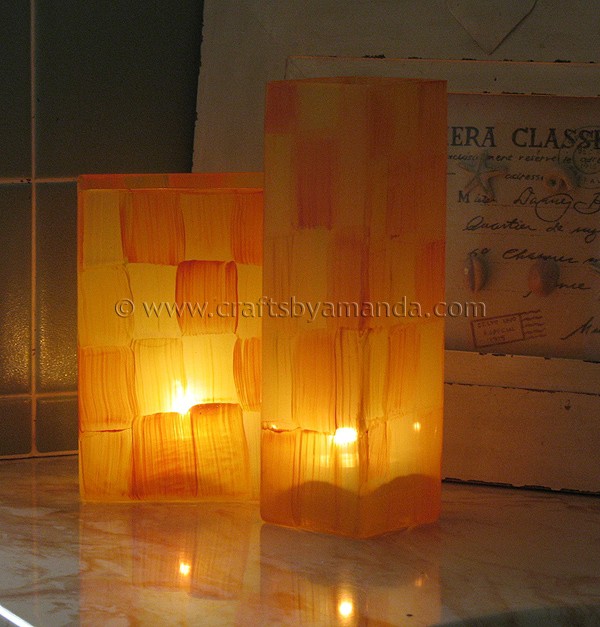 I was doing a little experimenting with Americana's Gloss Enamel paints when I came up with the fun design for autumn vases. I think these would be great for fall in general and would also look great lit up for Thanksgiving or even Halloween. The patchwork design is actually quite easy and the enamel paint will stay on even after being washed.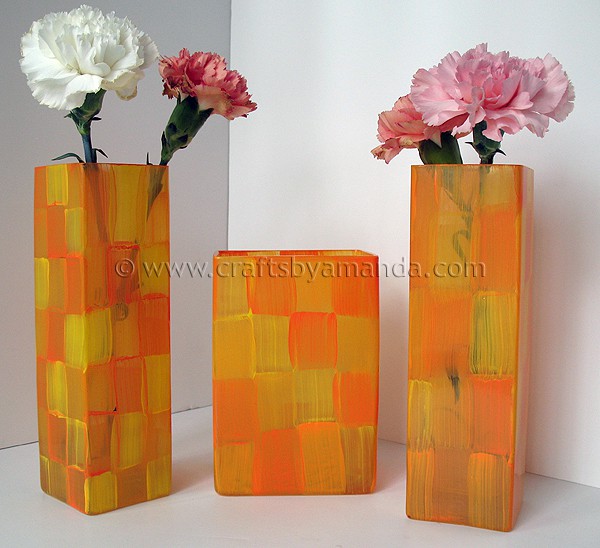 I actually made these vases a couple of months ago for Michael's via Decoart. I'm a Decoart designer and they asked for projects using their fabulous gloss enamels to be used in project sheets at Michael's Craft Stores. I did make a purple version as well for my daughter's room, but the lighter colors work a lot better for this particular project. Pink would be really pretty for Easter too!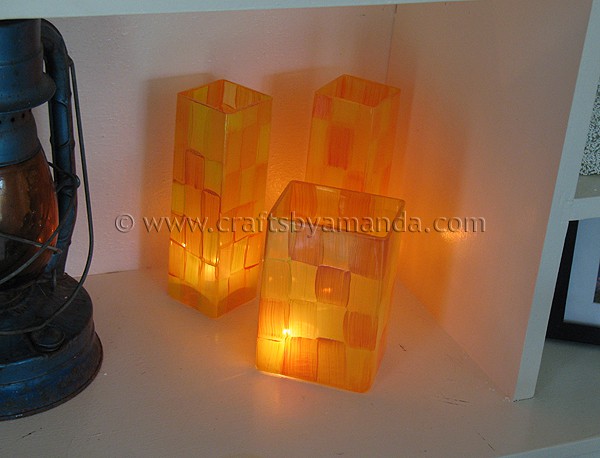 A fun variation for this would be to paint a Jack O'Lantern face over the patchwork.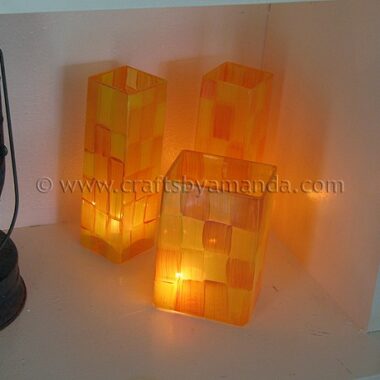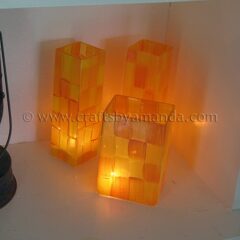 Print Project
Patchwork Glass Vases
Supplies
Americana Gloss Enamels Bright Orange

Americana Gloss Enamels Bright Yellow

Square Vase 8" H

Rectangular Vase 3"x4"x6"

3/4

" Flat paintbrush
Instructions
Be sure glass vase is clean and dry. Begin with the Bright Orange. Use a 3/4" flat paintbrush to apply a square of paint in the upper right corner of the front of the vase.

Continuing with Bright Orange, work in a diagonal pattern. Paint a square below and to the left of the first. Continue this pattern all over the vase.

Using 3/4" Flat paintbrush and Bright Yellow, paint a square next to an orange square. Continue adding squares, keeping in mind that you will have a third color to add.

Mix together equal amounts of Bright Yellow and Bright Orange paint. Use this mixture to finish the patchwork, filling in all the empty squares.

Follow the directions on the Gloss Enamels bottle for curing the paint.
Expert Tips & FAQs
Enamel paint will cure on their own, without baking, if left for 21 days. If you know you'll want to wash your project before then, follow the directions for baking the completed project.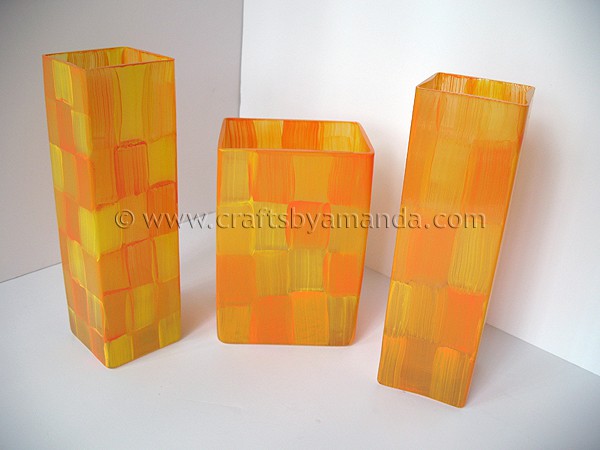 ');

Latest posts by Amanda Formaro
(see all)