Turn a recycled cylinder container into this cute bunny with your kids this Easter. Whether it's a Pringle's can, an oatmeal container, creamer package, or any other cylindrical container. Cover it with cotton balls and decorate! I made this several years ago with my kids and I think he came out pretty darn cute!
There are affiliate links in this post. That means if you buy something from that link, I will earn a small commission, but it won't cost you anything additional.
Cotton Ball Container Bunny
Make a fun and festive cotton ball container bunny. He's super cute and makes the perfect Easter decor and fun kids craft! You can decorate and use whatever colors your heart desires to make this craft. Use him as a centerpiece, or put him on a side table or bookshelf.
The best part about this cotton ball container bunny? He's super easy to make! That makes this craft easy and enjoyable for everyone! Plus, this constitutes as a recycled craft, and you can never go wrong with that!
Find more fun Easter crafts here!
You can find the printable list of things you'll need at the end of this post!
What you'll need
Potato chip canister or any cylinder type canister you have
White acrylic paint
Bag of cotton balls
Chenille stem
Wiggle eyes
Foam circles- for toes (white)
Lilac colored foam flower shapes (feet)
1 large white foam circle
1 pink foam flower shape
1 green medium foam circle
2 rectangular foam shapes (teeth)
Pink acrylic paint
6-8″ colorful ribbon of your choice
Scissors
You can find tons of different foam shapes here!
I hope you have a blast creating this easter craft!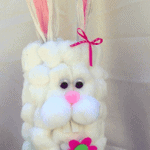 Print Project
Cotton Ball Container Bunny
Supplies
potato chip canister

or any other can you have

Liquitex Basics Gesso OR white acrylic paint

bag of cotton balls

3

feet

of white twisted paper

ears

1

chenille stem

any color

4

large white pom poms

cheeks and hands

1

small pink pom pom

nose

2

medium wiggle eyes

2

lilac colored foam flower shapes

feet

6

small white foam circles

toes

1

large white foam circle

1

pink foam flower shape

1

green medium foam circle

2

rectangular foam shapes

teeth

pink acrylic paint

6-8

" colorful ribbon

White craft glue

scissors
Instructions
Completely wash and dry potato chip canister. Paint outside of canister with one coat or Gesso. This does not have to look nice, it's just a thin coat of medium to help the glue stick better. Let dry completely.

Glue cotton balls onto canister, completely covering the surface. Start at the bottom, glueing cotton balls next to each other until your finish the row, ending at the one you started with. Repeat this pattern all the way up the can until the canister is completely covered in cotton balls.

Cut the twisted paper in half so that you have two equal lengths of 18" each. Open the twisted paper and stretch it out to make a wide ribbon. Fold in half, end to end to create the an ear. Cut chenille stem in half. Holding the ends of the ear together, start about 1 inch above the bottom of the end and secure them together by twisting the chenille stem around them. Repeat this for the other ear as well. Glue the ears to the inside of the top of the canister.

About 1/3 of the way down the can, glue 2 white pom poms on for the cheeks. Glue the pink pom pom just above and in between the two white ones. Glue wiggle eyes on above the nose.

Using the lilac colored flower foam shapes, cut all but three of the petals off. Glue small white foam circles onto each remaining petal for the toes. Repeat for other flower. Next, cut two small ovals from the large white foam circle. Glue onto lilac flower below the toes for the footpads. Glue the feet at the bottom of the canister as pictured.

Glue the small green foam circle into the center of the pink foam flower. Glue the remaining two white pom poms onto the bottom of the flower. Glue this whole thing onto the front of the rabbit above the feet. Flower should be sticking out above the hands.

Lay the bunny on its "back" and glue the teeth in place, underneath the cheeks. Tie a colorful ribbon into a bow and glue at the base of one ear.

Paint the center of the twisted paper with pink acrylic paint for the center of the ears.

Leave bunny in the lying down position, check for items that may have slid around. Put any wandering pieces back where they belong and let dry completely.
Amanda Formaro is the crafty, entrepreneurial mother of four children. She loves to bake, cook, make kid's crafts and create decorative items for her home. She is a crafting expert and guru in the kitchen and has appeared online and in print publications many times over the years. She is also the editor for the Home & Garden channel at Craft Gossip and owner of FunFamilyCrafts.com.
Latest posts by Amanda Formaro (see all)