During the past year I've been switching my home decor over to a more soothing coastal look. I love the beach and the serenity that comes with the sound of the crashing waves, the warmth of the summer sun and the soft sand between my toes. I was inspired to make these beach frames with a cottage slat look. They pair so nicely with these pretty weathered beach signs I made a while ago.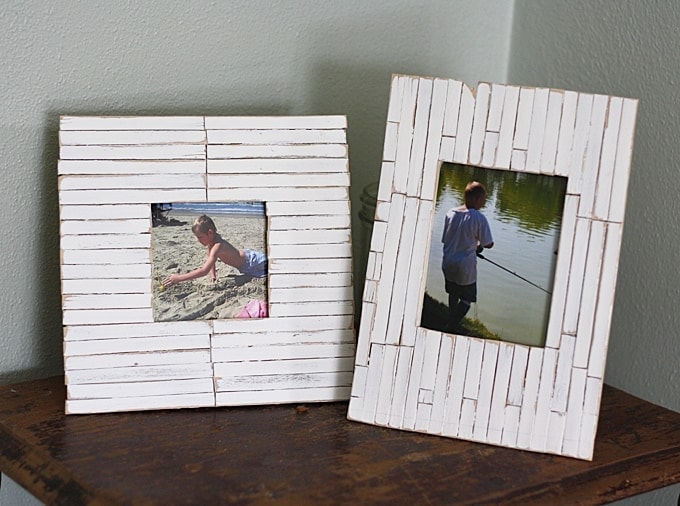 Beach Frames – Cottage Slat Style
About a year ago I did a project for my good friends at Prime Publishing. I created quite a few recycling crafts for their new ebook that debuted yesterday (Earth Day 2015). This Cottage Slat Frame is just one of the many projects you will find in the free ebook! I'll be sharing some of the other ideas soon as well. I love these beach frames, especially when I chose the photos to go into them. We've vacationed at the beach a few times and always had a good time; lots of great family memories. What a great way to display them!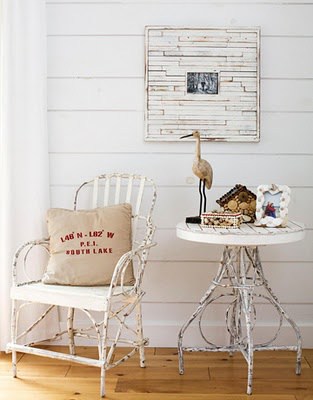 I was originally inspired by this photo of a frame made with some sort of wooden slats. I was only able to find the photo on other blogs that had no source for it. I'm assuming it was in a magazine or a catalog somewhere along the way. I have it pinned here on my "Thank you for the inspiration" board.
You may have seen these frames on my blog before. They made an appearance in this post for a thrift store bird makeover.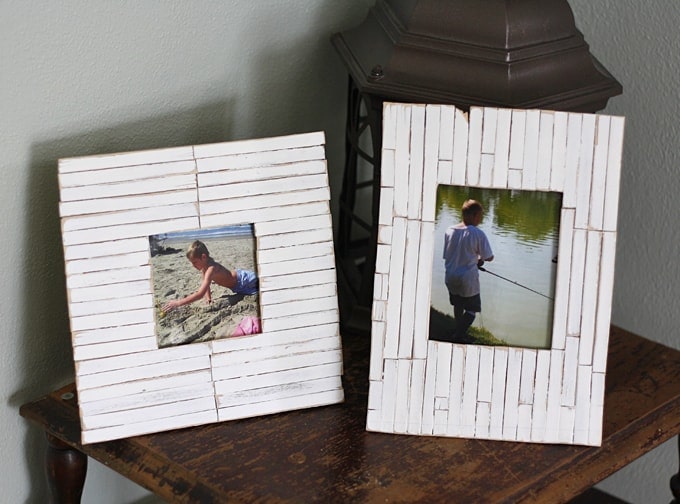 Beach Frame Tutorial
If you would like instructions for these cottage slat frames, please head over to Prime Publishing to download the free ebook!
Amanda Formaro is the crafty, entrepreneurial mother of four children. She loves to bake, cook, make kid's crafts and create decorative items for her home. She is a crafting expert and guru in the kitchen and has appeared online and in print publications many times over the years. She is also the editor for the Home & Garden channel at Craft Gossip and owner of FunFamilyCrafts.com.
Latest posts by Amanda Formaro (see all)