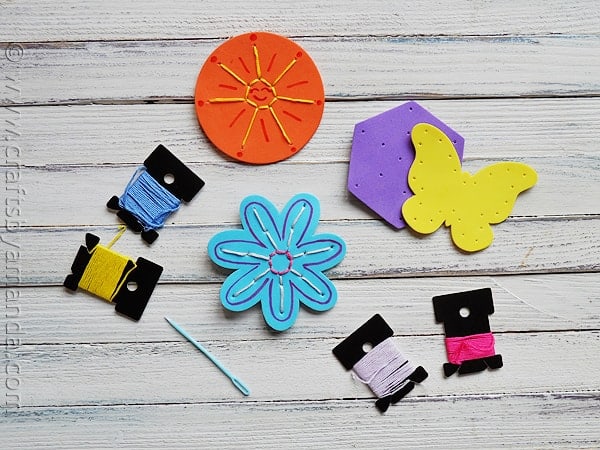 Sewing cards are a great way to get little ones started on the fundamentals of needlework. It's also a fun way to pass the time for a child home sick from school suffering from boredom. These are also great for traveling, keep them stored in a box or plastic zipper bag.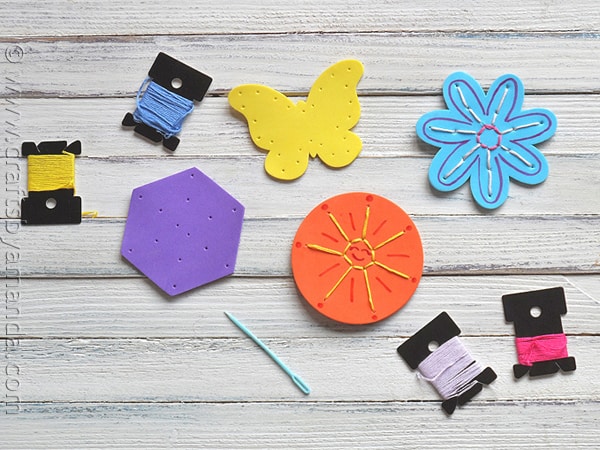 You can make your own shapes, buy big sheets of craft foam and cut out simple squares, or purchase precut foam from the craft store. Embroidery thread works great, but yarn will work too. Child sized sewing needles are available at discount department stores such as WalMart, and at all craft supply stores.

To make these, once you have your foam shapes picked out, create connect-the-dot designs with a toothpick.

Use a child safe sewing needle threaded with embroidery floss to create designs. You can also use markers to decorate!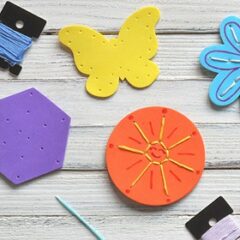 Print Project
Craft Foam Sewing Cards
Supplies
Craft foam shapes

Child safe sewing needle

Embroidery thread

Colored markers

Toothpick
Instructions
Use the child safe sewing needle or toothpick to poke holes in the foam pieces creating a design for your child to sew.

Thread the needle with embroidery thread and sew designs.

Use colorful markers to accent your designs!
Latest posts by Amanda Formaro
(see all)