This post isn't just about birdhouse crafts. You see, it all started with a walking buddy. My friend Christine and I had been walking a few mornings each week, and with that comes conversation. Christine is a local artist and also has a studio in town like I do. The more we talked the more we realized it would be fun to teach a class. And while these birdhouse crafts were definitely the outcome, it's just the beginning of something new and fun.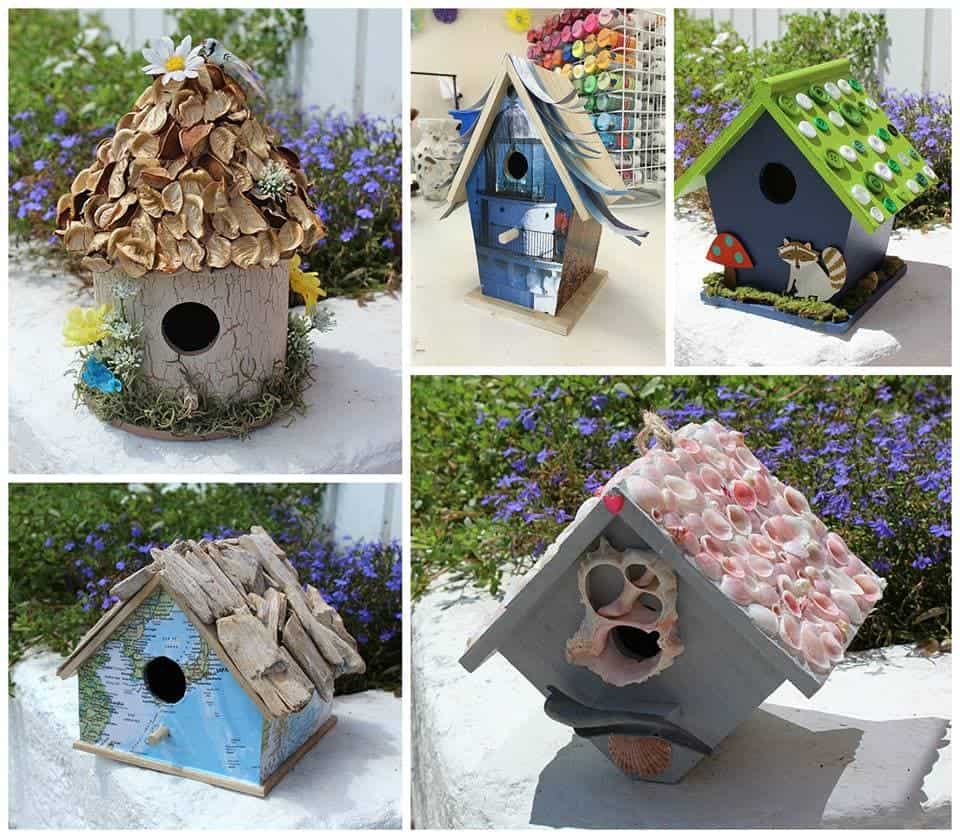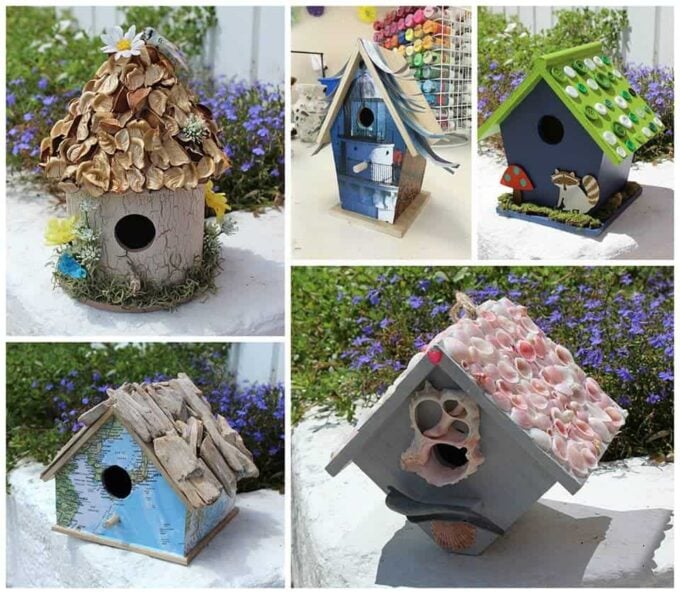 So let's talk about these different birdhouse crafts. But first I want to tell you that the best part about these projects is that they are all different. Each person used their inner creativity to make a birdhouse that they loved. That's what we were after! We provided a blank slate and plenty of supplies along with a bit of direction, and they ran with it.
There are affiliate links in this post. That means if you buy something from that link, I will earn a small commission, but it won't cost you anything additional.
Birdhouse Crafts: 5 Ways
Kristen wanted her birdhouse to match her living room decor. It just so happens that Kristen is my daughter, and since I know her living room colors, I was able to help her find the right paint shade to use. She chose to crackle the "body" of the house and covered the roof with some dried pods leftover from my fairy house project. She finished her birdhouse off by adding some Spanish moss, flowers and a cute little bird on top!
Christine wasn't able to complete her magazine birdhouse since she was one of the instructors. I love how she used a scene from a magazine page that actually brings life to the birdhouse! She also used pages from a map book and cut them into strips and began layering them onto the roof.
Lynette created a darling woodland scene using Patio Paint (my favorite outdoor paint) in blue and green. She brought along some super cute little woodland cut-outs to attach to her birdhouse and decorated the roof with buttons and the bottom edges with Spanish moss and stones.
My birdhouse has a coastal theme. I had some driftwood vase filler which I glued to the roof and I decoupaged map book pages to the outside of the house, making sure to use pieces with a lot of ocean showing.
Debra went with a beach theme by painting her house in a light shade of gray and carefully choosing small pink seashells for the roof. She embellished the front with a truly unique shell that fit perfectly around the hole on the front of the birdhouse! She finished off the roof by spraying a gloss sealer over the shells then lightly sprinkling the wet surface with Glamour Dust dusting glitter.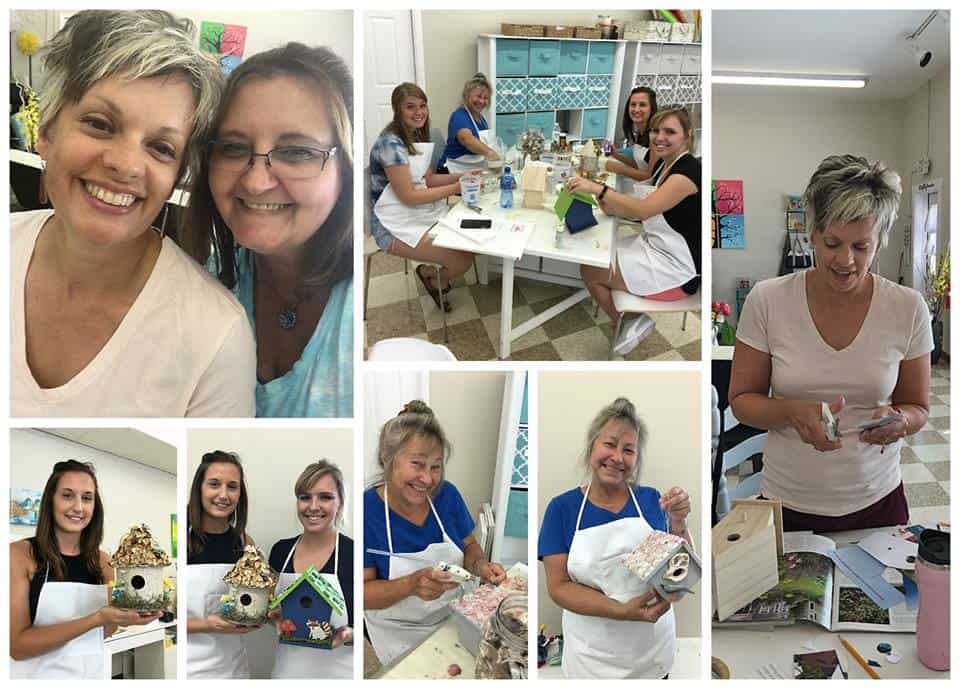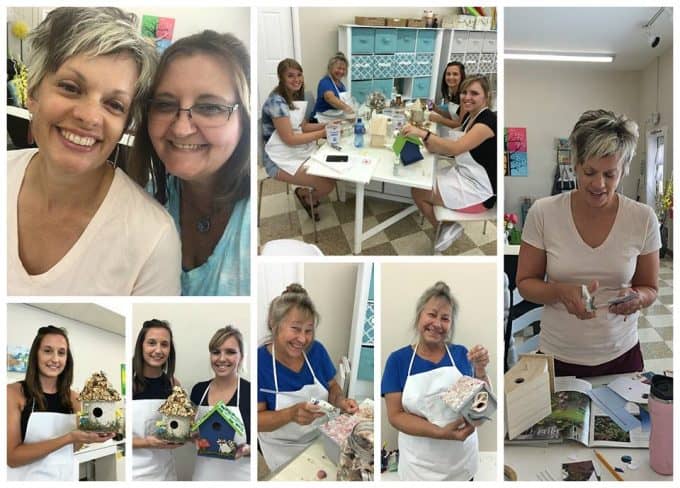 These ladies were our guinea pigs. Christine and I plan to offer a 6 week course that will be held one weeknight per week. We needed a dry run to see how things would go and how the students reacted. Our goal is to teach methods rather than a generic craft. So instead of teaching how to paint and decorate a birdhouse, we helped each person create their own unique project.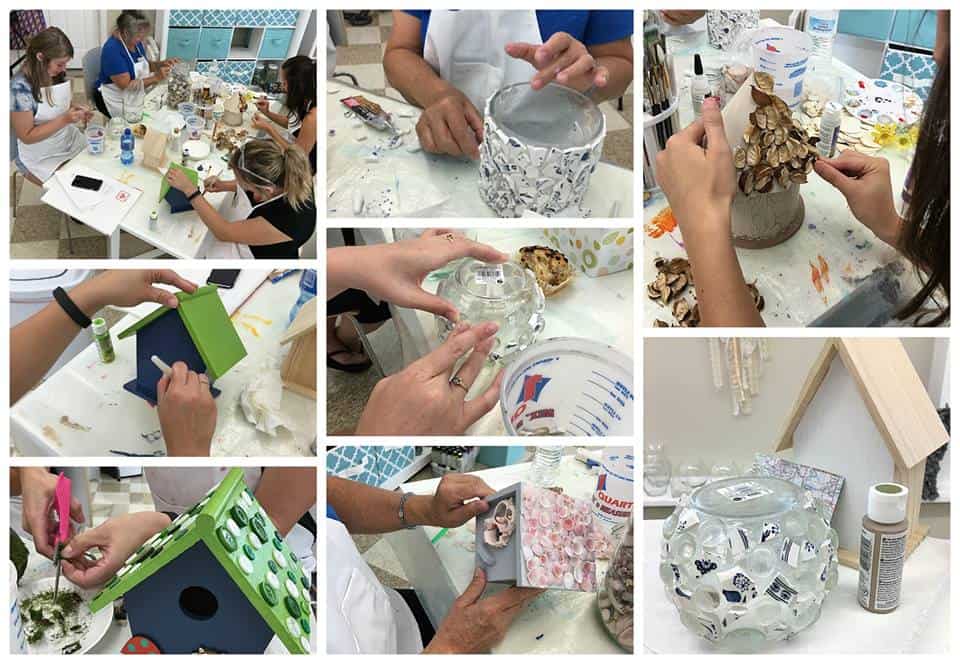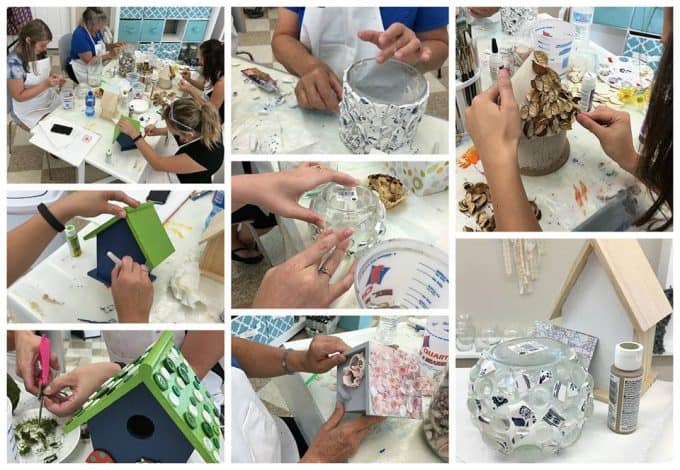 We did have one student that had to leave early, but Taylor will be able to return for "open studio time" at either my studio or Christine's. This will be part of the class offering so that people don't feel they have to rush to finish and not end up with the project they really wanted in the first place.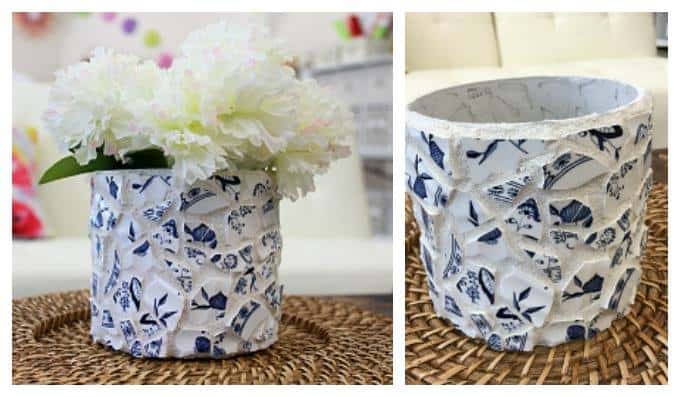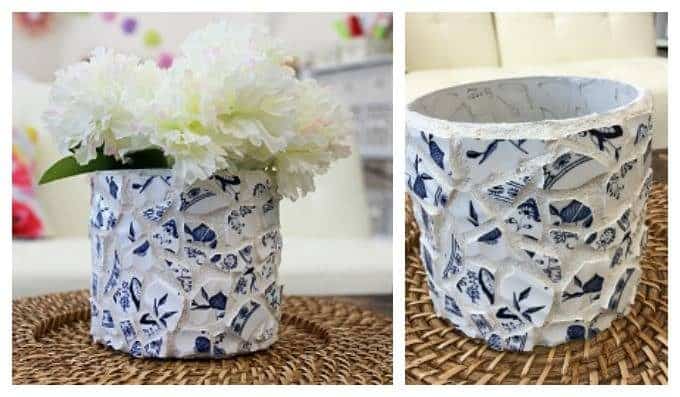 In addition to the birdhouse crafts, we also did some mosaics. However, mosaic crafts require patience and time, something that cannot be completed in one session. This is a vase I made using broken dinner plate pieces and sanded grout. My surface was a $3.00 glass vase from a thrift store. We tested several glues but fell in love with The Ultimate by Aleene's, the makers of Tacky Glue. When using The Ultimate, I painted a thin layer of the glue onto the full surface of the jar. Then I used the tube like a pencil to "draw" the glue onto the back of several pieces. The key is to let that glue sit for about two minutes before pressing it to the glass. No sliding, no holding the pieces in place. Love!
I hope you enjoyed this post, and if you are geographically located anywhere near Twin Lakes, Wisconsin and are interested in our classes, please be sure to watch for announcements here on the blog and on my Amanda's Creative Studio Facebook page.
Latest posts by Amanda Formaro
(see all)