I am super excited to announce my new Crafts by Amanda branded craft kits! I partnered with a fabulous company called S&S Worldwide. I developed these kits with nine different kid's craft projects, three in each kit. They are perfect for group activities run by summer camps, scouting troops, daycare providers, teachers and healthcare providers. Each craft kit contains all of the supplies that you will need to create and have fun!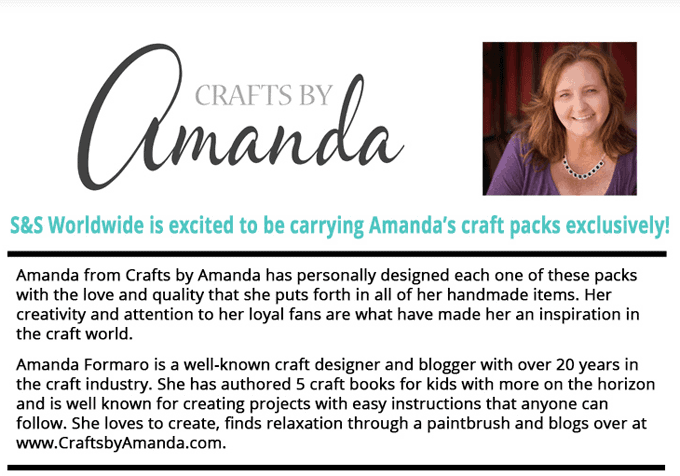 Crafts by Amanda Craft Kits
There are three different kits:
Rainbow Ladybugs – you can make a sun catcher, a windsock and a winged ladybug all from the same pack!
Monsters, Aliens & Robots – this is probably my favorite kit, as I'm a huge fan of these types of crafts.
Foil Art – this kit was a lot of fun to create! Working with foil is so FUN. You can make a robot, a piece of framed art, and a butterfly or dragonfly!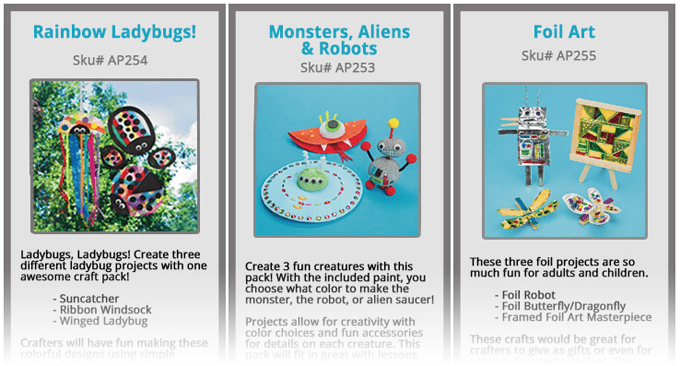 A little back story on how this all came about. I was headed to CHA (Craft & Hobby Association trade show) in January of 2014. I was on the plane waiting for everyone to board. A small group of women settled in next to and around me and we began chatting. Turns out we were all headed to CHA, exchanged business cards and settled into the in-flight movie. I did see these lovely ladies once during the trade show where they sat down at my "make and take" to create some magnets with me. A few more pleasantries and that was that.
After returning home I had a conversation with a friend of mine about how I would love to create kid's craft kits but really didn't want to be sitting in my basement cutting a million squares of construction paper and filling bags to ship out. She suggested I look into product development. But as things go, I got busy with day to day work and activities and pushed the idea to the wayside.
Then, in October of 2014, nine months after meeting the women from S&S Worldwide, I received an email with the subject line "we met on the plane to CHA". Over the next couple of months that email turned into several emails, phone calls and brainstorming sessions which eventually led to an in-person meeting at CHA where we sealed the deal and began a journey in product development!
It just goes to show that you never know where opportunity will present itself. Sometimes it's when you aren't really looking for it that it appears. And another reminder that always carrying a current business card is wise!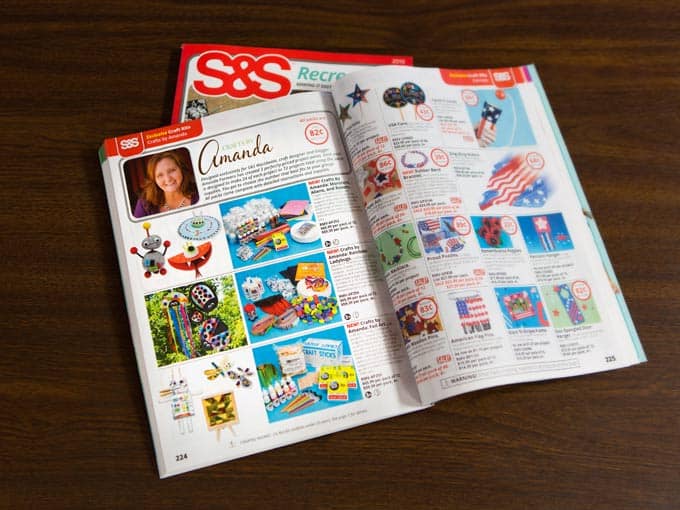 S&S Worldwide customers are generally group oriented, such as camp directors looking for projects for their campers, or health care providers looking for kits that they can do with seniors or those in physical therapy. Teachers, daycare providers and scout troop leaders will love that there's enough projects for everyone and they don't need to go to the store for additional supplies. We even include the glue!
So be sure to check out my new Crafts by Amanda branded craft kits, sold exclusively through S&S Worldwide.
Latest posts by Amanda Formaro
(see all)