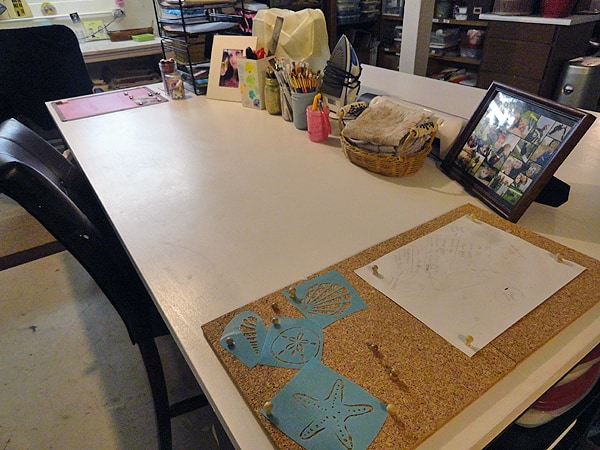 I'm pretty excited to share this with you, but I have to warn you first. My craft room is in the basement. It's not all glamourous and shiny like the ones you see featured in big magazines. It involves concrete walls, exposed plumbing, laundry machines and all the ugly things you find in a basement. It's not pretty, but it's a large space and a great place to keep my overwhelming amount of craft supplies contained. When we bought the house, we took a paint sprayer and 20 gallons of white paint to all the dingy walls. So it's a far cry better than it was, but it's still not pretty.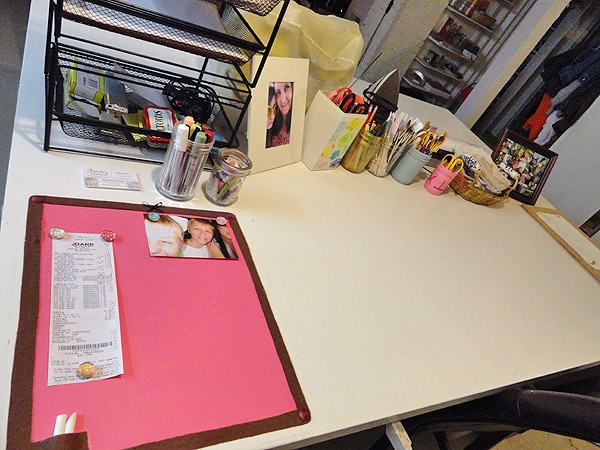 So with that disclaimer out of the way, I bring you my great big wonderful craft table, complete with cork board and magnetic chalkboard!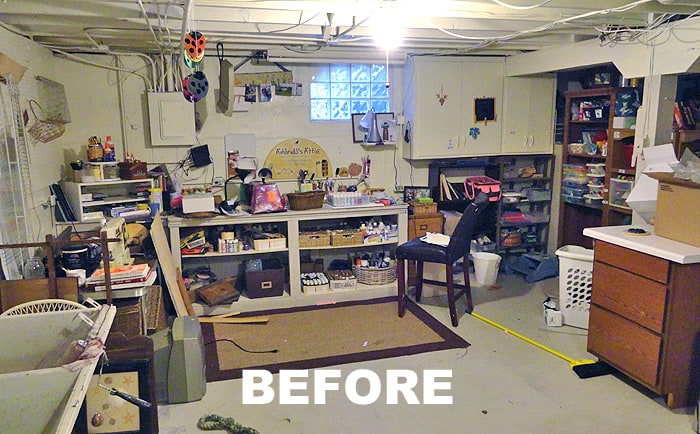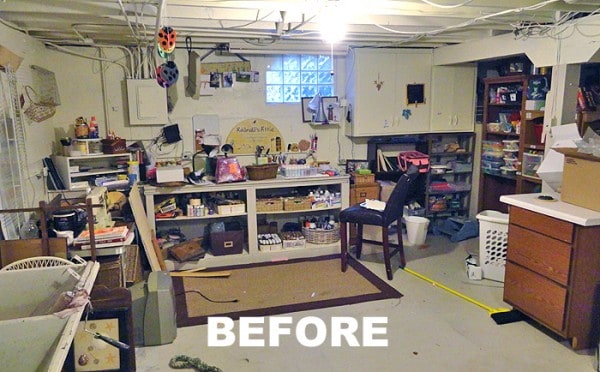 Here's a before picture… eewww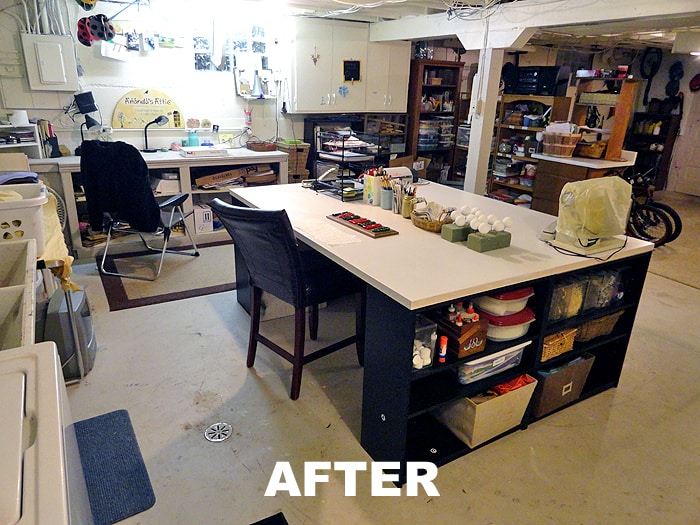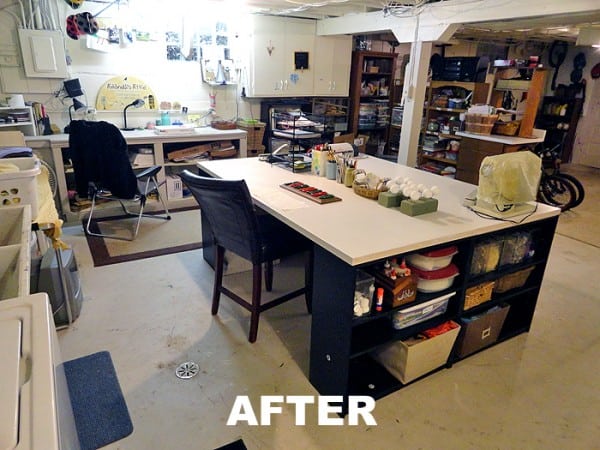 And an after…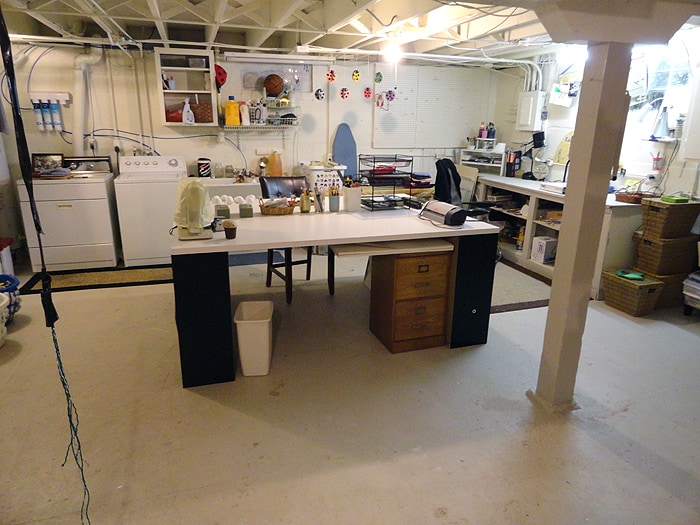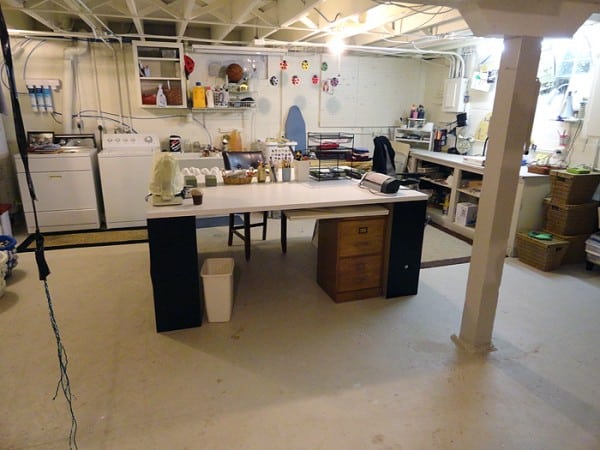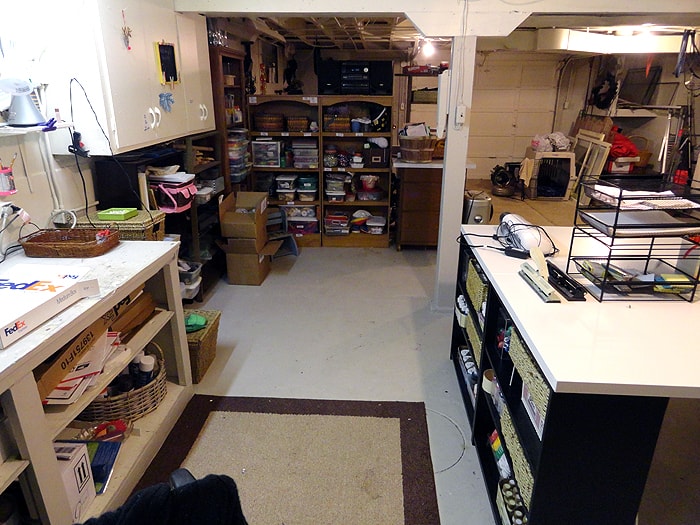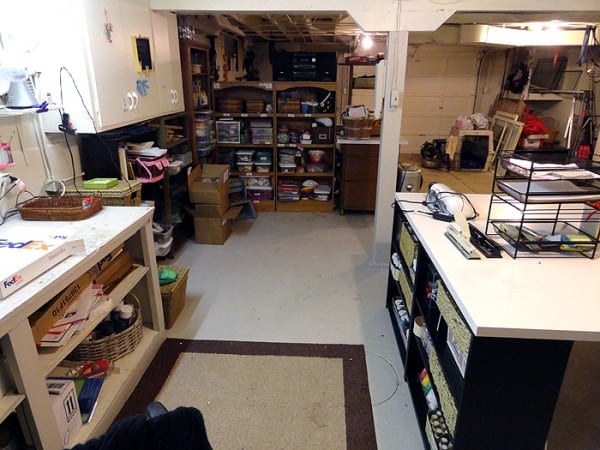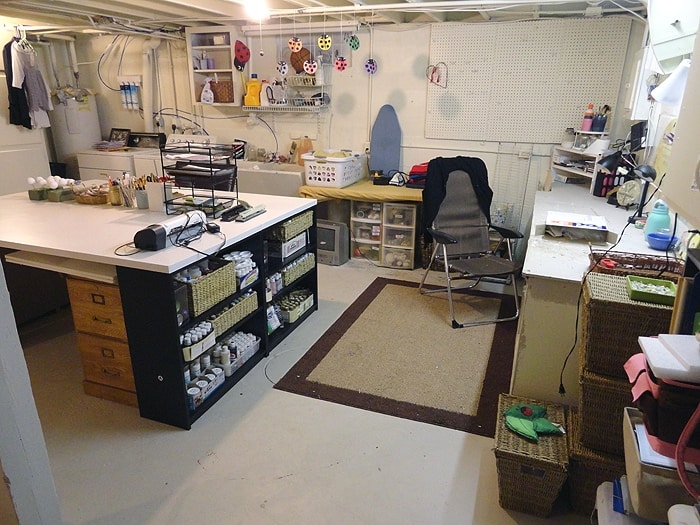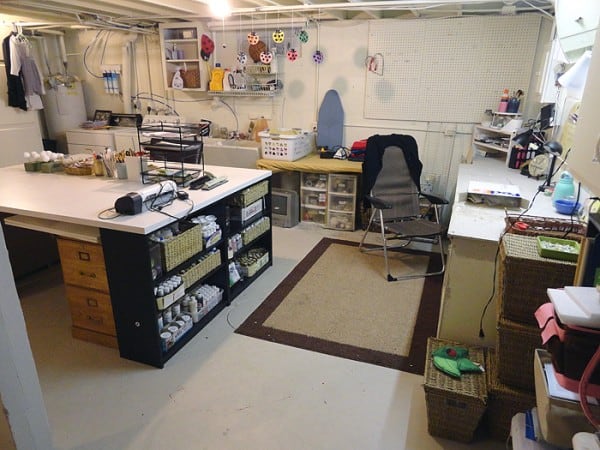 First I want to give credit to Amanda from The Ivy Cottage Blog for providing the inspiration (and instructions!) for my table. Her space (pictured below) is so much lovelier than mine, but we had several similarities with our "blank canvas" that I knew this was the table I wanted to create.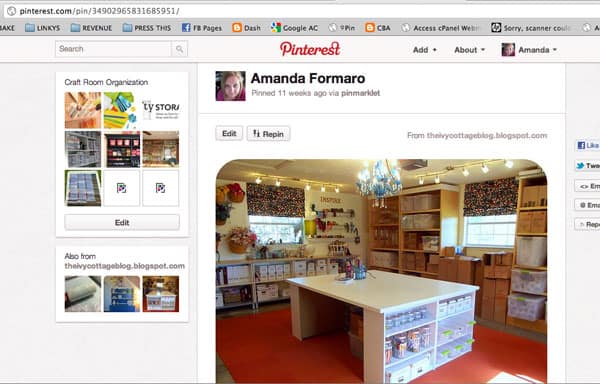 You see, I've been pinning different craft room organization posts for a while now, saving them for inspiration for my craft room. When I pinned Amanda's table I knew I was going to make it. I showed it to hubby and he was all for it.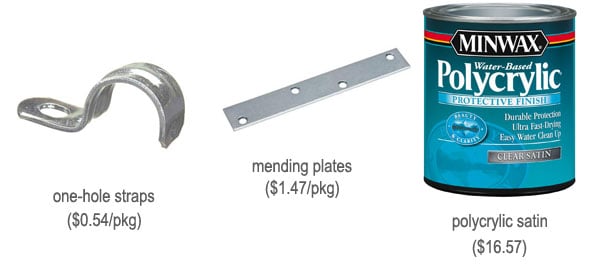 We had plenty of space downstairs for it, so we went to Walmart for the bookshelves (they only had black, $15.99 each x 4) and to Home Depot for the hollow core doors ($23.00 each). We bought L-brackets (total $6.96) to attach the tabletop to the bookcases and one-hole straps (pictured, I spent $1.08) to run cords through underneath the table. We also used mending plates (pictured, I spent $4.41) to secure the tabletops together from underneath. After priming and painting the doors, a coat of Minwax Polycrylic (pictured, $16.57) in satin finish was applied to protect the surface. Total spent, not including tax $138.98.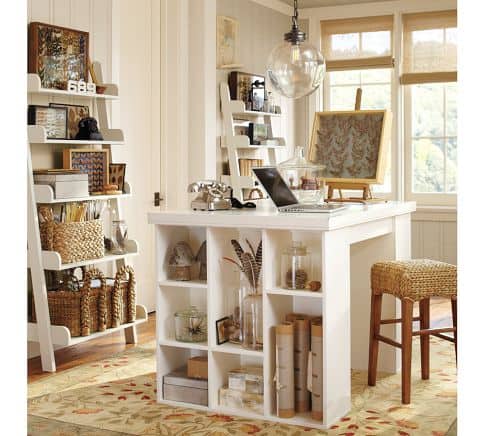 I'm pretty flippin' pleased to have been able to create my awesomely huge space for less than $150. Especially when Pottery Barn is charging $1100.00 for this one pictured above and it's not near the space!!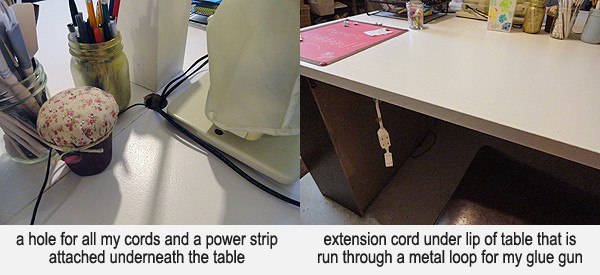 I definitely didn't want cords all over the table top, so hubby drilled a hole in the middle and attached a power strip upside down under the table. This way all the cords go through the center and none of them will be stretched across the table top.
That caused an issue for my glue gun though. Since the glue gun does not have an on/off switch, it can't be left plugged in. So we used those one-hole straps I mentioned above to run a small extension cord through so that it pokes out under the table right where I work. There's enough slack in the cord too so I can stretch the glue gun across the table and work with it from anywhere.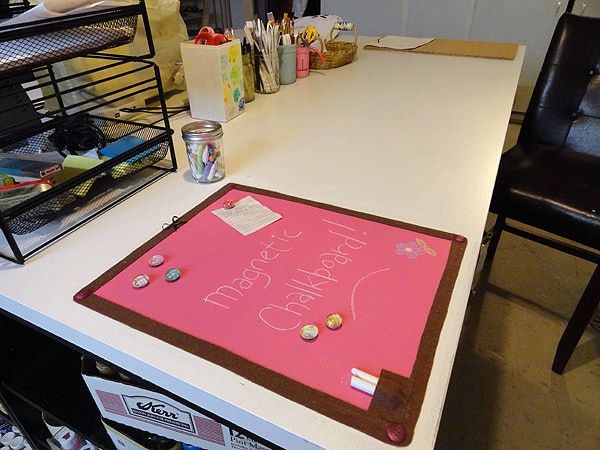 I wanted to customize my table a bit too. First of all, I knew I wanted some cork board and magnet board. And I've always wanted to buy those chalk markers, so I decided to go with a magnetic chalkboard on the left side of the table (I'm a lefty) and a cork board on the right. These will keep my notes and sketches handy and secure while I'm working. I simply bought and used Rustoleum magnetic primer and Decoart's pink chalkboard paint.

I'm loving the chalkboard. My son writes me notes on it too haha.

I just masked off an area with painter's tape, sanded it, painted it with the magnetic primer, then used the chalkboard paint over the top. Because there are several layers, the chalkboard is actually a little raised off the table top. Plus the edges are a little ugly, so I cut strips of brown felt and created a frame, tacking it down using E6000 glue. I even made a little pocket at the bottom for some chalk. I used some flat marbles and scrapbook paper to create some magnets and put all my chalk in one jar and these cool chalk pens in another.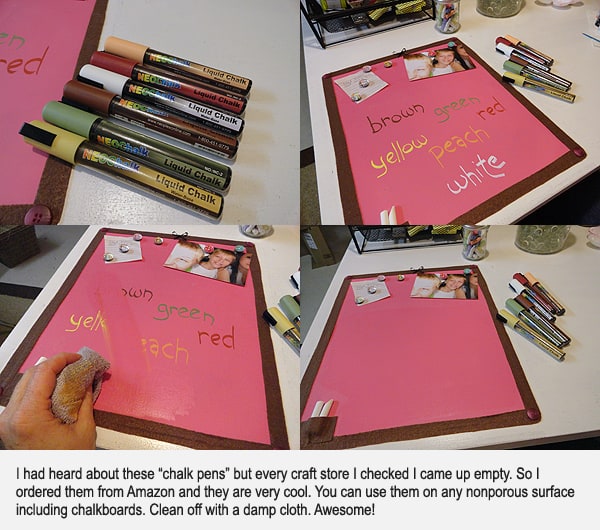 Speaking of these chalk pens, if you haven't heard of them they are great for using on any non-porous surface like glass, dry erase boards and chalkboards. They wipe off with a damp cloth and come in several different colors. [amazon_link id="B001BJNQFK" target="_blank" container="" container_class="" ]I bought mine from Amazon[/amazon_link]. I've looked at Michael's several times but haven't been able to find any.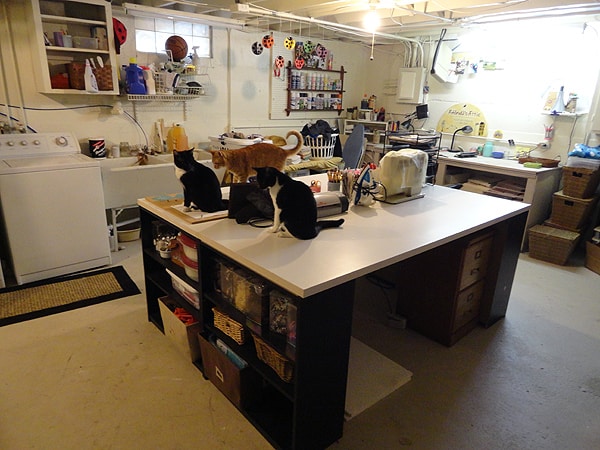 The kitties like my table too…
Nala…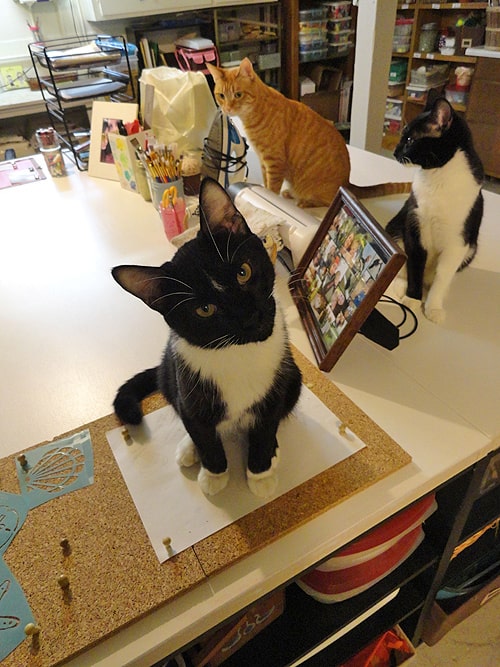 Booties… Nala and Red in the background.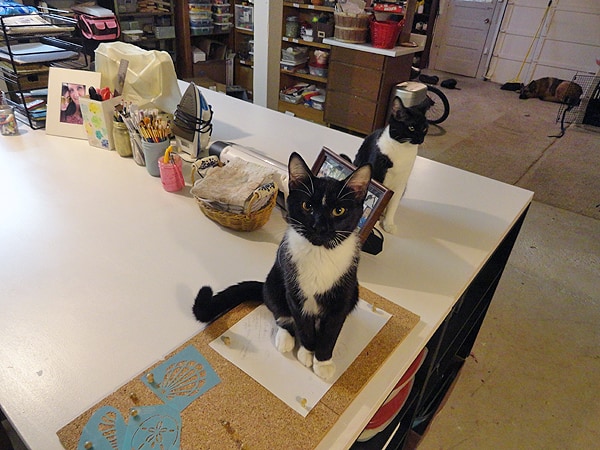 I am the crazy cat lady, yes. oh look! Angel, my 10 year old German Shepherd is back there too! ;-)

I digress. So I also had this old shelf that someone threw away and I saved it from the curb. It's been sitting and sitting and I wasn't sure what to do with it. Then I hung it on the wall and it turned out to be the perfect shelf for my spray cans! Uhh. Yeah. That's another cat. We have 6 all together. Crazy cat lady. No denying it.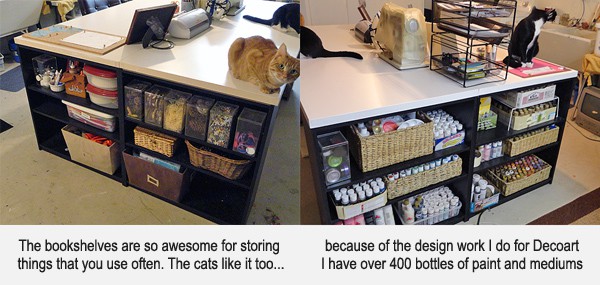 So here's the ends of the table. I don't seem to have any pictures without cats…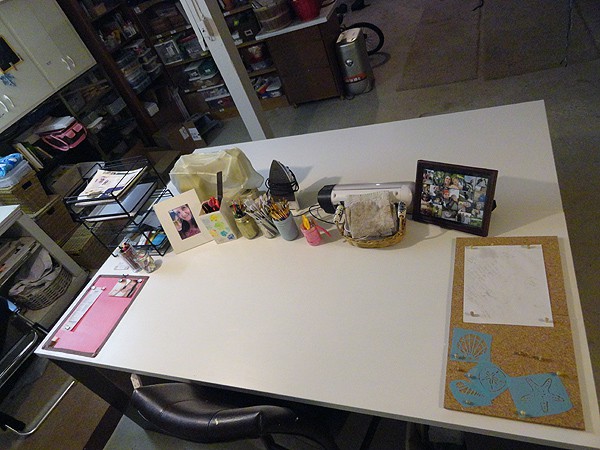 This actually isn't that easy to take pictures of! Here's an overhead shot.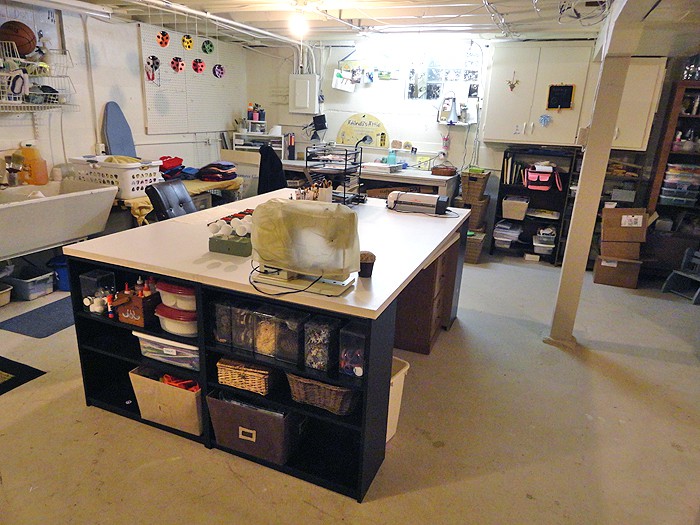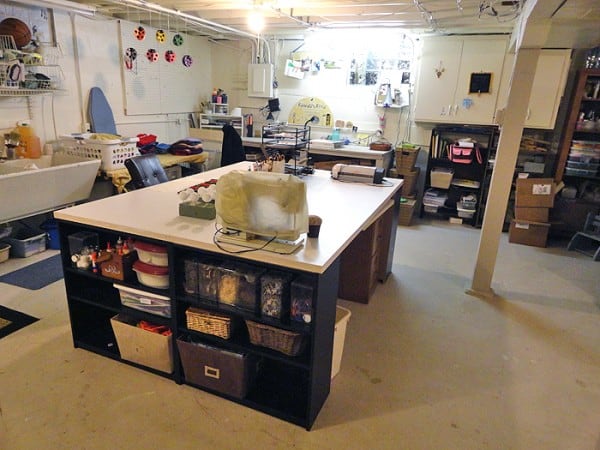 So there's still a lot of work to be done as you can see from the mess laying around, but things are so much better and I have so much room to work now! This picture is from right after we finished building it, I've been using it now for well over a month and just absolutely LOVE this table. I want to thank my husband for building it for me. I love you honey! Yay me!
If you want even more craft space inspiration? Check out how to make a DIY corkboard wall letter for your craft room! These corkboard letters would be great for a college dorm room, in a locker, in your kitchen, in your cubicle at work and of course in your office at home!
Latest posts by Amanda Formaro
(see all)