You can literally make this ornament in one minute. I was inspired to make this when I was on my pilgrimage to Michael's last week. There's a Pier One next door and you could see through the windows that they had all their Christmas ornaments on display.
So I went in and saw something very similar to this, though their belts were made of a black vinyl with a plastic buckle. They were selling them for $7.99 each! Sheesh!
I went into Michael's and they were having a sale on ornaments. There was a box of 8 red ball ornies for $4.99, regularly priced at $7.99. I already had the felt and chenille on hand, so these are a very inexpensive alternative! Even with the ornaments at full price, you are talking about $1.00 each as opposed to $7.99 each.
Because of the ornament sale and having the felt and chenille on hand, this ornament cost me $0.62.
Here's what you need:
Easy Santa's Belly Ornament
by Amanda Formaro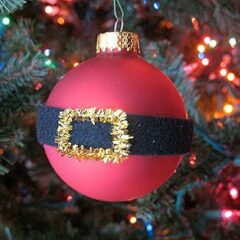 Print Project
Easy Santa's Belly Ornament
Supplies
red ball ornament

black felt

gold chenille stem

hot glue gun

scissors
Instructions
Cut a strip of black felt, about 3/4" wide, long enough to fit around the center of the ball ornament.

Using the width of the felt as a guide, bend the chenille into a rectangle for the buckle and trim off the excess.

Glue the buckle to the center of the felt strip.

Glue the strip to the middle of the ornament and all the way around it, trimming excess and gluing in place.
Latest posts by Amanda Formaro
(see all)