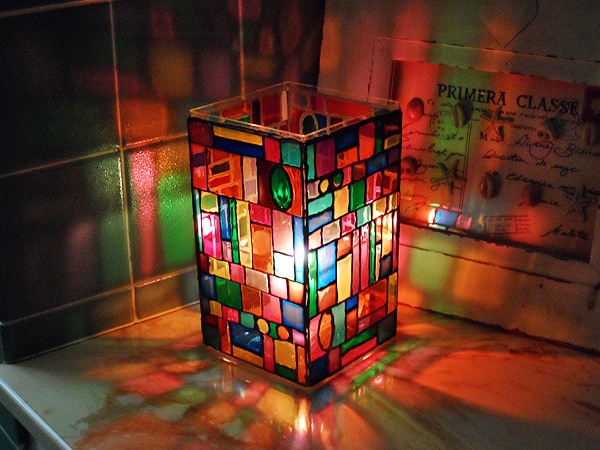 I've always been in love with luminaries. They are very easy to create and the results are so visually stunning that I could stare at them for hours. I'm also all about color. I love a craft project that's studded with several different colors from all over the rainbow.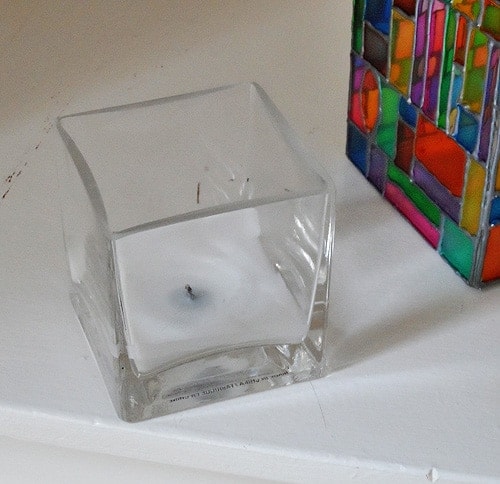 In case you are wondering, I used a votive sized candle inside a glass votive holder. Then I placed that inside the luminary. I let the candle burn from beginning to end, until it burned out, and it was totally fine!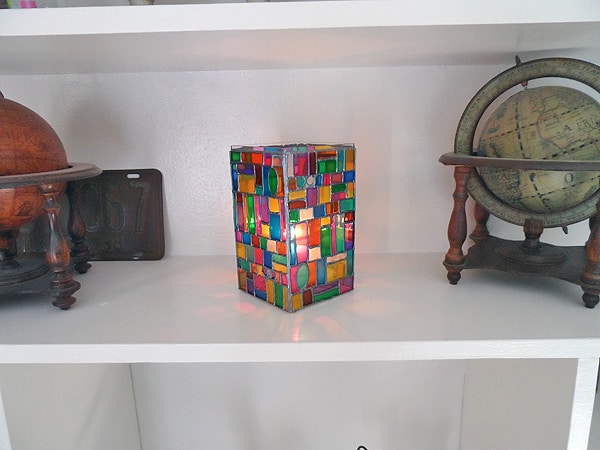 Recently I was able to try my hand at using DecoArt's glass stain paints.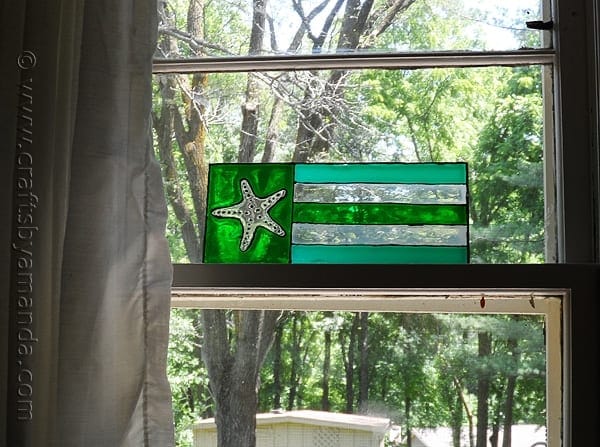 In case you missed it, I made this Beach Flag Suncatcher and it was incredibly fun and rewarding to make! Sure, I made a couple of mistakes, like leaving it to dry where my cat could step on it, and not really following the instructions for drying time… but all in all it turned out beautifully and I couldn't wait to come up with another project to use these glass stains on.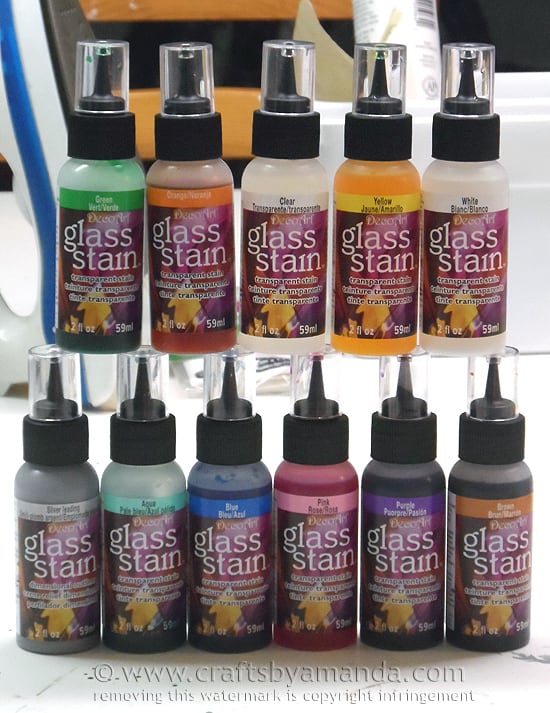 They come in a variety of colors, and when I made the flag I only used three. This time I used just about every color they offer! A few years ago my husband brought home a huge box full of these empty plastic Beanie Baby containers. Some guy at work had them and my hubby knew I could put them to good use somehow. I also made these kitchen utensil holders and this egg shell mosaic vase out of these containers, and I have many craft items stored in the rest.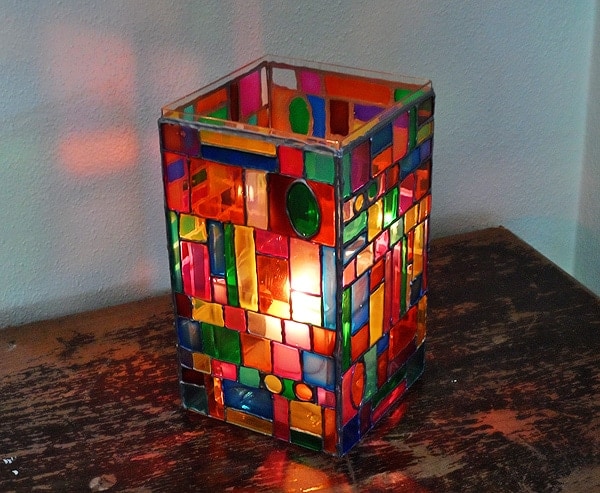 I am really, really pleased with how this came out!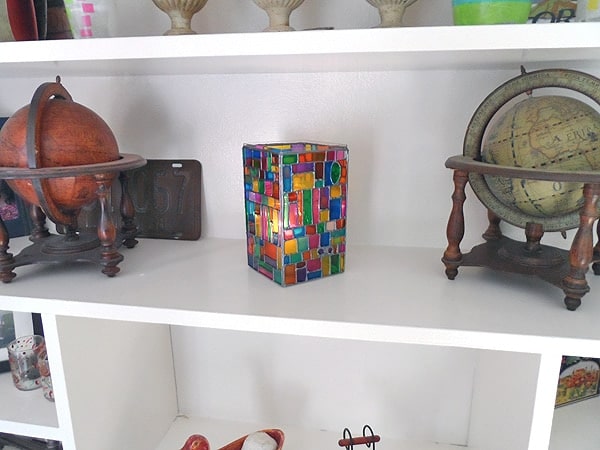 So let me show you what I did…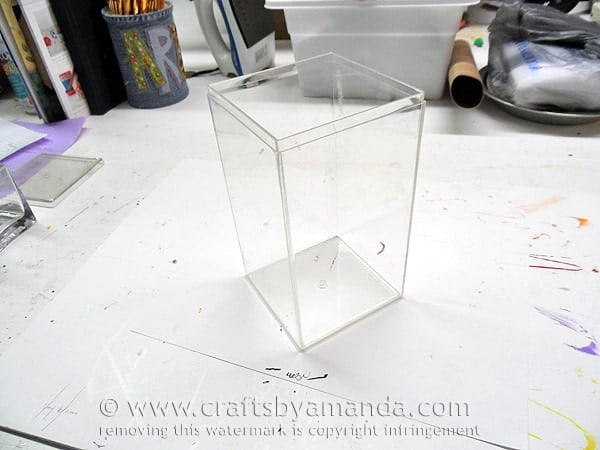 Because the glass stains will run while wet, you need to work on a fairly flat surface. Therefore, doing this on a round jar is just not feasible. However, because you can use these glass stains on both glass and plastic, these containers were the perfect canvas. QUICK NOTE: This project takes a full 4 days to complete. The actual work you do on the project is not the time consuming part, it's the drying time. The first step is the leading (outline) and that must dry for 6-8 hours. After you fill in the color, that must dry for 24 hours.
I drew some inspiration from a gorgeous piece of stained glass art I found on Etsy. You really should visit her shop, her work is incredible!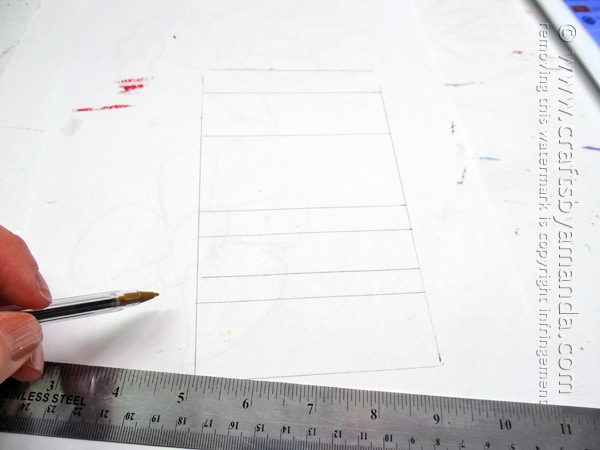 First I traced the container onto a piece of paper. Then I used a ruler to add horizontal lines at varying heights.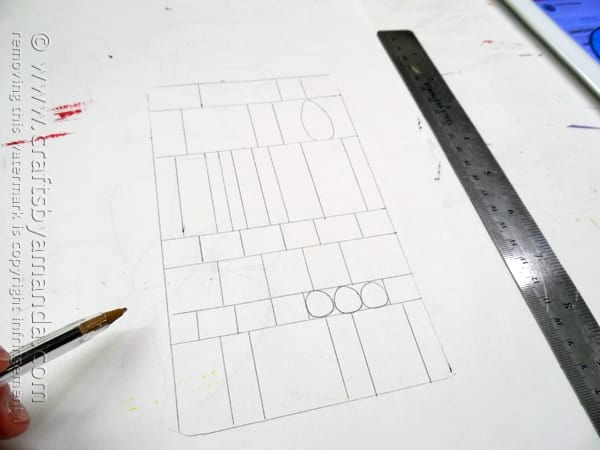 Next I added in vertical lines and a couple of circles to create the design.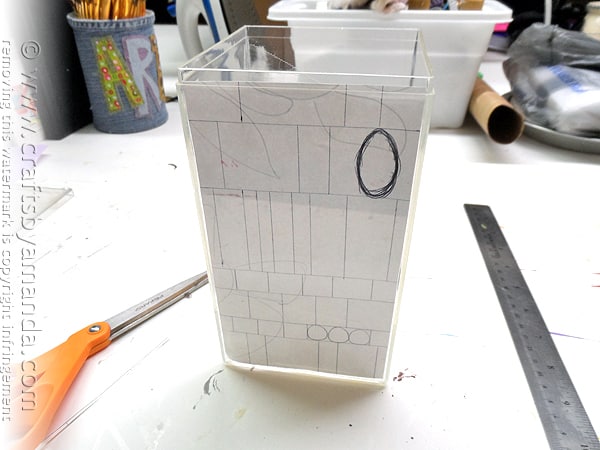 I cut the design out so that it would fit inside the container, and lightly taped it inside to use as my pattern.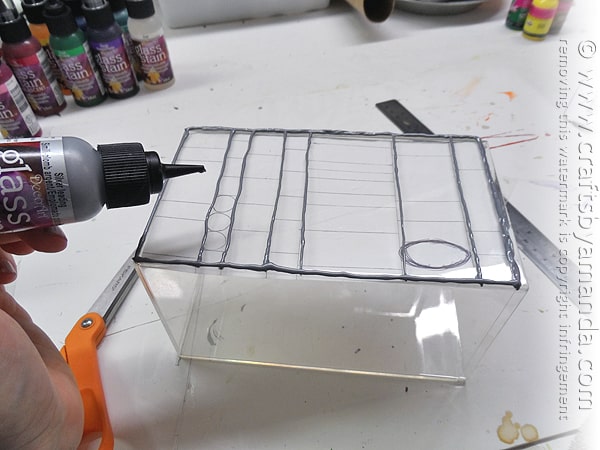 I used the silver leading (black is also available) to draw lines, using my pattern as a guide. It's important that all of the lines touch so that when you fill in the sections with color, it doesn't escape and leak over to another square.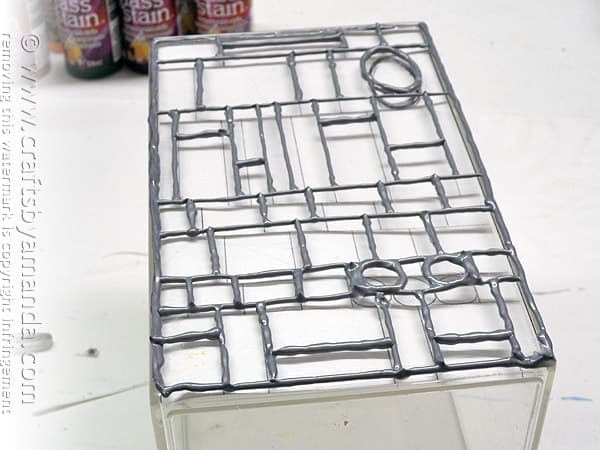 I also made my lead lines a little thin on the first side, not giving them quite enough height as I should have. Therefore when I added the color they tumbled over the side, so for the remaining sides I made the leading a bit thicker. This must dry for 6-8 hours. If the room is humid, be sure to wait the full 8 hours.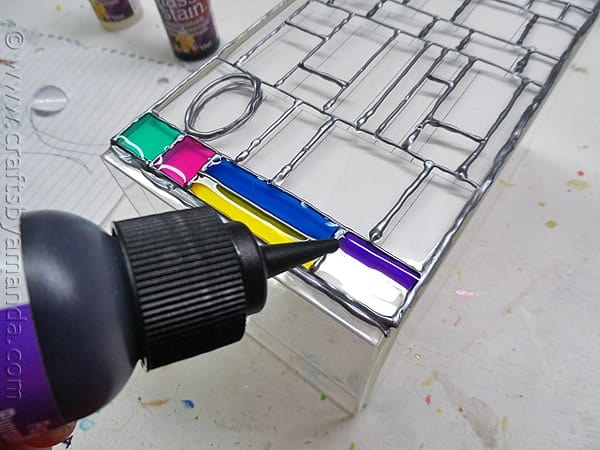 Now it's time to fill in the sections with color – the fun part! When I started, I filled them a bit too full and ended up soaking some of the sections up with sponge and starting over. Again, this had to do with my thin lines on the first side. I got into a groove though :)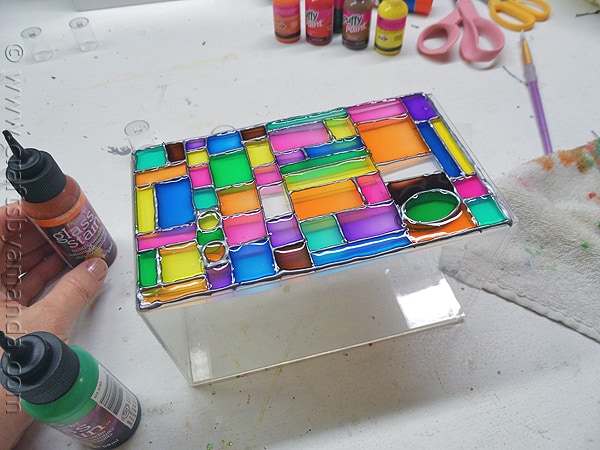 I alternated colors so that no same color was side by side. Now the really hard part… the waiting! 24 hours. You must let it dry for 24 hours.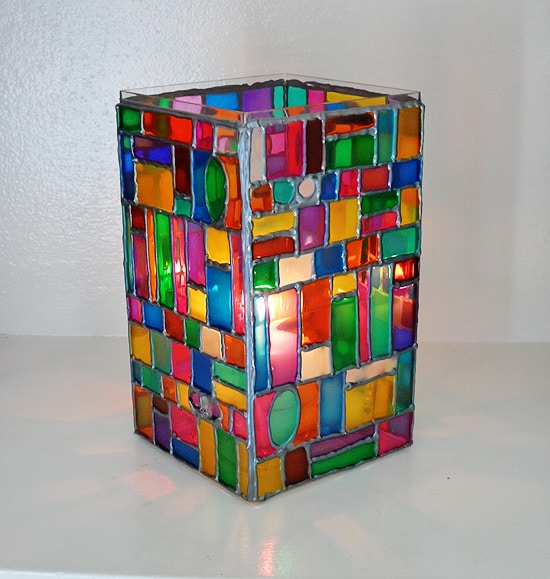 Then simply repeat these steps for each side of the container!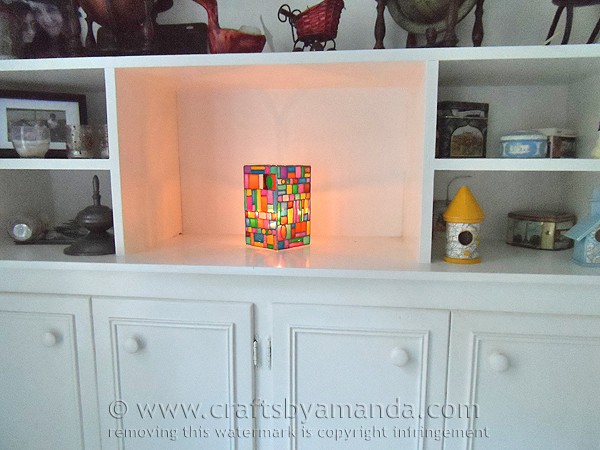 I loved working with these glass stain paints and will be brainstorming more projects for this beautiful product. In the meantime, if you would like to give them a try, Americana Glass Paints are available at Michaels, JoAnn Fabric and Craft Stores, Pat Catan's Craft Centers, A.C. Moore, Beverly's, and other fine craft retailers. For more information on Americana Glass Paints visit http://www.decoart.com/glasspaint.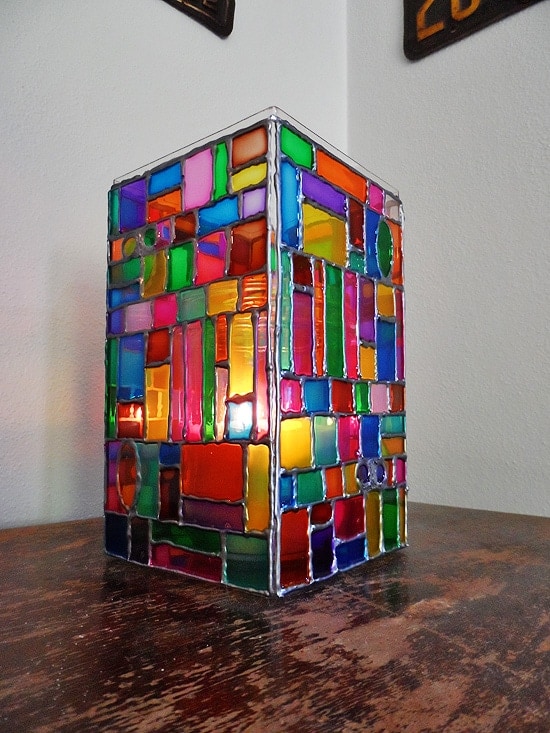 In fact, if you do head out to the craft store, be sure to save your receipt so you can take advantage of this $5.00 rebate offer from DecoArt!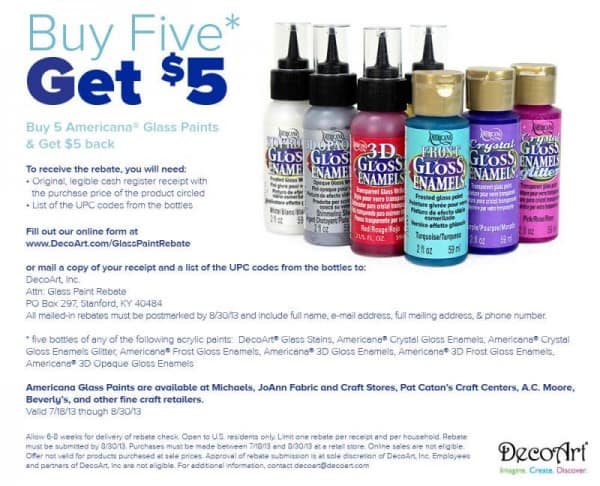 I am a DecoArt Core Blogger. I was compensated for this post, but have always loved DecoArt products! Therefore, all opinions expressed here are 100% my own.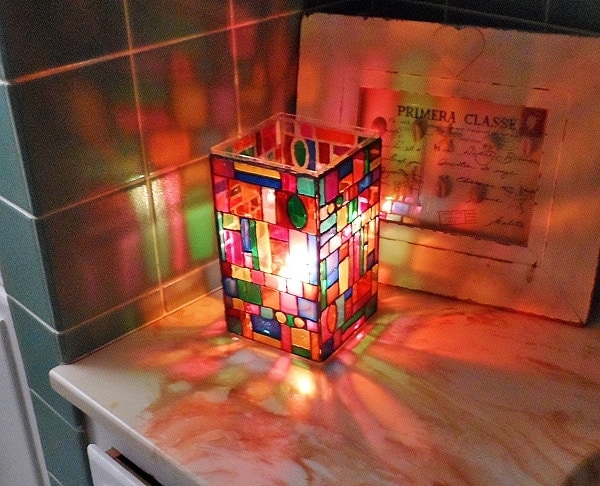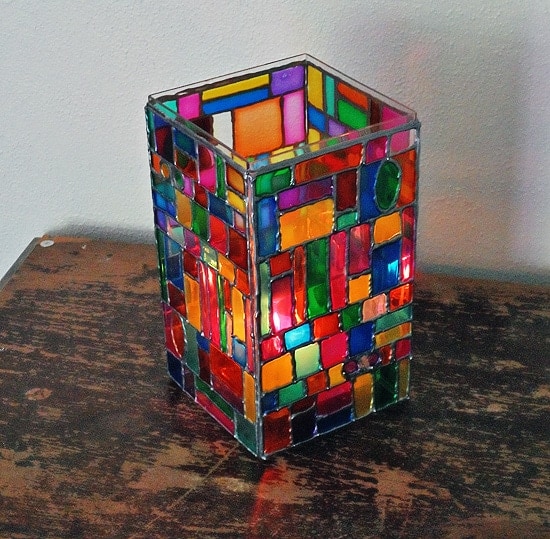 Be sure to check out all of these awesome projects to give you some inspiration for using DecoArt's fabulous glass paints!
Here's a short video showing what it looks like:
Latest posts by Amanda Formaro
(see all)