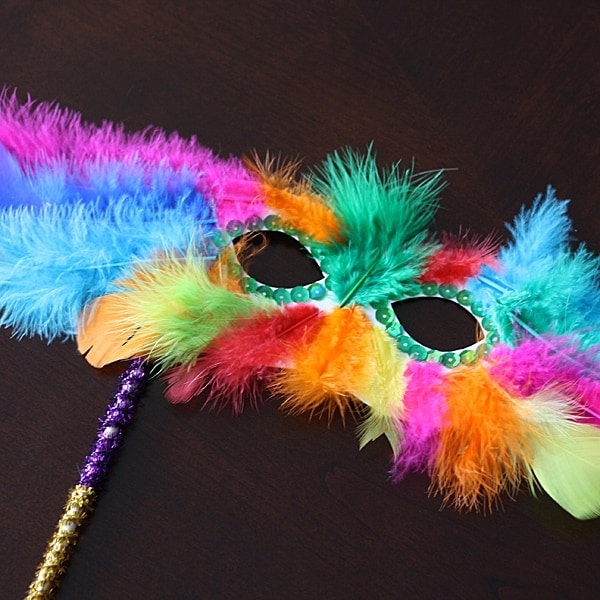 A paper plate and feathers is pretty much all you need to make these beautifully colorful mask for celebrating Mardi Gras. Thing is, when Mardi Gras is over, this is still a fun dress up craft or photo prop! I'll show you everything you need to make this mask in my post over at Spoonful. I originally made this project for Spoonful. Spoonful has since closed and the instructions were taken down. I am putting the instructions here until such time that Spoonful projects are redirected to a new home. At that time I will remove the instructions and link directly to the project on their site.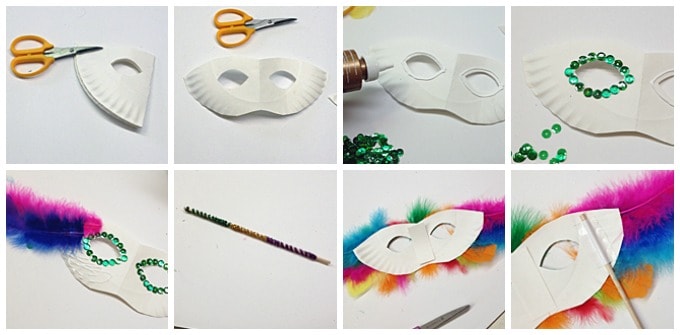 Feathery Mask for Mardi Gras
Supplies
Paper plate

Feathers in various colors

Green sequins

12

" wooden dowel

Glittery pipe cleaner: 1 each gold

purple and green

Duct tape

White craft glue

Scissors
Instructions
Fold a paper plate in half and cut along the crease. You only need one half, but can save the other half for another project, or make two masks! Fold the half-plate in half and cut out almond shapes for eye holes.

Trim around the top and bottom edges of the plate to create a more shapely mask.

Pipe white craft glue around the eye holes.

Place sequins in the glue, lining them up right next to each other. Repeat for the other eye.

Use glue to attach feathers all over the front of the mask. Start with larger feathers first, gluing them to the top, adding smaller and smaller feathers as you work your way to the bottom of the mask. Use very small feathers in the center.

Wrap the wooden dowel with the three pipe cleaners, coiling them around the dowel one at a time.

Turn the mask over and to reinforce the center of the mask, helping it to be a bit stronger, glue a piece of cardboard or scrap of paper plate between the two eye holes.

Finally, use a piece of duct tape to secure the dowel to the back right side of the mask (or the left side if child is left handed).

These fancy, feathery masks are easy to make and perfect as photo booth props! Celebrate Mardi Gras in colorful style.
Latest posts by Amanda Formaro
(see all)