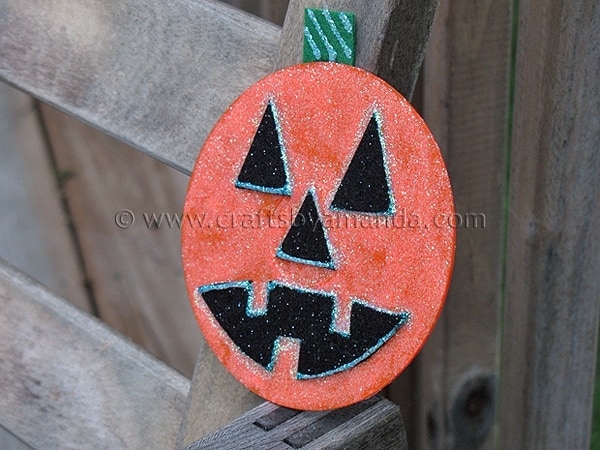 I don't know about you, but we end up with dead CD's and DVDs around here all the time. Instead of just tossing them, why not make this cute, glittery pumpkin for Halloween! H shines and sparkles and can be hung on the door too. A fun craft to do wit your kids!
I've created a face pattern you can use, or you can just draw your own. The pattern is linked in the printable instructions below.

You'll start off by painting the back of the CD with orange acrylic paint. Then you'll cover the front side of the CD with orange glitter glue.

Cut the pattern pieces out of black glitter felt and press them into the wet glitter glue. Use white glitter glue to outline the facial features and decorate the stem. Easy peasy!

Print Project
Glitter Pumpkin CD
Supplies
CD or DVD

Orange paint

Paintbrush

Orange glitter glue

White glitter glue

Black glitter felt or black stiff felt

Green stiff felt

Scissors

White craft glue
Instructions
Be sure you have something to cover and protect the work surface. Paint the back of the disc with orange paint and let dry.

Squeeze a generous amount of orange glitter glue onto the disc and spread around with a paintbrush.

Cut out the facial features from the black felt using the pattern. No need for glue, just gently press the pieces into the wet glitter glue.

Cut a small rectangle from the green felt and glue to the back of the disc for the stem.

Use white glitter glue to add diagonal stripes to the stem. Pipe a border of white glitter glue around the facial features.

Use a toothpick or butter knife to carefully lift the wet disc and place it on a piece of paper to dry. This will take several hours to dry completely.
Expert Tips & FAQs
I used an older bottle of orange glitter glue, so it was a little thicker than a new bottle would be. Take care when squeezing out the glitter glue, you can always add more if you don't have enough.

This picture shows a couple different angles. Glitter is hard to photograph!

'); // ]]>

Latest posts by Amanda Formaro
(see all)