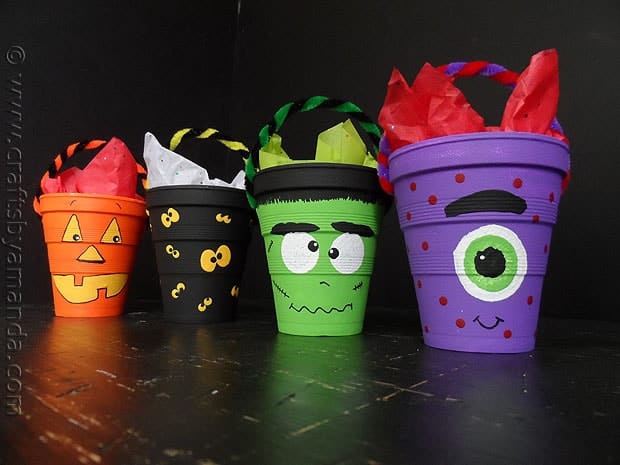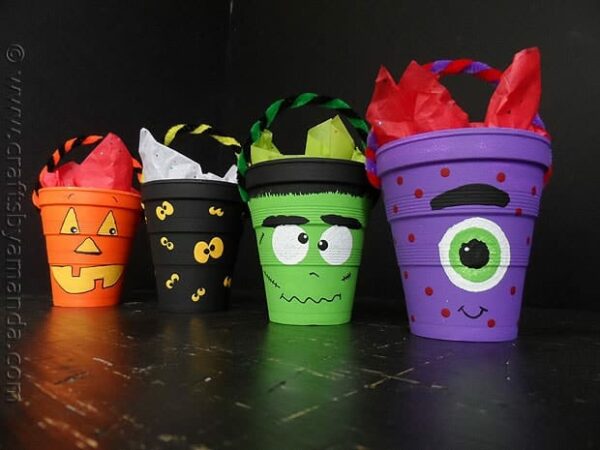 Halloween parties are really fun for kids, and these days there are so many creative and crafty ways to celebrate! Takes these little Halloween themed treat cups featuring Frankenstein, a Jack O'Lantern, a one-eyed monster and lots of eyes peeking out from the dark. Fill them with edibles and trinkets and they make a great take away when the kids head home.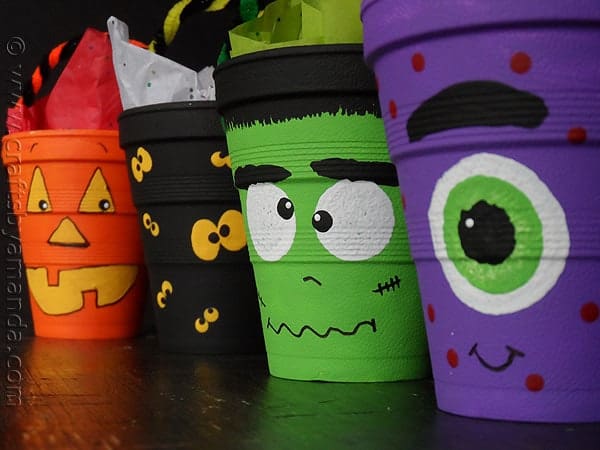 I originally made this project for my monthly column in the Chicago Tribune.
Halloween is less than a week away, so let's get started!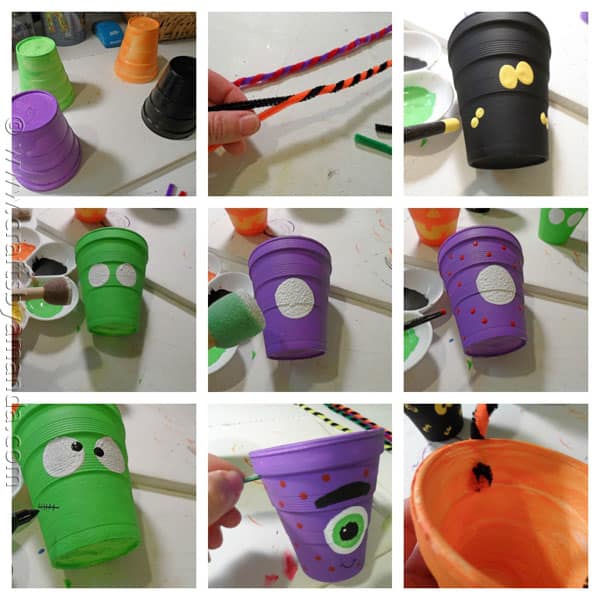 [Full printable instructions below] Get some Styrofoam cups and paint them. Use pipe cleaners for handles, twist a couple together to make them strong. Decorate the cups with more paint and Sharpie markers and you're all set!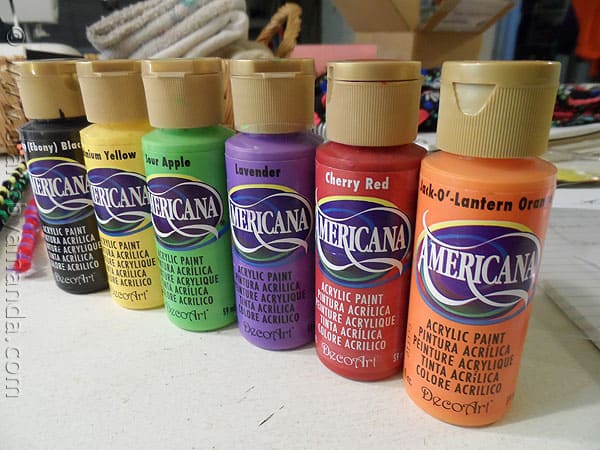 I used Americana paint for this project in the following colors: Black, Cadmium Yellow, Sour Apple, Lavender, Cherry Red and appropriately Jack O'Lantern Orange.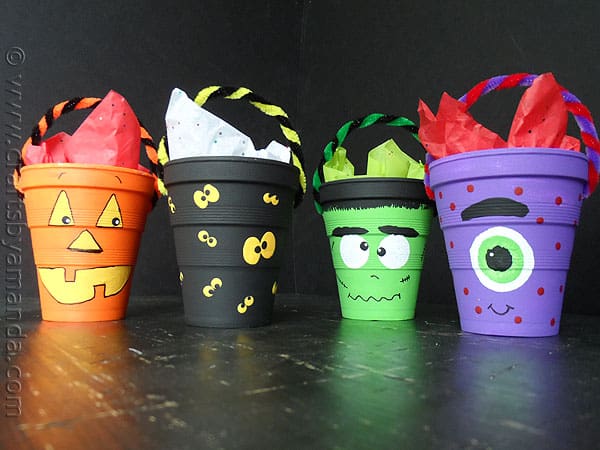 Have fun and Happy Halloween!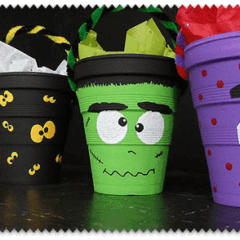 Print Project
Halloween Treat Cups
Supplies
Styrofoam cup

Craft paint

we used orange, green, purple, red, yellow, black and white

2

pipe cleaners

we used green, black, orange, red, yellow and purple

Tissue paper

Paintbrush

Pouncer sponge applicator

Sharpie marker

Toothpick
Instructions
Paint each cup with desired colors and allow them to dry. 2-3 coats may be needed, depending on your paint.

For eyeballs on the black cup, use the handle end of a paintbrush dipped in yellow paint. For ovals, load paint on the handle and "draw" the oval with it. For circles, simply dot the paint on by touching the handle to the cup.

For larger eyes (monster and Frankenstein) use a pouncer sponge applicator dipped in paint. Apply gentle pressure and twist to turn ensuring the paint is covering the surface.

You can use a Sharpie to draw on finer details such as Frankie's stitches, mouths , eyebrows and for outlining, like on the pumpkin's facial features.

While paint is drying, make your handles. Twist two pipe cleaners together. Insert a toothpick into the side of the cup, just below the rim. Repeat on the other side. Insert one end of the pipe cleaner handle into one of the holes on the outside of the cup. Curve the pipe cleaner over the top of the cup and insert that end into the other side. From the inside of the cup, bend the ends of the pipe cleaners to secure them in place.

Line cups with tissue paper and fill with wrapped treats and dollar store rings, crayons, and other baubles.
Expert Tips & FAQs
You can leave the inside of the cup unpainted if you prefer.
Latest posts by Amanda Formaro
(see all)