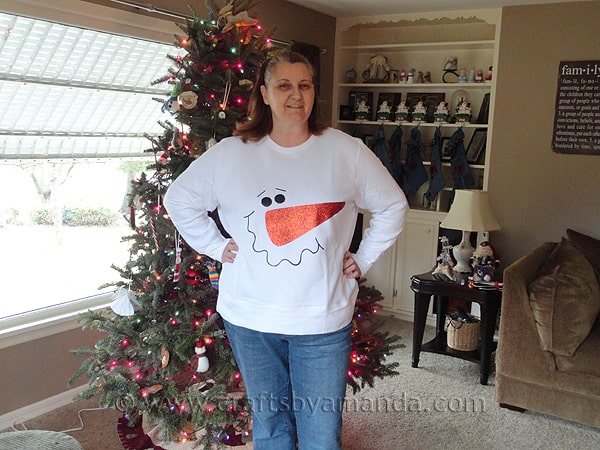 First of all, this is a rare occasion. I'm a bit timid about my size, I'm overweight and very self conscious about it, so showing a picture of me like this is not something I really like to do. But this snowman shirt was too fun not to model. I should have bought a better quality shirt that didn't look like I was wearing a tent, but hey… it is what it is. Oh, and did I mention I don't have make up on and haven't even showered yet? Just so you know.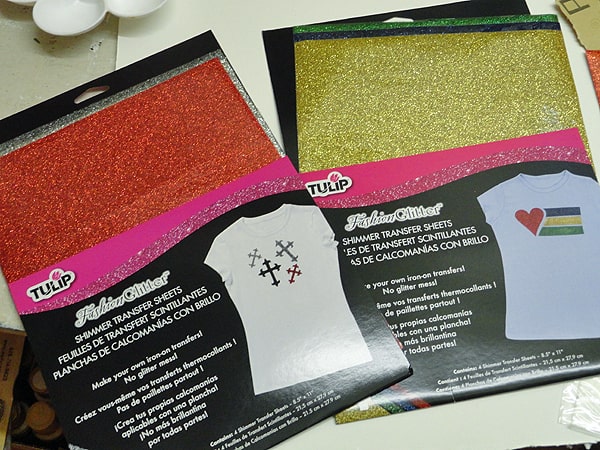 Now that I've gotten all that out of the way, let me tell you about this shirt, or better yet, the cool glitter sheets I used to make it. I was asked to try out the new Tulip® Fashion Glitter™ Shimmer Transfer Sheets. Honestly I've been wracking my brain for an idea for a couple of weeks. I was really getting discouraged. You see, I don't use glitter a lot, and my daughter is 17, so not in the glitter stage anymore. With it being the holidays though, I was thinking of making a banner or bunting or something similar when this snowman idea just struck me. I had seen a similar shirt for sale in some catalog that came in the mail and thought it was really cute. So cool, the idea was set. I hit Walmart and bought a cheap sweatshirt.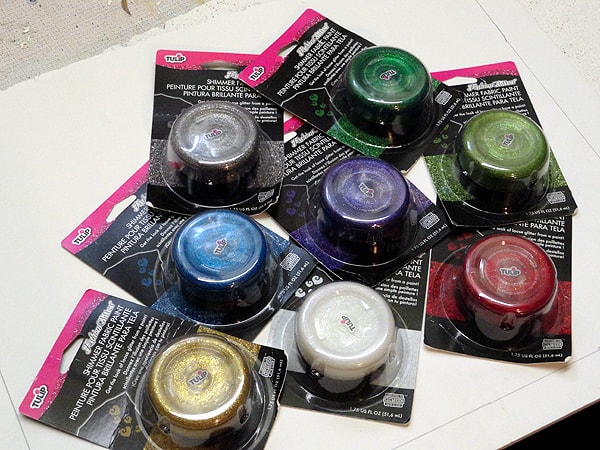 They also have Tulip® Fashion Glitter™ Shimmer Fabric Paint which I haven't tried yet, but have a project in mind for. :) Hopefully I'll get that done in the next couple of days and share that too.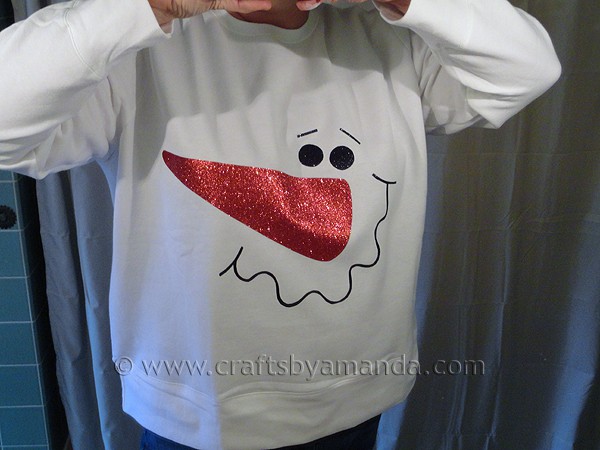 I must say these sheets are totally rockin' cool! I love how easy these are to use and how the results are absolutely immediate. FUN! Couldn't you see this cute snowman on a pillow? Love! Okay let me show you just how easy these are to use. Then you can get some for yourself!

First off, if you have a cutting machine like a Cricut or a Silhouette, these sheet will work in it. However, I haven't tried it so I don't have any advice for you. I know that Becky over at Infarrantly Creative used them in hers, so you can check out her project and tips for using a cutter here. Anyway, for my project, I just drew my pieces to create my own patterns. I used a paint bottle to create the round eyes, and freehanded the mouth and nose. Can you tell that I used red for the nose? I think it looks dark orange. :) Cut out the pattern and place it on top of the glitter sheet. There's a plastic cover on the glitter and you can draw directly on that, I used a Sharpie. Then cut the pieces out.

For the eyes, I actually found it a lot easier to just cut around my circle pattern rather than tracing. My white paint pen was giving me trouble, so I came up with another solution. I used Aleene's small glue dots to hold the pattern in place on the plastic. First I did the "no-no" and touched the glue dot so it would lose a bit of its adhesion. After all, these things really work well, so I wanted to be able to remove the pattern and use it a second time. By touching it, they didn't stick as hard, but still enough to hold the pattern still while I cut around it. I did the same for the smile. I used 4 small dots to hold the pattern in place. The paper did stick a little because of the dots, but it didn't matter because it stuck to the plastic, which gets removed prior to ironing.

I placed the shirt on the ironing board and positioned the pieces onto the shirt.

Once they were in place, I peeled off the plastic layer. They curl up a little after the plastic is off, but ironing will fix that. :) Place a press cloth over the iron on transfers (I used a cloth napkin) and kept steady pressure while moving the iron back and forth for 40 seconds. I did this in sections.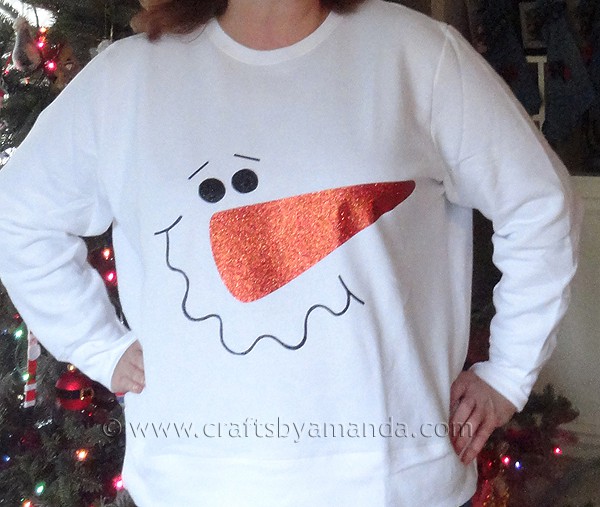 And that's it! Cool huh?? Tulip says you can wash the garment, wash it in cold and let it air or line dry. I love my snowman and can see a lot of possibilities with these cool sheets and these fun paints!
I was provided product and a stipend to cover my time and expenses when making this project. Please know that the opinions expressed in this post are honest and 100% mine.



Latest posts by Amanda Formaro
(see all)