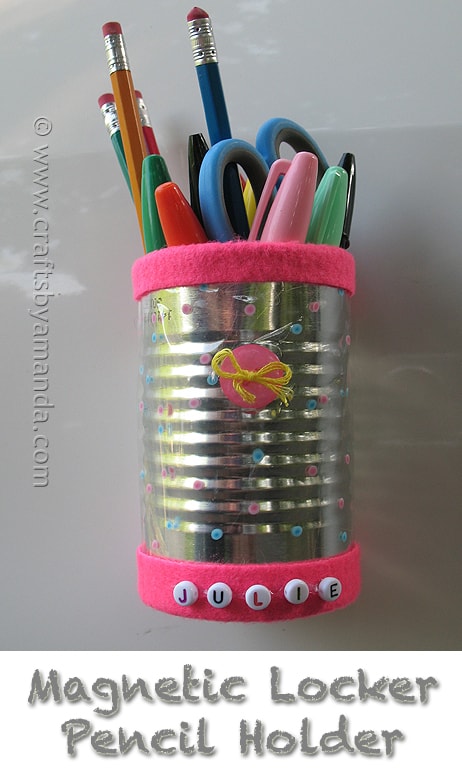 Do your kids have lockers at school? In our small K-8 elementary school, only the sixth through eighth graders get lockers. However, in a neighboring school, all except for Kindergarteners get a locker. Magnets are a fun and popular way to not only dress those lockers up, they are also very handy for keeping things organized.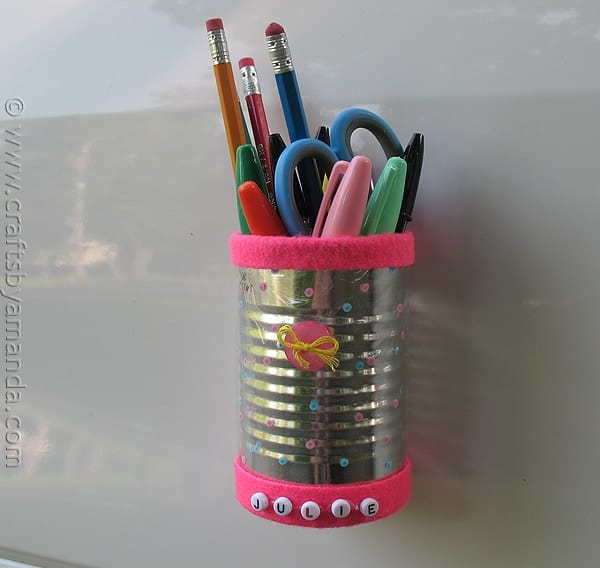 This pencil holder is super easy to make and keeps all those pens and pencils in one place. Hang it right inside the locker door because it's magnetic!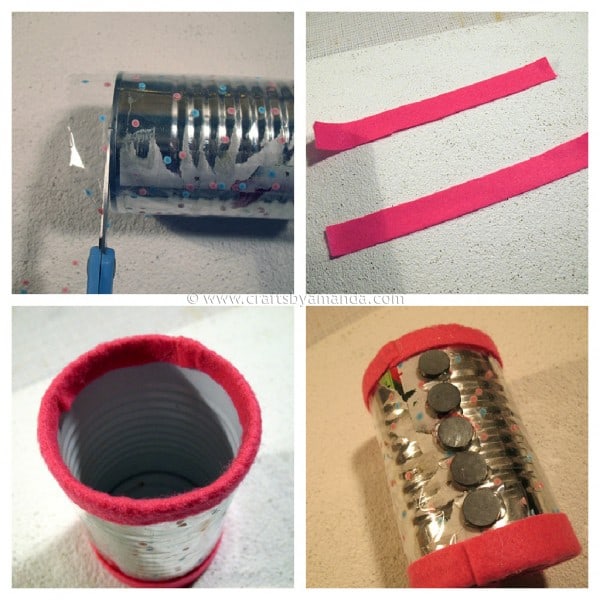 Simply cover the can in patterned cellophane, line the edges with felt and add some magnets!
Have fun on the first day of school. If you are looking, here are more back to school crafts!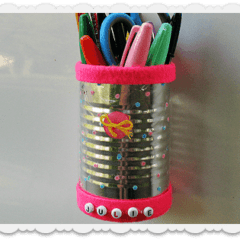 Print Project
Magnetic Locker Pencil Holder
Supplies
clean

empty tin can, label removed

felt

decorated or color cellophane

tape

hot glue gun

alphabet beads

embellishments

such as buttons, beads, thread, etc

5

button magnets
Instructions
Beginning at the back seam of your can, tape cellophane in place. Wrap cellophane around the can and trim, then tape to secure. Trim excess cellophane around the bottom and top of can.

Using the can to measure your length, cut two strips of felt, about 1-inch wide.

Use the hot glue gun to attach the strips along the top and bottom of the can. Tuck the excess inside the top of the can, and around the bottom of the can. This will protect fingers from any exposed sharp edges.

Hot glue button magnets along the back seam of the can.

Embellish the can however you like. We used alphabet beads to add some personalization to the bottom felt strip of the can. We also tied some embroidery floss through a button and glued that to the front. You are limited only by your imagination!
Latest posts by Amanda Formaro
(see all)