You can easily make these super fun and colorful
Tie Dye Wall Letters
 – a perfect
home decor craft
. These groovy wall hung letters are a hit, so much so that my daughter's friends asked how they could make their own! I found some tie dye fabric at the craft store and pulled out my paints. The results were fun and funky.
Decorating your daughter's room can be a challenge, especially when she reaches the preteen and adolescent years. When Kristen, my only daughter amongst three boys, was 12 years old, she wanted me to take the girlishly pink wall letters her grandma had given her, and make them more "hip". She was in that "I don't like pink anymore" stage and was loving the vibrant colors of tie dye.
Tie Dye Wall Letters
designed by Amanda Formaro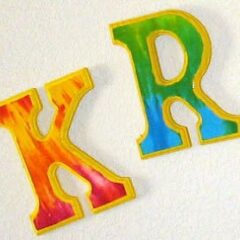 Print Project
Make Tie Dye Wall Letters
Supplies
wooden wall letters

sand paper

Liquitex Basics Gesso

optional

yellow acrylic craft paint

tie dye fabric

razor blade or box cutter

white craft glue

paint brush

water

nail-less sawtooth picture hangers

hammer
Instructions
If needed, sand wooden letters to make them smooth. You can find wooden letters at most craft supply stores or order them online.

Paint a coat of Liquitex Basics Gesso on each letter. This is a craft medium that will help provide better coverage and will require less yellow paint. This step is optional, or you may choose to use white acrylic paint if you don't have any gesso handy. Allow to dry completely. Paint all letters with yellow craft paint, allow to dry and repeat.

Once paint is completely dry, lay letters on work surface in front of you. Cut sections of tie dye fabric large enough to completely cover each letter. Each letter should have its own piece of tie dye fabric. Mix together equal parts of water and white craft glue, mixture should have a milky and paintable consistency. Use an old paint brush to apply a coat of glue mixture onto raised surface of the letter where you want the fabric to be. Lay the fabric onto the glue mixture and gently press down. Use old paintbrush to paint another coat of glue mixture over the top of the fabric, thus decoupaging the fabric on. Repeat these steps for each letter and allow to dry completely before moving on to the next step, at least 2-3 hours.

Using a box cutter or razor blade, cut away the excess fabric by stretching out the excess fabric with your fingers and cutting along the edge of the raised letter. To stretch fabric out, gently pull fabric away from the glued edge until taut, then use the box cutter to trim away.

Turn each letter over and hammer a nail-less sawtooth picture hanger into the back for hanging on the wall. For letters with two "tops" or longer top edges such as "K" or "T", use 2 hangers. Hang your tie dye letters on the wall!
Latest posts by Amanda Formaro
(see all)