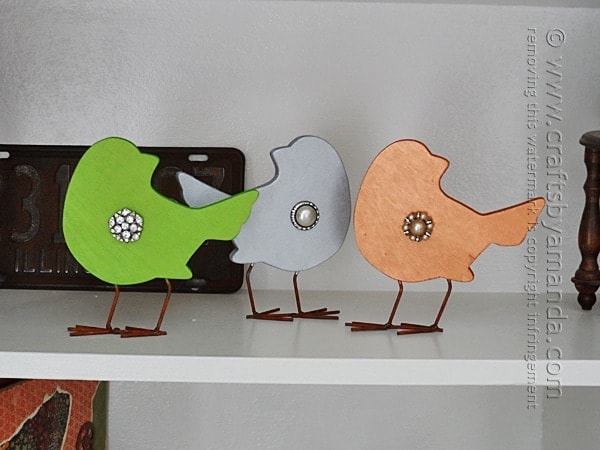 I don't use metallic paints a lot, but they can add that special something you are looking for in a room. Normally I would associate metallic paints with Christmas projects, things that require a shiny finish. But in this particular case, I combined this paint finish with some mismatched jewelry from a garage sale to make this super easy vintage bird decor.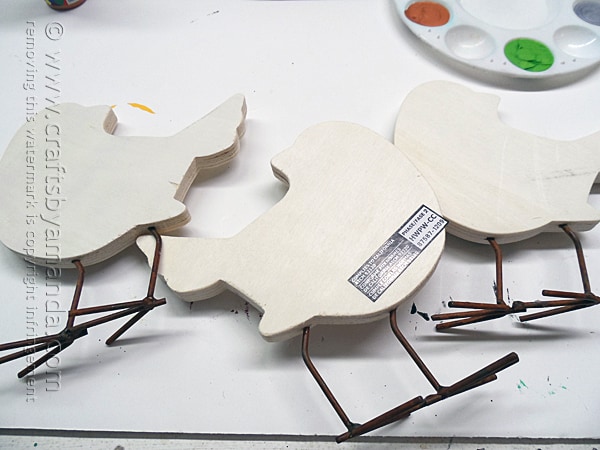 You can find these wooden birds at Michaels. You might be able to find them elsewhere, but that's where I got mine. They are really inexpensive and only require a little touch up sanding on the edges. They have rusty looking legs, which is great for rustic or vintage style, and last I looked, my store had a lot of them.
There really isn't much instruction needed for this project. Basically you paint them with metallic paints then glue a piece of vintage jewelry to the front.
Over the summer, I picked up a bag full of jewelry from the flea market. I like to go at least once a month, or more if I can. Last summer I had a bum ankle after breaking it at a junk sale. Ha!
I find a lot of awesome stuff at the flea market. If you hang out with me on Instagram you probably saw this totally cool giraffe I found and placed in my garden.
Of course, I forgot to bring him in for the winter, and we were totally pounded with snow this year. So this is how he looked about a month ago, though just two weeks ago you could barely see the top of his head!
Anyway, my point is that the flea market, garage sales and thrift stores are a great place to find treasures. While probably 35% of that bag of jewelry I bought was pretty junky, there were plenty of old buttons, charms, faux pearls, and clip on earrings from years gone by. I used a few of the clip on earrings and just pried the clip off the back before gluing it to the bird.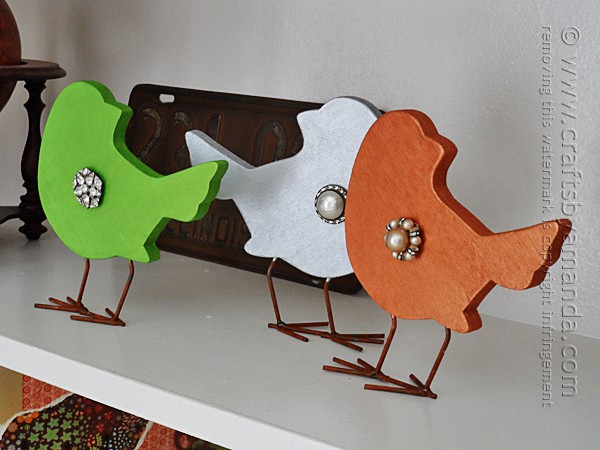 Do you love finding treasures at the flea market and elsewhere? I'd love to hear what some of your favorite finds have been! Leave me a comment and let me know.
More vintage project ideas
I've selected a few of my favorite vintage projects below. You'll notice that one of them also uses that costume jewelry! You can find all my home decor projects here.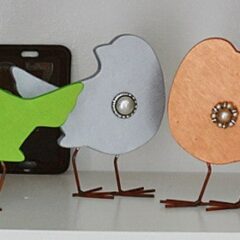 Print Project
Metallic Vintage Birds
Supplies
3

wooden birds

Sandpaper

Vintage costume jewelry

mismatched earrings work great!

Hot glue gun
Instructions
Sand the edges and surfaces of all the birds.

Paint each bird a different color: Bronze, Silver and Green. Repeat for a second coat.

Use a hot glue gun to attach costume jewelry pieces to the center of each bird.
Latest posts by Amanda Formaro
(see all)