If you had asked me in high school if I ever thought I would be creating craft projects for adults and kids, I would have said no. I've loved art since I can remember. When I was in elementary school I always had plenty of coloring books. I loved coloring inside the lines, outlining my pictures with a crayon by pressing harder than the rest of the picture. I would carefully color the picture in to make it just right. As I went through junior high and high school, my love for drawing animals was obvious. My dad had taken me to a hobby shop when I was 11 and bought me a book on how to draw horses. Every notebook and folder that I owned had a horse on it. I loved horses and drew them all the time. Funny thing was, I never dreamt of having a career as an artist.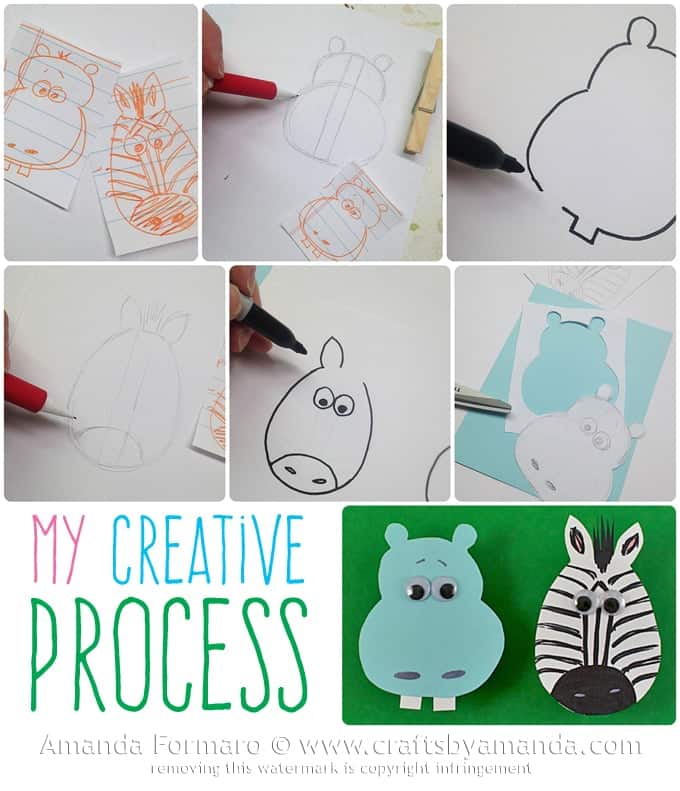 Later, I thought I would become a veterinarian when I was a preteen. In high school I really wanted to be a photographer for National Geographic. College wasn't in the cards for me. My family had moved here from England when I was a toddler, a few years later my parents divorced. Both parents worked long hours and we were latchkey kids in a shared custody arrangement. My dad didn't really know that financial aid was available, so my dreams of attending Columbia College in Chicago were just that… dreams.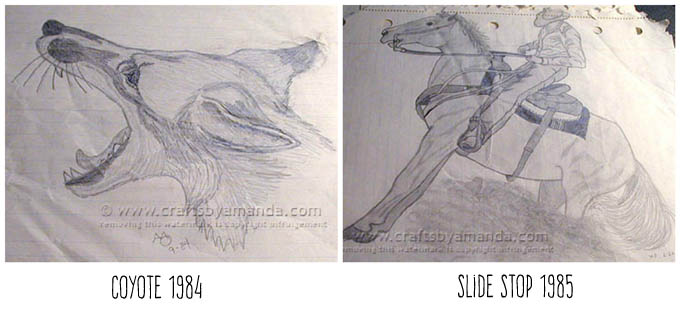 Instead, I went to work at a bank just out of high school (circa 1985). That's when the sketching stopped. I worked my way up through different positions in finance, moving on to corporations, eventually becoming a staff accountant. I was a young 20-ish, newly married and ready to start a family. I was far too busy for drawing. Tragedy struck when I was 23 when my mom passed away. It was one of the hardest things I have ever gone through in my entire life. A couple years later my first child was born. Five years after that my third child was just a few months old and I decided to end my 12-year career in finance to be a stay at home mom and raise my children. That was in 1997.
You would think at that point I would have started drawing and crafting again. But I didn't. At least not right away. Instead I poured my creativity into a website, just a few months after I decided to stay home with the kids. A year or so later is when I really began doing crafty things with my kids. Still not much drawing, but we made things and I posted them on my website. I sketched occasionally while sitting at the park with the kids, but mostly horses. I took up tole painting too in the early 2000's (you can see some of my paintings here). I would sketch out designs to paint, mostly on jars. I even had my own craft store for a little while, before the dismal economy shut me down.
I had been running my website for 9 years when in 2006 I was hired by Kaboose to make crafts for their site. That site was later acquired by Disney, the crafts were moved to Spoonful and the rest is history. In 2007 I sold the website and started blogging in 2008.
Over the years I have worked for numerous websites such as Disney, Parents, General Mills and Family Fun, have crafted for print magazines, had a Chicago Tribune craft column and have designed projects for numerous craft brands and catalogs. I've written four books, am currently working on my fifth and have just signed a deal to create my own Crafts by Amanda branded craft kits for kids!
To go from dreaming about being a veterinarian or a photographer to having a career in finance, then switching gears completely to webmaster, blogger and craft designer, I never would have guessed it. But this is where my creative process has taken me. From sketching horses when I was a child to creating projects and consequent tutorials that others can follow and make in their own homes.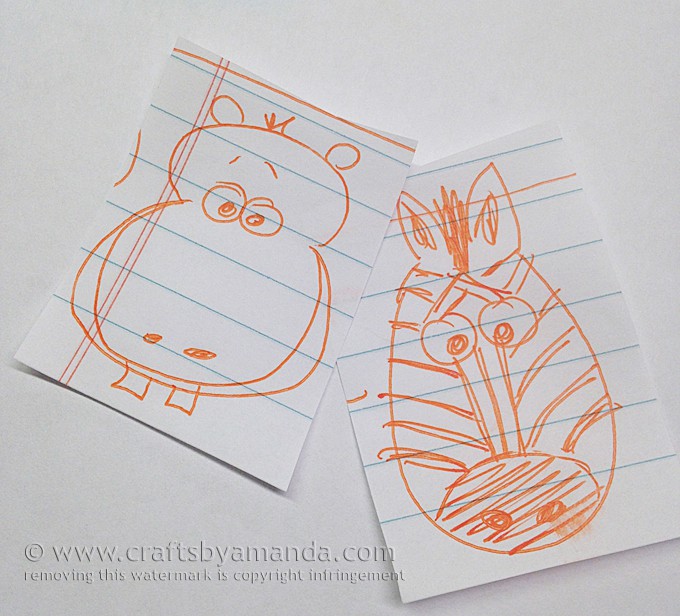 When I come up with an idea, I usually sketch it our first. It helps me to visualize the project, bringing it from my head to something visual. I had this idea for some zoo animal clothespin magnets. I decided on a zebra and a hippo.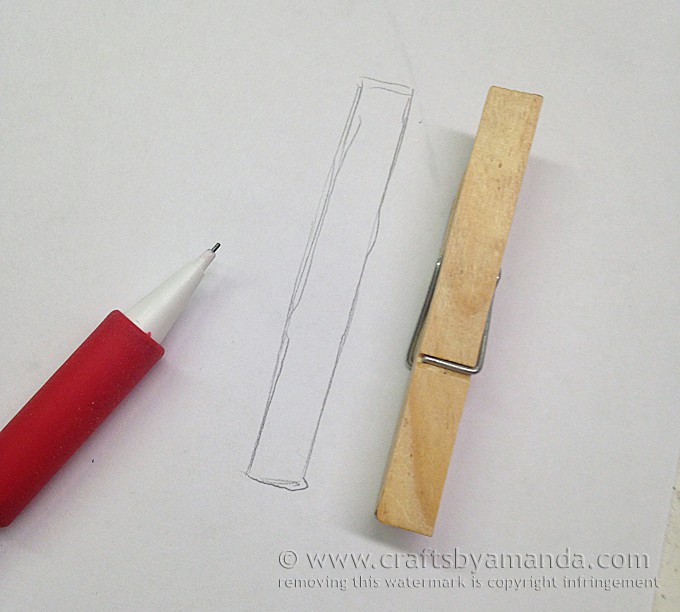 In order to turn the sketch into a clothespin magnet, I started with the clothespin. I just traced the shape of the clothespin onto paper to act as my skeleton.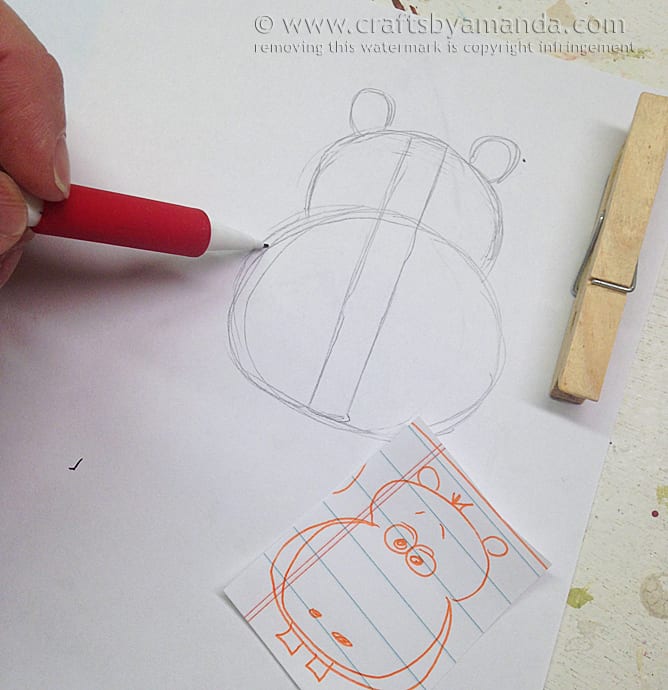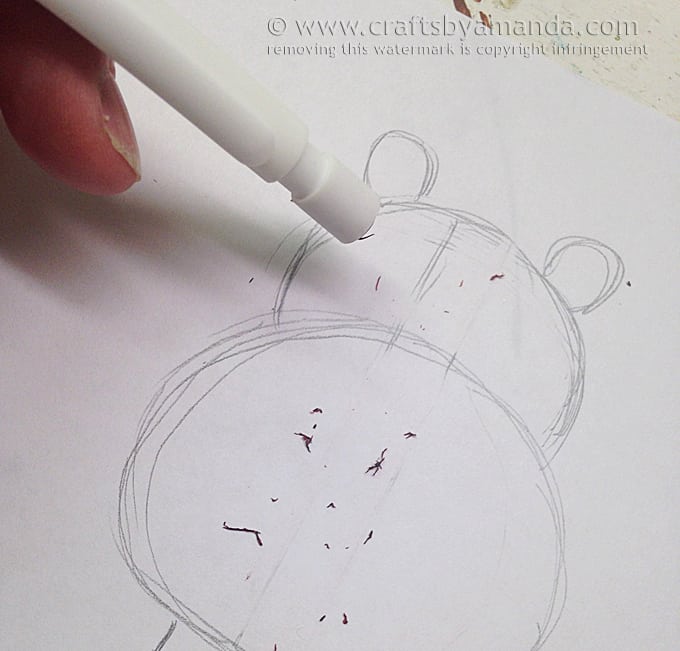 Then I sketched the basic shape of the head onto the clothespin and then erased the clothespin marks.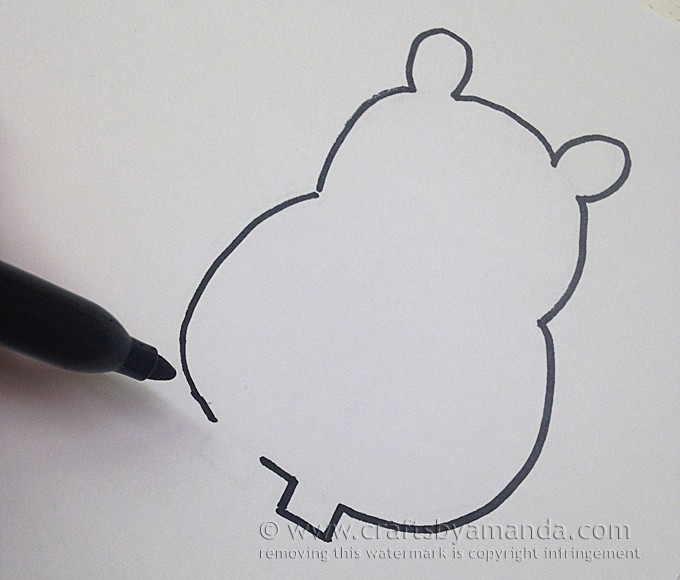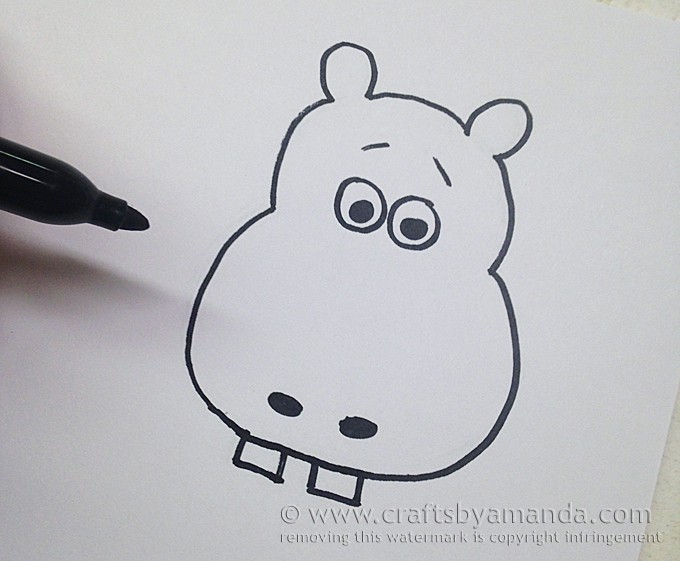 Next I used another piece of paper to trace the outline of the hippo's head with a black marker to create the pattern to be used in the tutorial. I filled in the basic facial features too.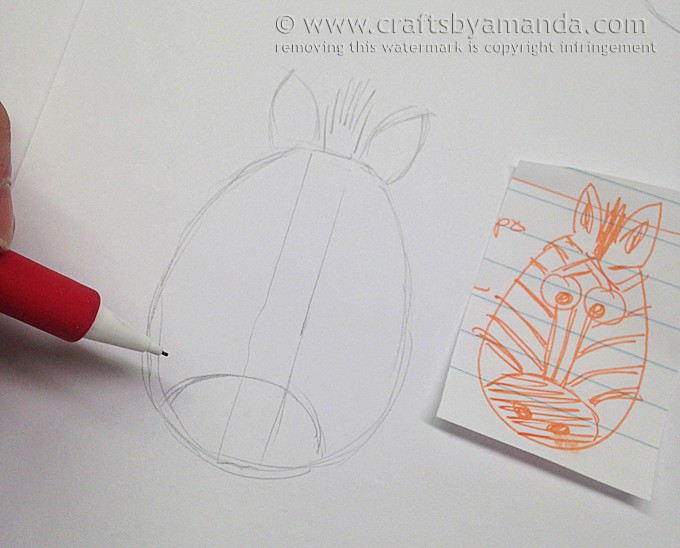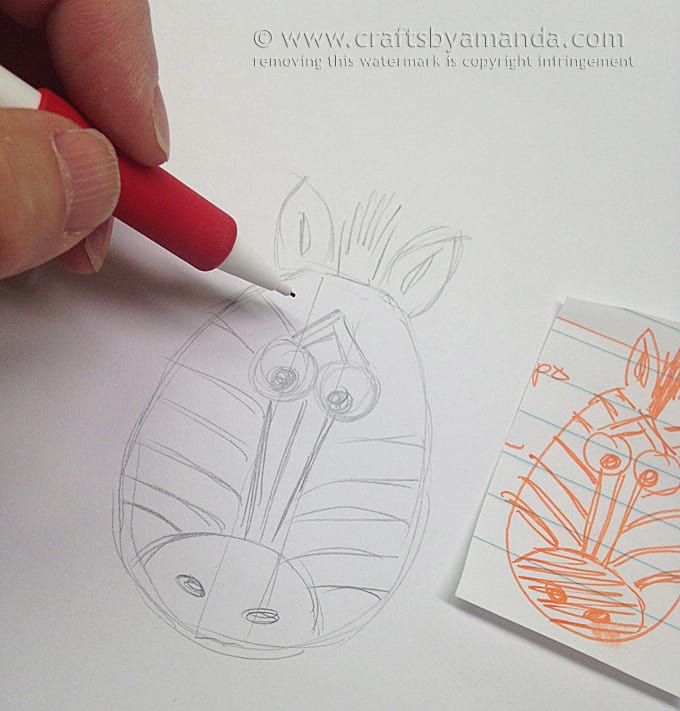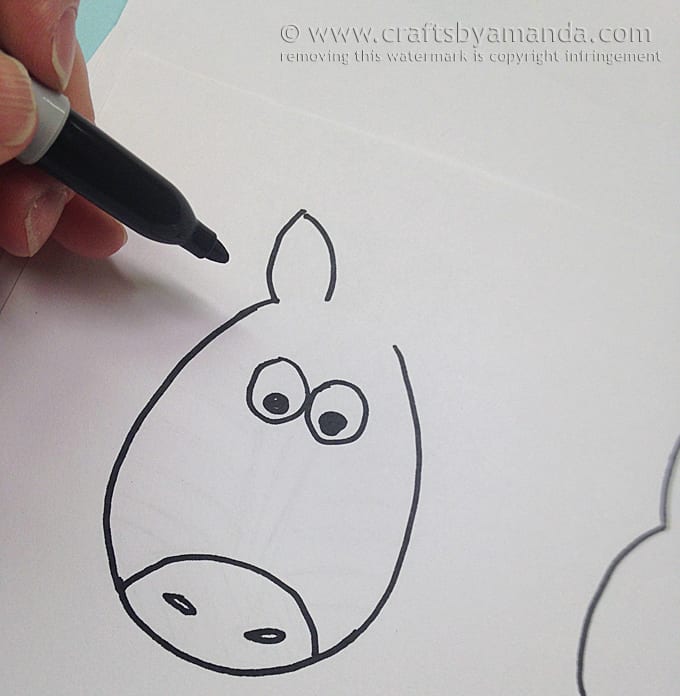 I followed the same process for the zebra. Adding in his details with pencil then tracing with black marker.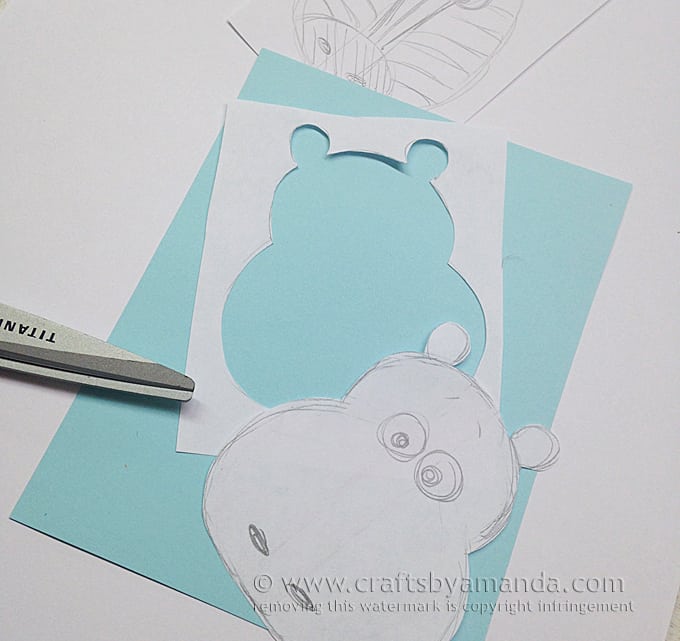 Then I test out the pattern shapes to make sure they will work by cutting them out just like someone would if using my tutorial.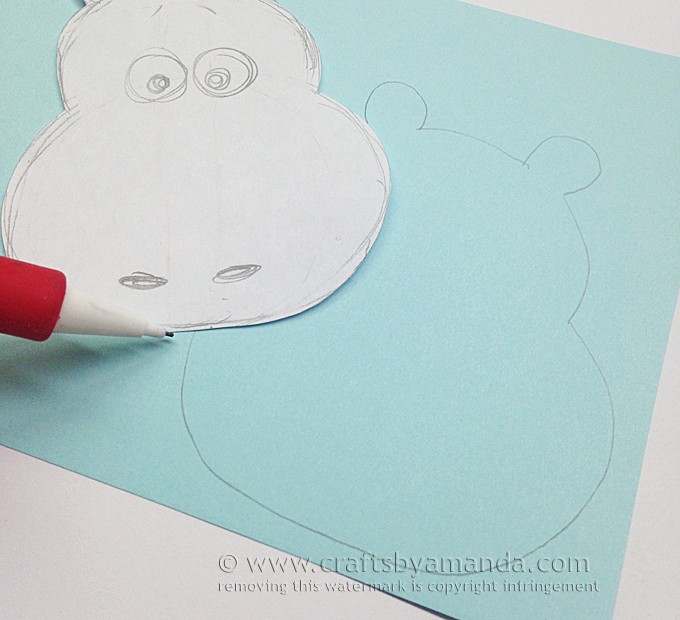 Next I trace that pattern onto the colored paper and cut that out. I make sure it fits onto the clothespin as I'm directing in the instructions of my tutorial. I want to make sure that my readers will be able to recreate the craft as intended!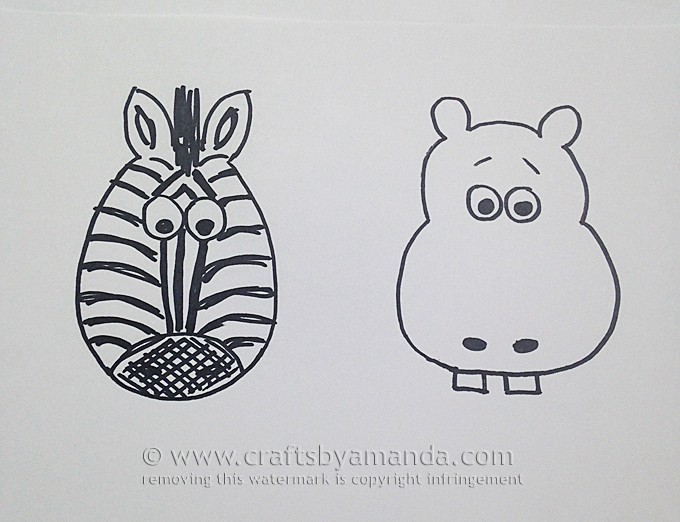 The end result is my finished patterns, which I turn into a PDF for everyone to easily print.
So I guess my point in this post is that you never know where life will take you. You just don't. I do know that if you can earn a living doing what you love, you can't ask for much more than that! If you would like to know a little more about me, click here.
Do you have a creative process that you go through when making a project? Tell me about it. :)
Have fun!
Latest posts by Amanda Formaro
(see all)