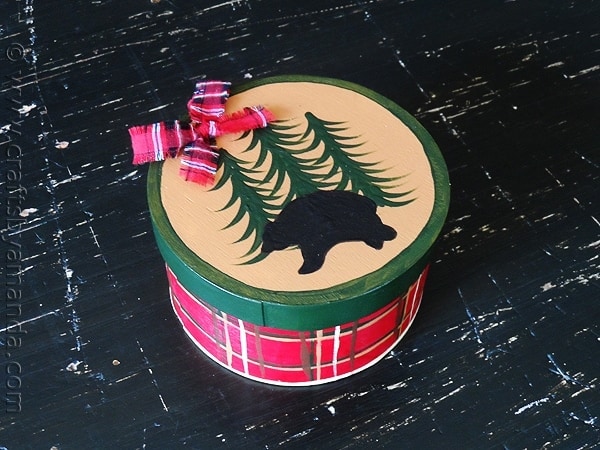 North woods items are quite popular, but they really seem to flourish at Christmastime. Silhouettes of bears, deer, moose, trees and canoes are among the most popular, but there are certainly other symbols as well such as pinecones and fish. Colors usually include browns and tans, dark forest greens and rich, deep reds.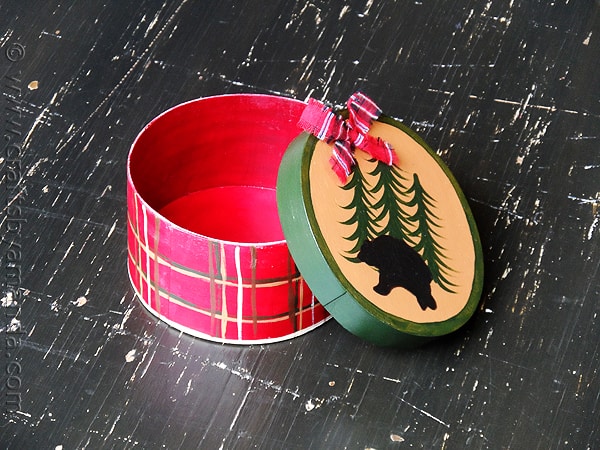 I made this little gift box with all of those things in mind.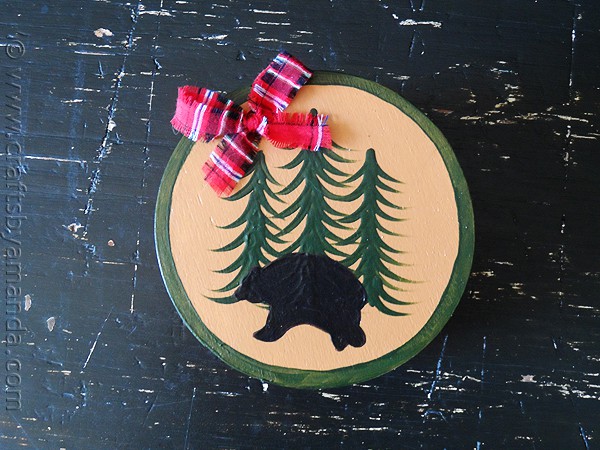 You could certainly use this idea on other items such as an ornament or a gift bag, or even a wall plaque.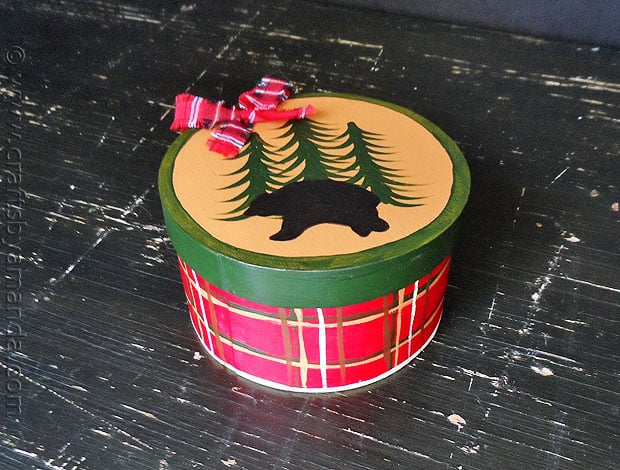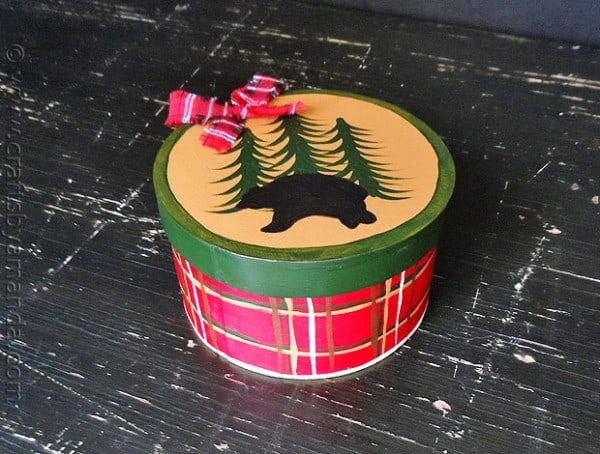 I used one of those $1.00 round boxes with a lid from the craft store.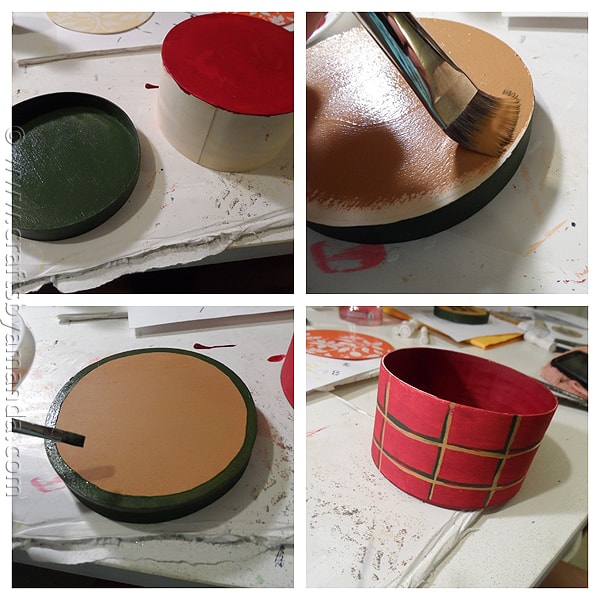 There are full printable instructions below, but here's the basic idea. I painted the box red and the inside and rim of the lid with a dark green. I've also included the exact Americana colors that I used in the instructions below. I then painted the top of the lid with a light brown and used a smaller flat brush to add a dark green border. Lastly, I added gingham striping to the red box with dark green, light brown, tan and dark brown.

The trees are actually really easy. Three long strokes for the trunks, then using a long liner brush add curved lines from the top to the bottom down one side and then down the other.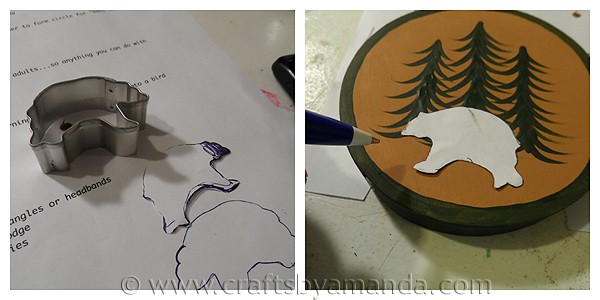 I used a miniature grizzly bear cookie cutter and traced it onto a piece of paper. I cut that bear out, lightly traced it over the trees onto the lid and painted it with a dark mixture of the colors listed below, but a very deep brown or black would work fine.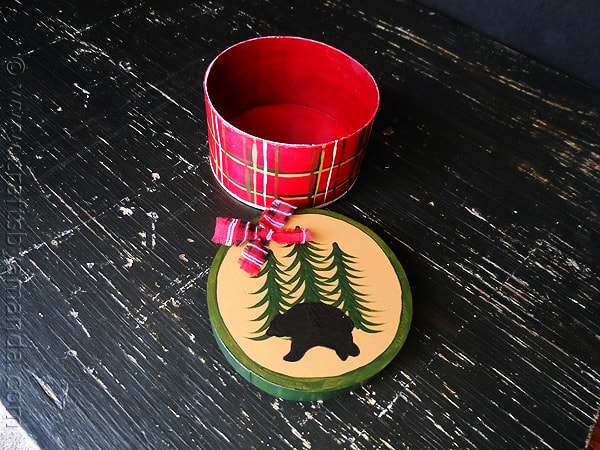 If you wanted this box to be a little fancier, you could line the inside with black or red felt, or go all the way and find some velvet or faux fur. Black faux fur, like a grizzly! :)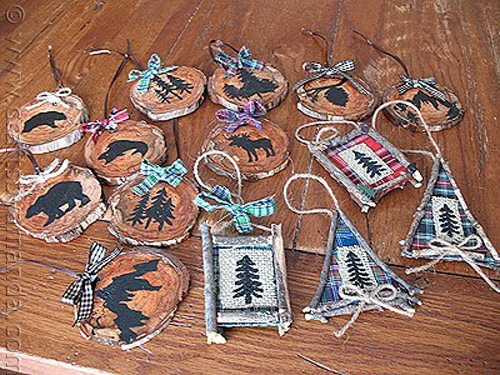 If you really like the north woods theme, you may enjoy this tutorial for Rustic North Woods Ornaments I made for a friend of mine a few years ago.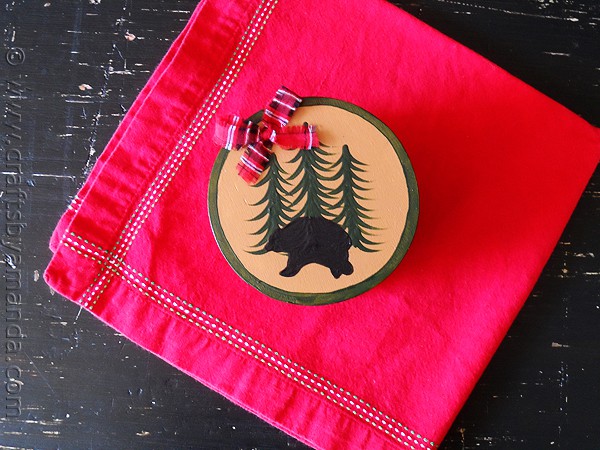 I hope you enjoyed this project!
Looking for a really unique gift idea? Be sure to check out my dammit doll!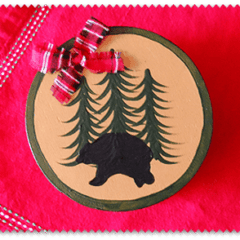 Print Project
North Woods Gift Box
Supplies
Small round box with lid

E6000 Glue

Gingham fabric scrap

Small bear cookie cutter

optional

DuraClear Matte Varnish
Americana Acrylic Paints
Alizarin Crimson

Plantation Pine

Dark Chocolate

Honey Brown

Sand

Asphaltum
Instructions
Remove lid from box and set aside. Paint the inside and outside of the box with Alizarin Crimson. Give the inside a second coat, leaving only one coat on the outside.

Paint the inside of the lid and the outside rim with Plantation Pine. Repeat for a second coat.

Paint the top of the lid with Honey Brown. Repeat for a second coat.

Using a small flat brush, paint a border around the top of the Honey Brown lid using Plantation Pine.

Use a liner brush to paint the trees on the lid. Paint three vertical lines for the tree trunks then add curved strokes for the tree branches.

Use a liner brush to paint gingham onto the outside of the box. Paint lines use Plantation Pine, then Honey Brown, followed by Sand and finishing up with Dark Chocolate.

Freehand a simple bear silhouette or use a small bear cookie cutter to create a pattern. Trace bear lightly onto lid over the dry painted trees. Mix one part Asphaltum with two parts Lamp Black and paint the bear with this mixture using a liner brush.

When everything is dry, give the entire box, inside and out and the lid 2 coats of DuraClear Varnish.

Cut a thin strip of gingham fabric and fray the edges. Tie into a bow, trim the ends, fray, and glue onto the lid of the box.
Latest posts by Amanda Formaro
(see all)