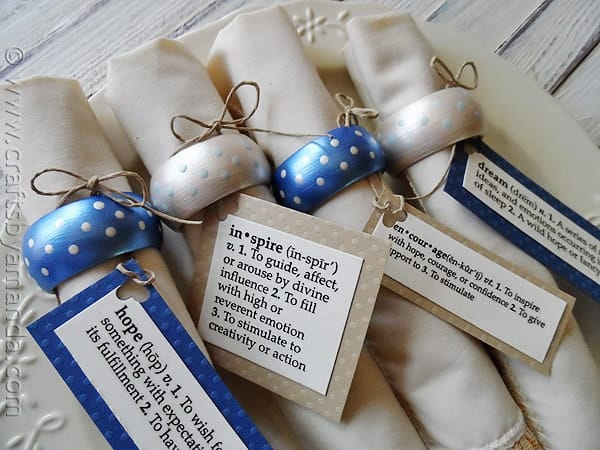 These pretty napkin rings come complete with inspirational sentiment tags that you make from rub-ons! These can be used for Thanksgiving or Christmas, or both if you like. Change the colors to match your decor, or go with winter blue like I did. Polka dots are always in style as far as I'm concerned, don't you agree?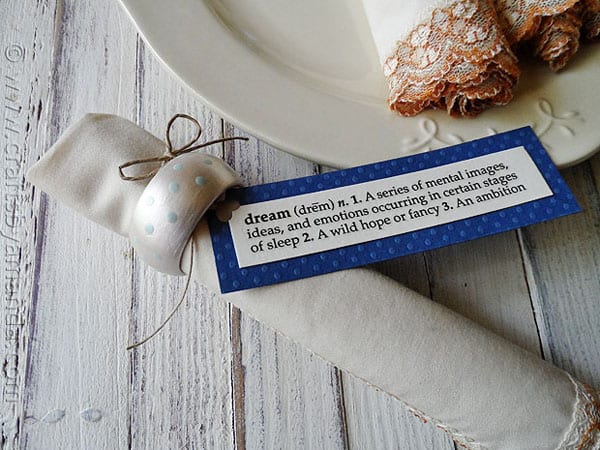 I am constantly scouring the thrift store for things to redo. I found some wooden napkin rings over a year ago and have had them in my craft stash all that time.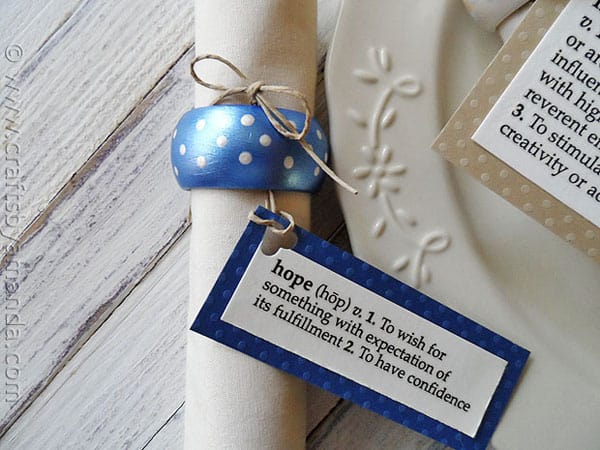 I also had some rub-ons left over from a scrapbooking project my daughter wanted to do. I paired those with some patterned paper, and the napkin rings with some pearl paint and this was the result!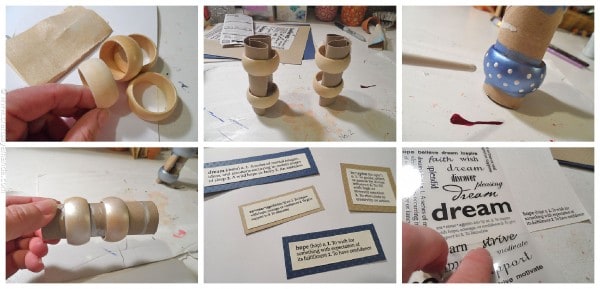 First I sanded the napkin rings then put them on some cardboard tubes as holders. I painted them with pearl paint and added the polka dots with the handle end of a paintbrush.
These are easy to make but there is some drying time involved, so keep that in mind if you plan this or a similar project.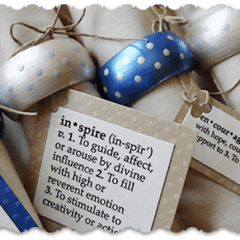 Print Project
Polka Dot Pearl Napkin Rings
Supplies
Wood napkin rings

Sand paper

Colored card stock

White card stock

Rub-on sentiments

Twine

Double sided tape roller or glue stick

Paper cutter

Regular or decorative hole punch
Martha Stewart Pearl Paint:
Cornflower

Mother of Pearl

Jet Stream
Instructions
Sand the napkin rings to remove any rough edges or any finish that may have been on them.

Use cardboard tubes to hold your napkin rings and paint them with Cornflower (blue) and Mother of Pearl (white). You will need 3-4 coats on each napkin ring.

In between paint coats, create your sentiment cards. Attach the rub-ons to white card stock and use a paper cutter to cut them out.

Cut colored card stock a little bigger than the sentiments (1/4" - 1/5" larger) and attach the sentiments to the card stock using your tape roller or glue stick.

Punch a hole in the upper left corner of each sentiment card. Loop the twine through the hole. Tie a bow at the top of the open ends of the twine.

Thin some Jet Stream (pale blue) paint with a small amount of water. Dip the handle end of a small paintbrush into the paint and dot onto the napkin rings. Allow polka dots to dry completely.

Insert rolled napkins into rings and insert the twine up into the napkin ring so that the bow pokes out the top and the sentiment card is displayed face up.
Latest posts by Amanda Formaro
(see all)