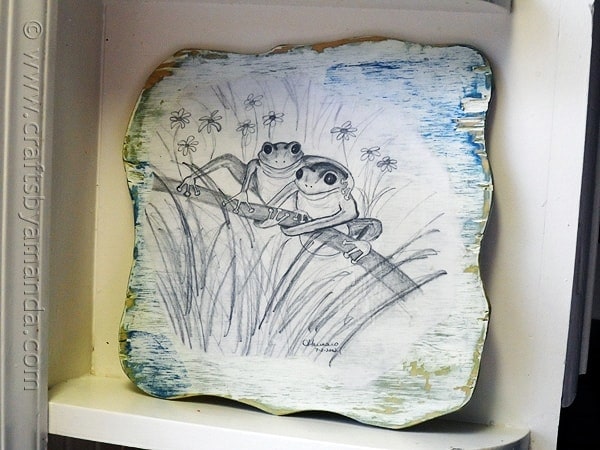 Back in 2003 I owned a store called Amanda's Attic. It was in Richmond, Illinois, which in its hay-day was a hopping antique shopping town that was flooded with foot traffic every weekend. Unfortunately, down turns in the economy killed the town, though it does continue to struggle to survive today. I didn't keep the store open long. It didn't take long to realize that I was beating a dead horse. As much as people loved what they saw inside (that is when there WAS people walking around), no one ever wanted to part with their money. Here are some pictures of the store and some of the paintings I did.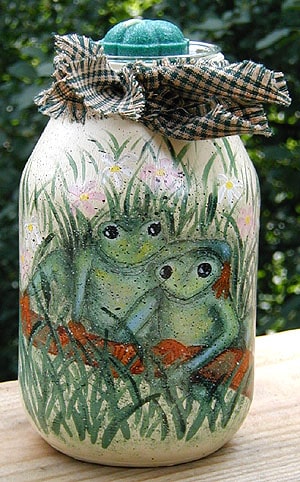 I closed up shop, returned consignment items to their owners and had a close out sale via eBay to get rid of m remaining inventory. It was back then that I painted a lot. I did a lot of painted jars, and one of my all time favorites was this tree frog jar (pictured above). In fact, it was my most requested custom item. Not sure what the attraction was with those little froggies, but people loved them and I painted quite a few for customers.
These frogs didn't start out as a painting of course, they were a drawing I had done. In fact, I remember drawing the frogs, inspired by a photograph in a nature magazine. Drawing was always a passion of mine, though it's really not something I do much of anymore. So when I do draw and I'm happy with the results, I tend to hold on to those pieces of paper. Problem is I'm not very good about taking care of said pictures. That's why I decided to immortalize it on a plaque for my craft room.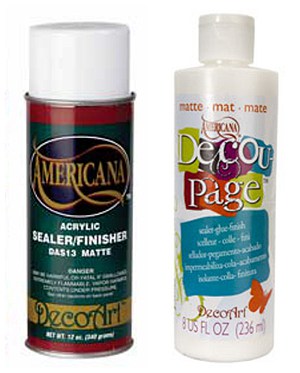 I used DecoArt's Decoupage medium, some Americana paints for the plaque, and Americana acrylic sealer spray to prep the paper itself.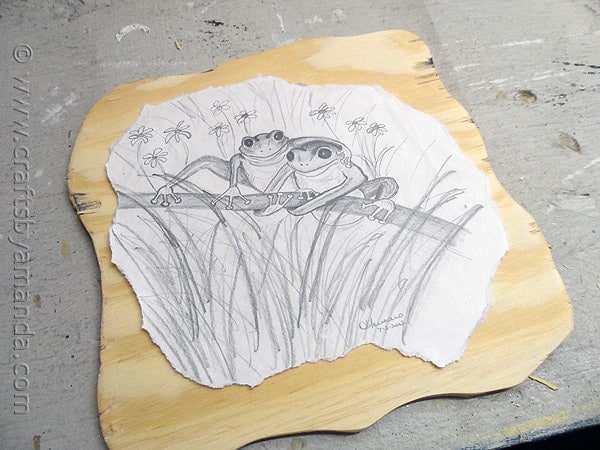 First I cut a piece of plywood using my saw, just cutting some jagged edges all the way around. No particular design.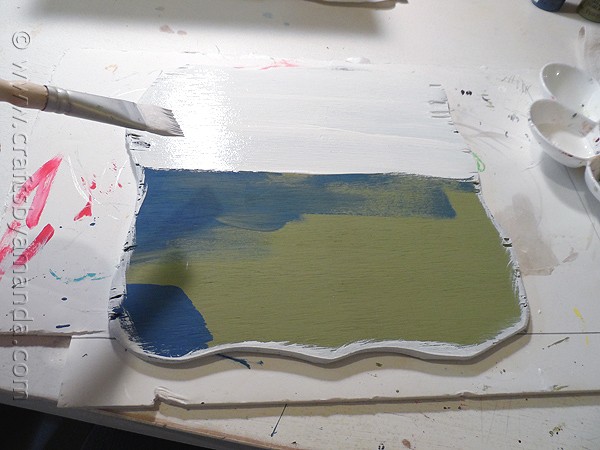 I wanted both blue and green to show through the white, so after giving the plaque a good sanding, I painted it with both colors. When those two colors were dry, I went over it with a coat of white.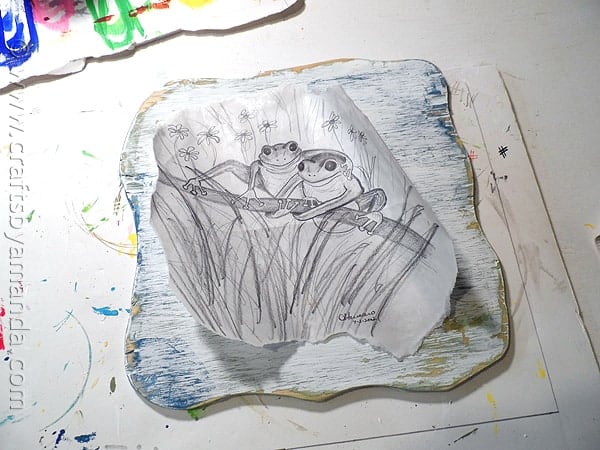 Now for the important part. I drew this in July of 2002; that's 11 years ago. The last thing I want to happen is to apply decoupage medium over the top and have the pencil smear all over the place. So I sprayed both sides of the paper with acrylic sealer first. Applying the sealer locks the pencil led beneath it so that no smearing occurs. It also helps keep the paper from bubbling. Remember, paper is made up of tiny little fibers and getting it wet, even with something like decoupage, will start to break it down. Sealing it first keeps that from happening.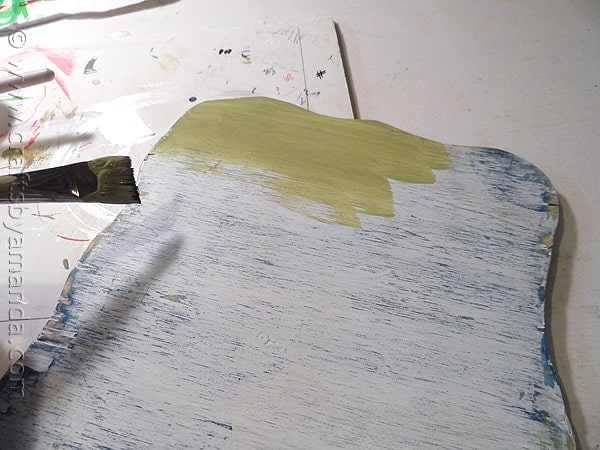 After the white paint dried, I sanded the entire thing, pressing harder in some areas than others. This let the blue and green show through the white, giving it a more distressed look. Then I mixed antiquing medium with some of the green paint and applied a coat to the entire surface and wiped the excess back. This gave it a slightly less bright look. Then, of course, the final step was the decoupage the picture onto the surface of the plaque. When I decoupage, I always apply it to the backside of the picture first, then press it in place as if I were using glue. I let that dry for about 20 minutes before adding the topcoat.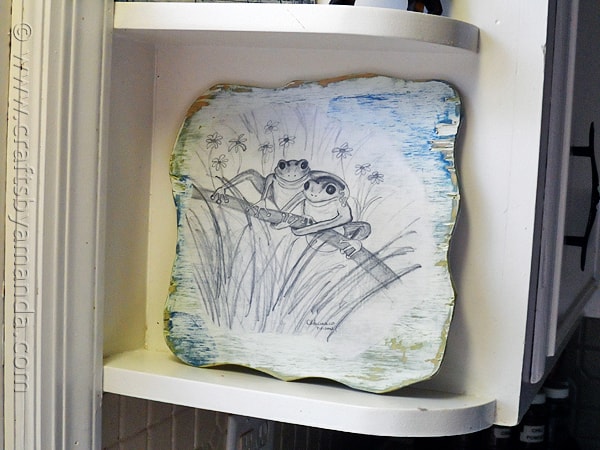 So, now my pencil drawing is preserved. I'm actually quite surprised I managed to keep the drawing in tact for as long as I did!
I am a DecoArt Core Blogger. I was compensated for this post, but have always loved DecoArt products! Therefore, all opinions expressed here are 100% my own.
Latest posts by Amanda Formaro
(see all)