Imagine glittery leaves, pinecones, and acorns under the light of the chandelier at your holiday table. These pretty Thanksgiving napkins are easy to make and with a little patience, they'll be gracing your table this Thanksgiving!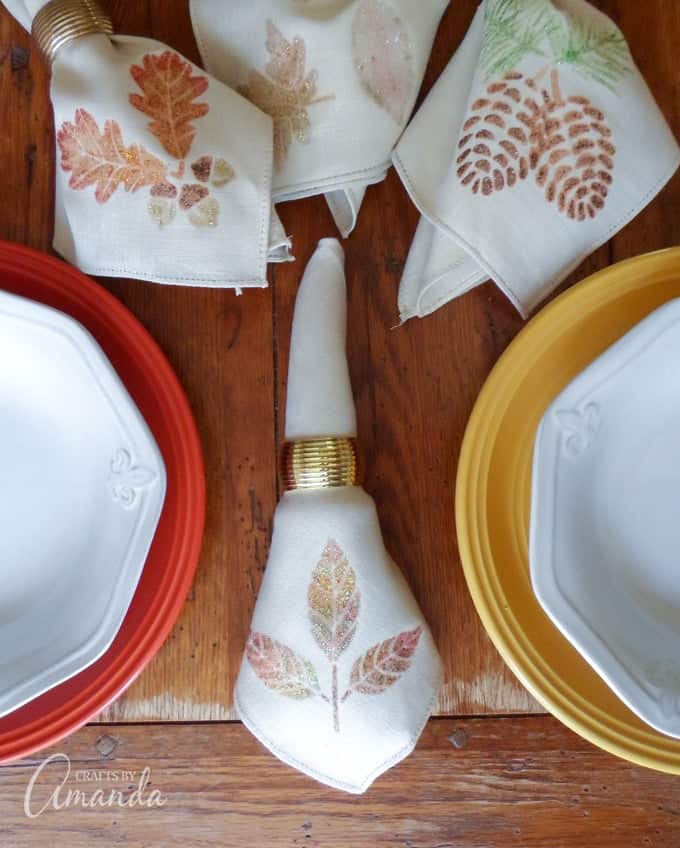 Thanksgiving Napkins
Use glitter paint to decorate plain fabric napkins. These glittery Thanksgiving napkins won't shed glitter and look great on your table!
I know that photographs don't do glitter justice, so I made a short video to show the glittery effect.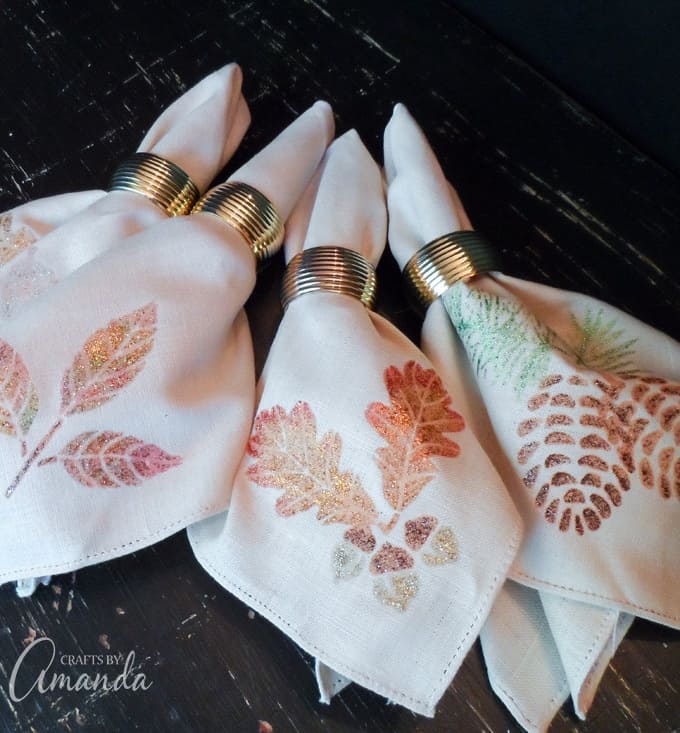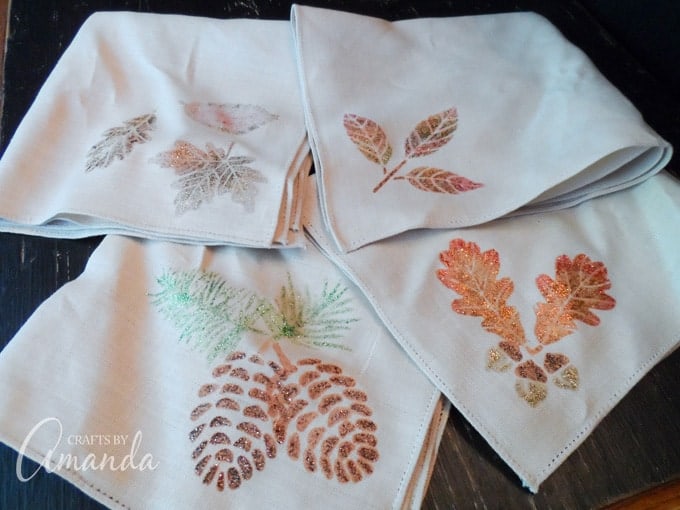 I used stencils from Martha Stewart, but there are plenty of different ones out there. Check your local craft store.
Here are the supplies you will need:
Martha Stewart Multi-Surface Glitter Paint Colors: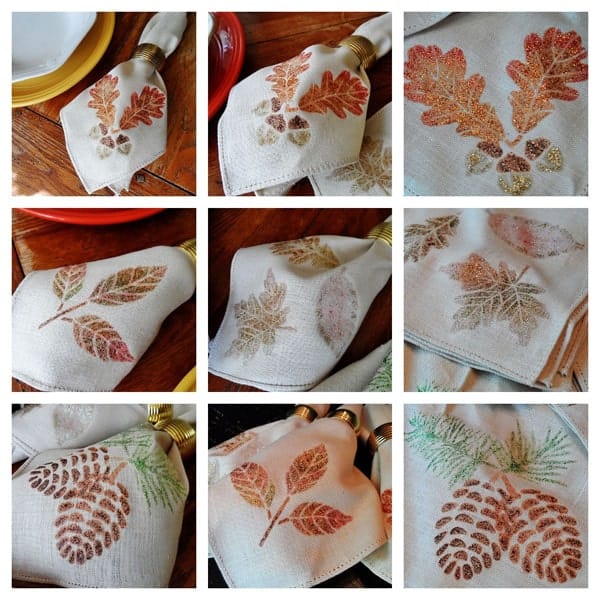 I really do love how these came out! I think my favorite is the pinecone.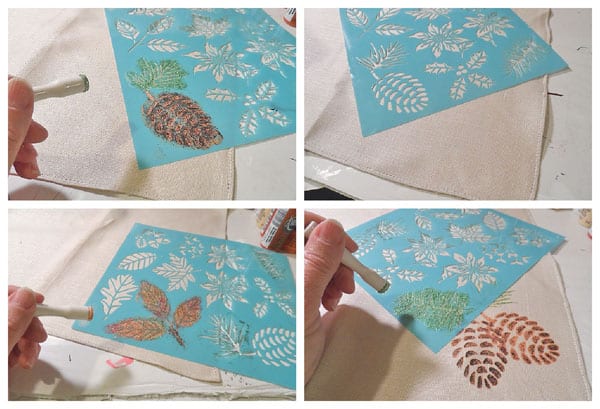 I did find that with the glitter paint it was best to apply to the whole stencil then go over it again. That seemed to attach the most glitter without getting gloppy.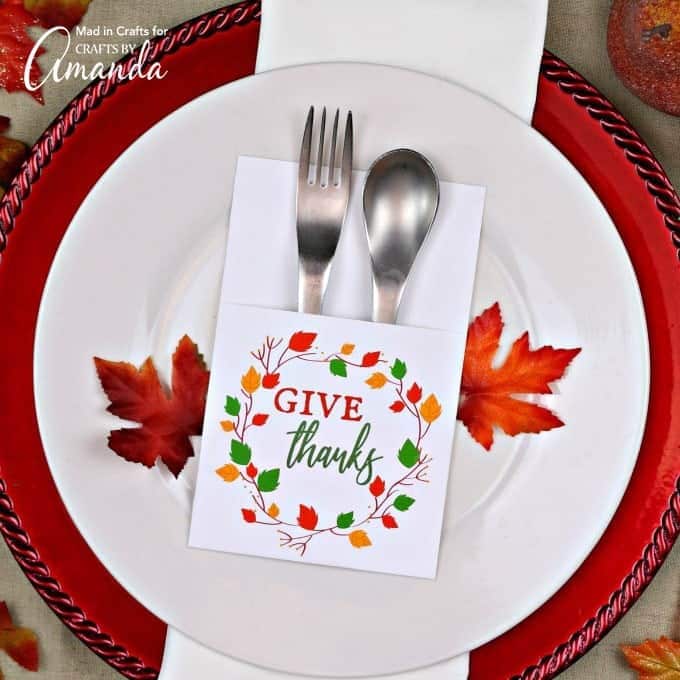 Before you go, you don't want to miss another easy way add character to your Thanksgiving table! These printable Thanksgiving utensil holders add charming decorative detail while serving a purpose on your Thanksgiving table.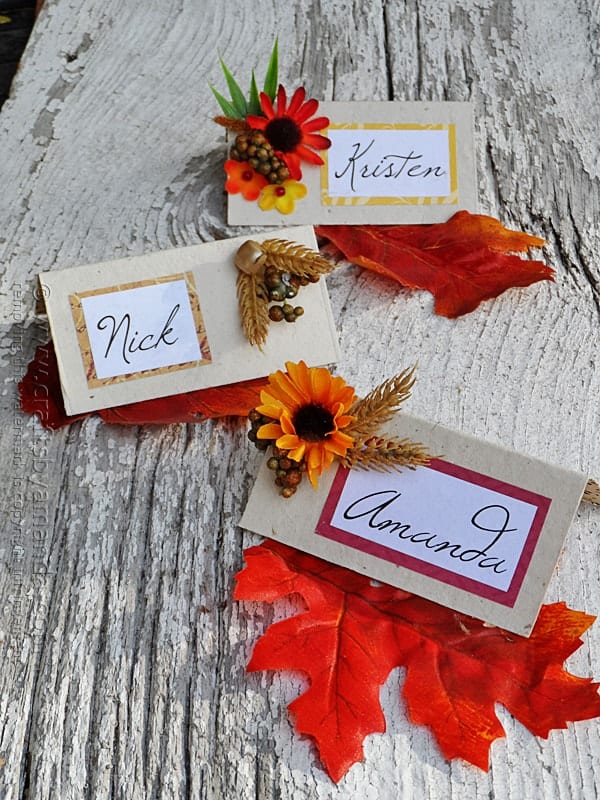 And lastly, these Thanksgiving place cards are another perfect addition to a beautiful tablescape!
Happy Thanksgiving!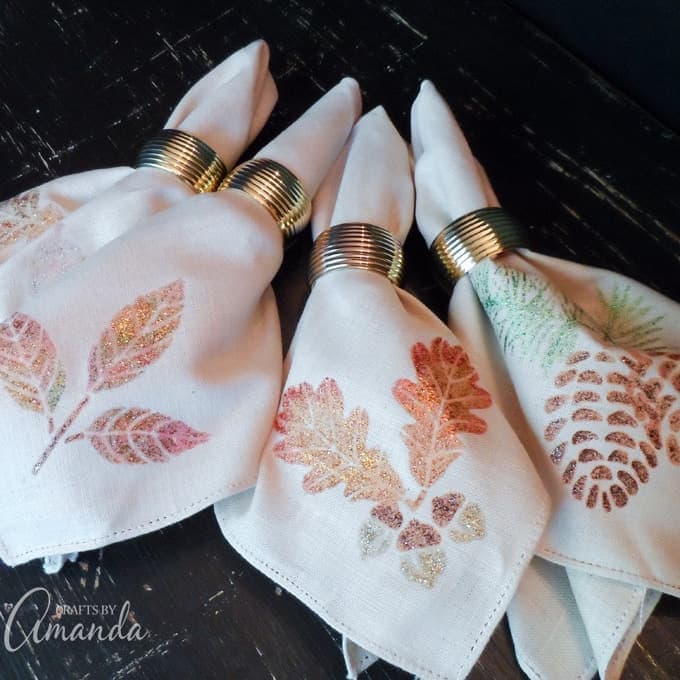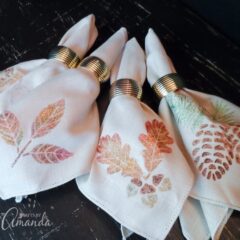 Print Project
Thanksgiving Napkins
Supplies
4

plain linen napkins

Fall themed stencils

Stencil daubers or brushes

Fabric medium

Spray bottle

White vinegar

Cotton cloth or rag

Iron

!Martha Stewart Multi-Surface Glitter Paint Colors:

Brownstone

Sugar Cube

Peridot

Fire Opal

Florentine Gold

Garnet
Instructions
Wash, dry and iron your napkins. Do NOT use fabric softener. Fabric softener (dryer sheet or liquid) can get into the fibers of your fabric and interfere with the paint adhesion process.

Mix your paint with fabric medium according to the directions on the fabric medium bottle.

Position stencil onto fabric in the corner of the napkin. You can use Painter's Tape to hold the stencil down if you prefer.

When stenciling, you do not want to load your dauber with too much paint. In fact, it's best to have some paper towel or craft rag nearby for blotting off the excess paint.

Apply the first layer over the stencil. If you don't seem to be getting enough glitter onto the project, use a plastic dish or paint pallet to dab off excess, some glitter will come off and remain on the pallet. You can "scrape" that glitter up with your dauber and add it to your project.

Carefully lift stencil and clean it off before using it again.

Create a multicolor affect by layering several different colors of paint onto one design. Use one color for the base and a brighter color around the edges for a bold look.

Allow paint to dry overnight.

The next day you will want to heat set your design. Set iron to appropriate temperature for the fabric your napkins are made from.

Place some undiluted white vinegar into a small spray bottle. Vinegar will help to preserve the color of your design. Hold a clean cotton rag or cloth over your sink and mist it with the vinegar. Do not saturate the cloth, just mist it, and do not spray your painted design directly. Place the damp side of the cloth over the painted design.

Press your iron (do not push the iron back and forth, just press down firmly but gently) over the damp cloth and painted design. Hold for 30 seconds. Repeat as needed to cover the entire design.

Wait 5-6 days before washing (hand washing is best).
This post was originally published on this blog on Nov 18, 2012.
Latest posts by Amanda Formaro
(see all)