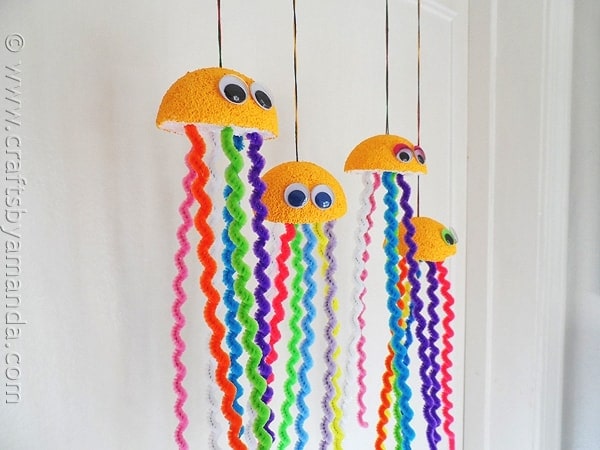 Need a fun project for a lazy afternoon? These adorable jellyfish are full of vibrant colors and very easy to make. Pipe cleaners, googly eyes and Styrofoam balls are all that are needed to make these cute hanging sea creatures. These floating jellyfish will look adorable hanging from the playroom or your child's bedroom ceiling!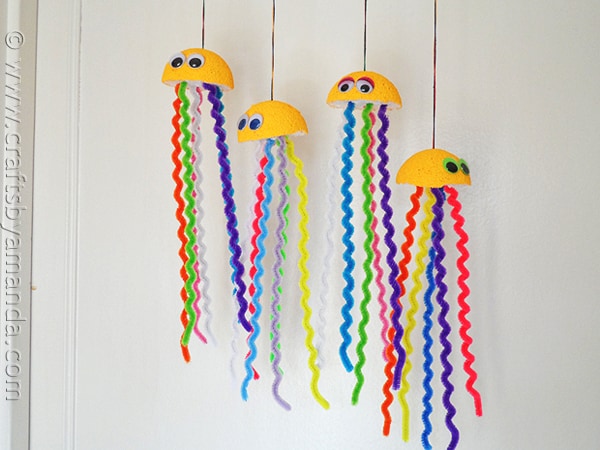 Summer has just about wrapped up, we have just over a month to go before fall's official first day. It's hard for me to let go of summer sometimes, even though I love autumn with all my heart! Nothing says summer more to me than the beach and all of its wonderfully "craftable" creatures.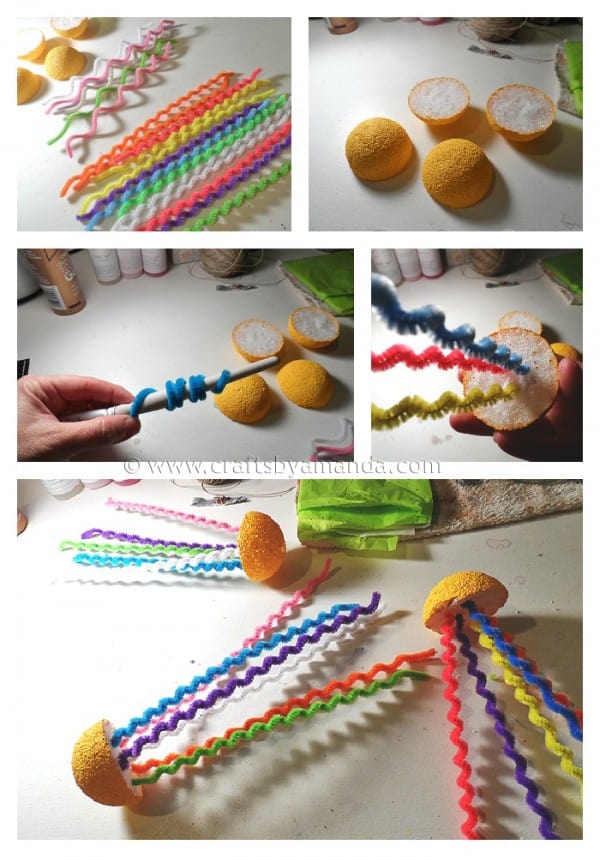 [Full printable instructions below] Twist pipe cleaners around a pencil or paintbrush to make them into coils. Paint Styrofoam balls and cut them in half. Poke the coiled pipe cleaners into the flat side of the ball. Finish up by adding googly eyes and a string to hang them from!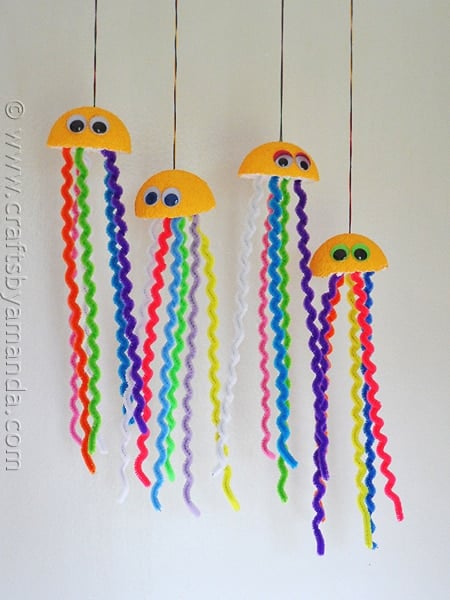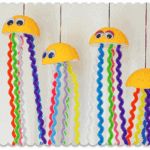 Print Project
Rainbow Jellyfish Craft
Supplies
2 1/2

" Styrofoam balls

1 ball for 2 jellyfish

Yellow paint

Metal or wood ruler

Pipe cleaners in various bright colors

White craft glue

String

Googly eyes

Toothpick
Instructions
Paint the Styrofoam balls yellow and let them dry.

Use ruler to cut Styrofoam balls in half.

Wrap pipe cleaner around a small paintbrush then slide paintbrush out. Stretch out the coil. You can use a larger paintbrush for larger coils.

Turn ball-half upside down and insert five pipe cleaners into the flat side.

Use a toothpick to poke a small hole in the center of the top of the ball (round side).

Fill hole with some glue and use toothpick to push string into the hole for the hanger.

Glue on googly eyes.

Let everything dry before hanging.
Notes
Variation: Hang these directly from the ceiling or attach two sticks or dowels together in cross fashion, then hang from those as a mobile.
Amanda Formaro is the crafty, entrepreneurial mother of four children. She loves to bake, cook, make kid's crafts and create decorative items for her home. She is a crafting expert and guru in the kitchen and has appeared online and in print publications many times over the years. She is also the editor for the Home & Garden channel at Craft Gossip and owner of FunFamilyCrafts.com.
Latest posts by Amanda Formaro (see all)