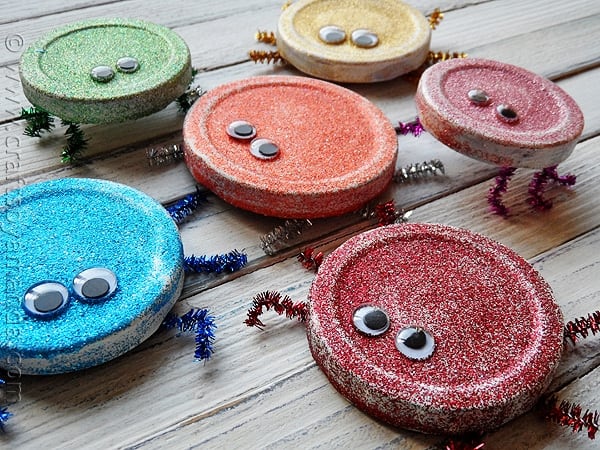 Are you one of those crafters that saves every empty jar from the kitchen? Jelly, pickles, capers, etc, they all get washed and turned into some sort of craft project, don't they? What do you do with the lids if you don't use them? That's when you turn to the kids and make a fun recycled lid craft like this one!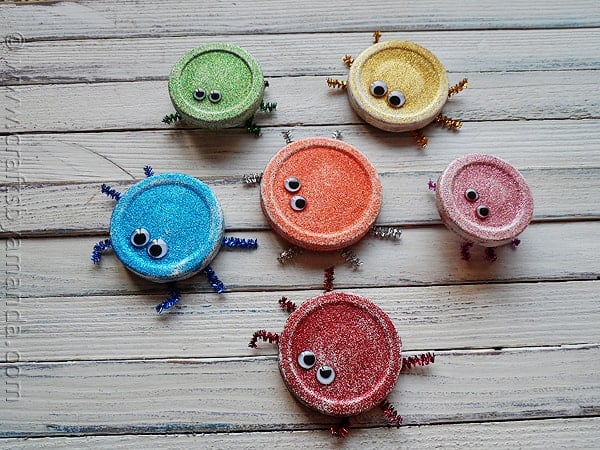 This cute recycled lid craft is made from different sized jar lids, glitter paint, some googly eyes, and pipe cleaners. It's a great project for Earth Day, which is approaching quickly!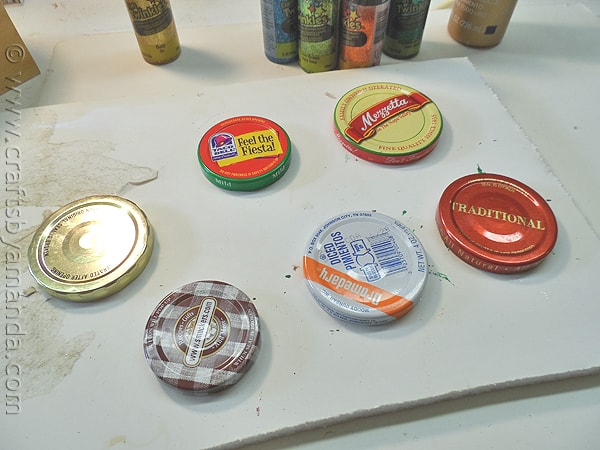 I always have a stack of jar lids waiting in the craft drawer. If I use jars to make luminaries or other jar crafts, I never throw out the lids. There are just too many possibilities!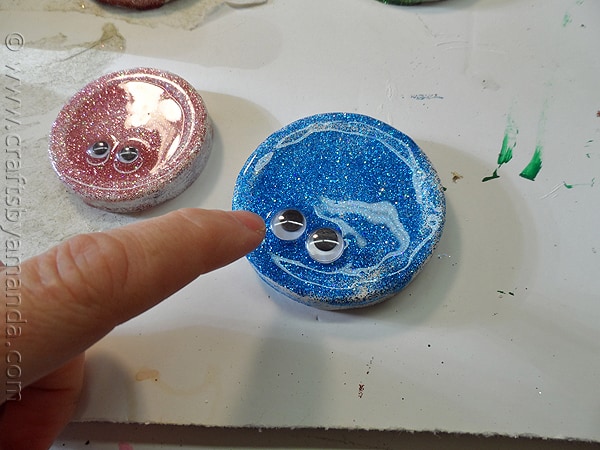 For these, paint the lids with white paint first, to cover up any words or patterns from the original lid design. Then coat them with a generous amount of glitter paint. While the paint is still dry, add the googly eyes. This saves you the step of gluing them on.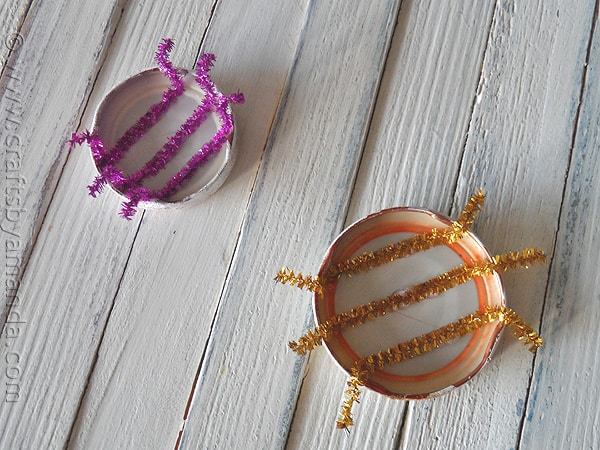 When they are completely dry, turn them over and glue the pipe cleaners in place for the legs.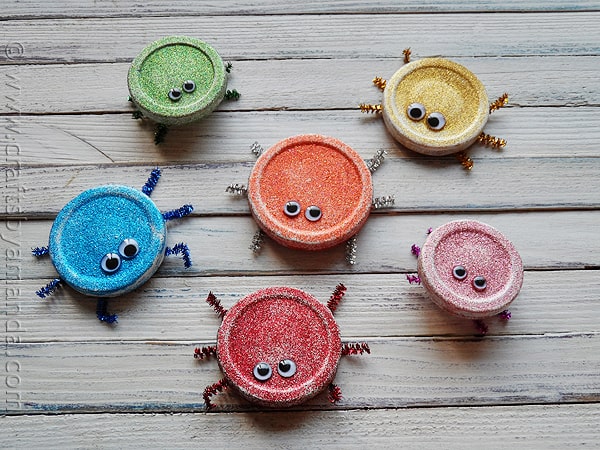 Other Recycled Lid Crafts
Plastic Lid Monsters
Plastic Lid Ladybugs
Plastic Yogurt Lid Mobile – El hada de papel
Plastic Lid Birdies – Meet the Dubiens
Jar Lid Glitter Bugs
Supplies
Recycled jar lids

White acrylic craft paint

Glitter paint

Googly eyes

Glittery pipe cleaners

Hot glue gun
Instructions
Paint the lids with two coats of white paint, allowing the paint to dry between coats.

Paint each lid with a generous amount of glitter paint.

While paint is still wet, position two goggly eyes on each lid. Allow paint to dry completely.

Cut pipe cleaners into thirds. Turn lids over and hot glue pipe cleaners to the inside of the lid for the legs. You can bend them so that the legs are straight out to the sides or erect.
Amanda Formaro is the crafty, entrepreneurial mother of four children. She loves to bake, cook, make kid's crafts and create decorative items for her home. She is a crafting expert and guru in the kitchen and has appeared online and in print publications many times over the years. She is also the editor for the Home & Garden channel at Craft Gossip and owner of FunFamilyCrafts.com.
Latest posts by Amanda Formaro (see all)