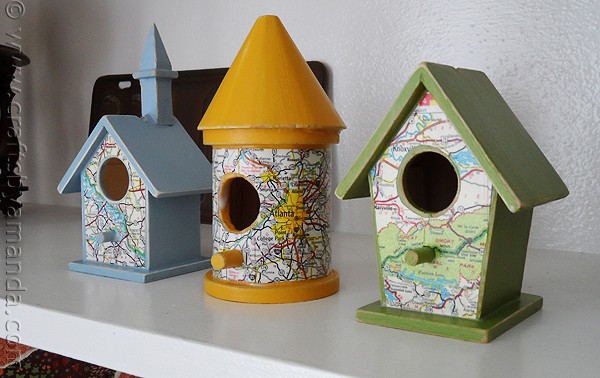 When I go to the flea market during the warm months, I'm always looking for old maps to use in craft projects and home decor projects. Last fall I picked up a few state road maps, but each time I tried to use them in a project they just weren't the right fit.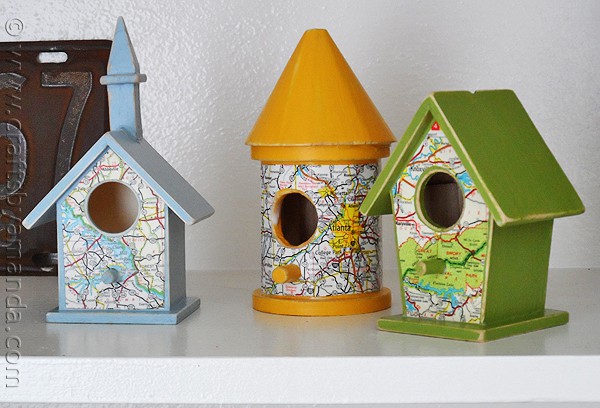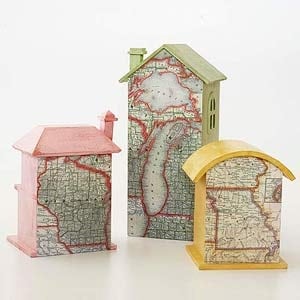 However, when I saw and saved this map birdhouse project from Midwest Living on to my inspiration pinboard, I knew exactly what to do. Midwest Living instructs that you match your paint colors to the colors within your maps. That was brilliant advice, positively brilliant!

Road maps are actually not as fun to use in projects as I had originally hoped. The roads and highways aren't quite as glamourous as vintage maps are, hence why I was having trouble working them into a project.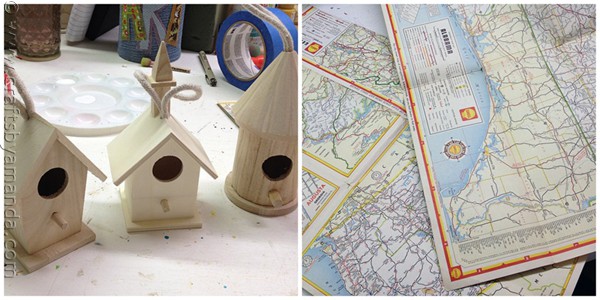 I bought 3 small wooden birdhouses from the craft store and opened up the maps I had to really look and see what colors they held.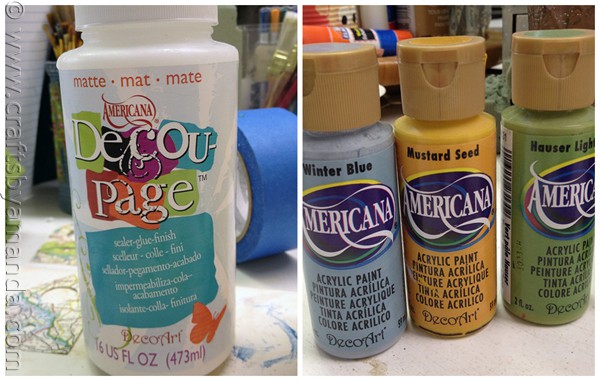 I decided on blue, yellow and green which matched with the lakes, cities and land masses. I used DecoArt's Americana paints in Winter Blue, Mustard Seed, and Hauser Light Green. I also used DecoArt's Americana Decoupage to apply the maps.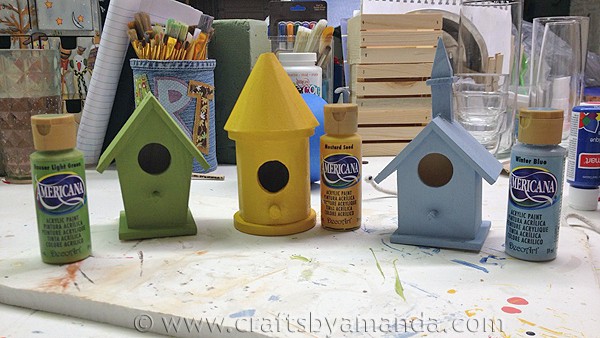 First, I painted each birdhouse so they had plenty of time to dry while I worked on the maps.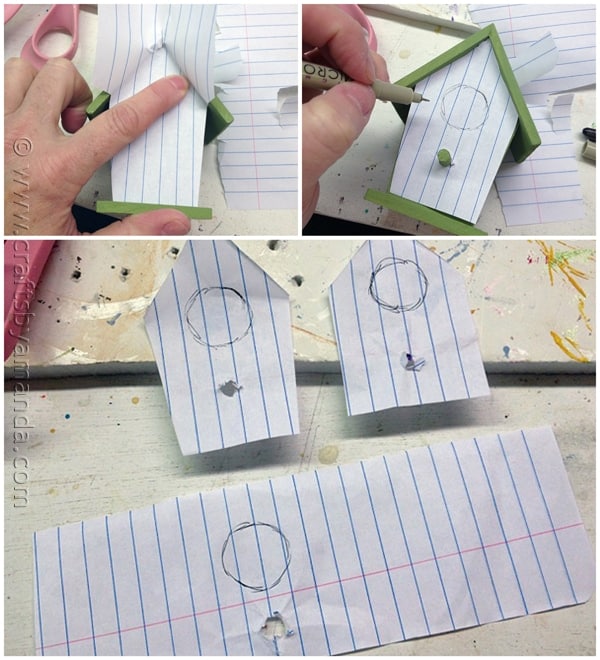 To make the templates, I just placed paper onto the face of the birdhouse and and traced with a pen.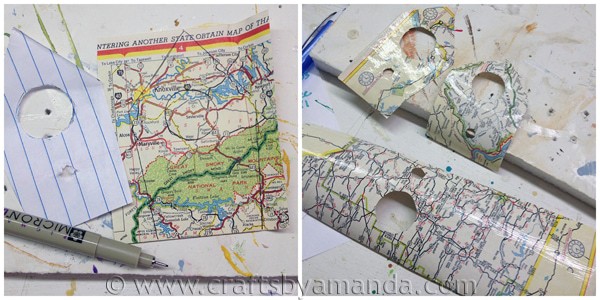 I used the templates I made to cut out the map pieces. Note that I made sure that I cut out map pieces with the colors of the birdhouses. For example, for the green birdhouse I used a piece of the map with a large national park area. After cutting them out I trimmed them to make sure there was wood visible along the edges. To prep the paper, I painted a layer of decoupage onto the back of each map piece and let them dry.

While the maps were drying, I sanded all the edges of the birdhouses to expose the wood underneath. I prepped the surface of the birdhouses by painting the section to be decoupaged with decoupage medium. Then I applied the map to the surface and pressed out all the air. It's important to be patient and let the decoupage dry completely, several hours, before applying the final finish coat. Bubbles occur when the final coat is applied because the paper underneath has not had a chance to dry and stick completely.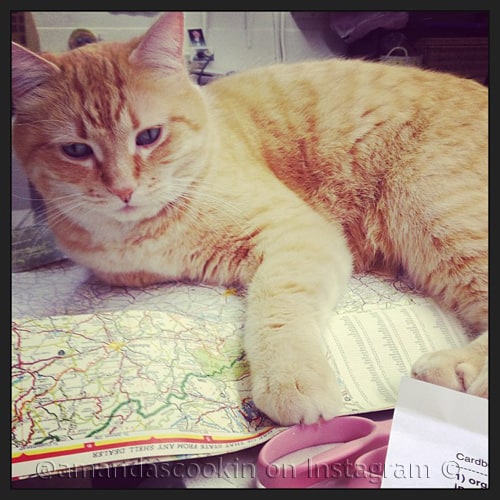 Toby liked watching me. He's a good mascot.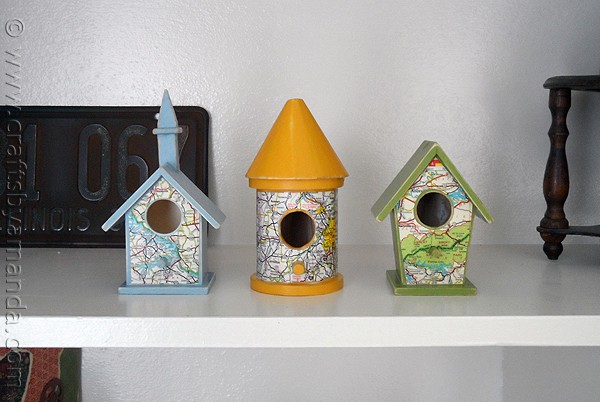 I hope you like them! I'm really happy with how they turned out. In fact, the green birdhouse didn't last more than a day. My daughter saw it and snagged it for her apartment. :)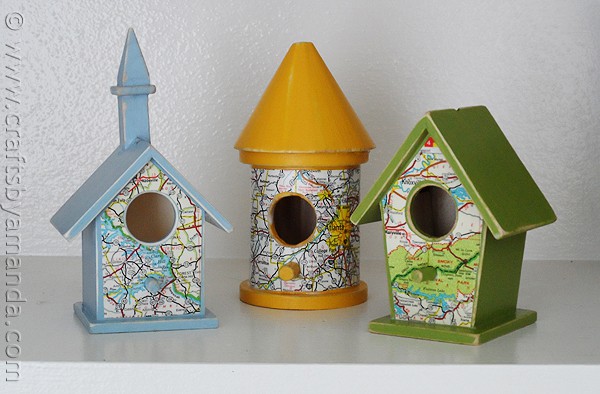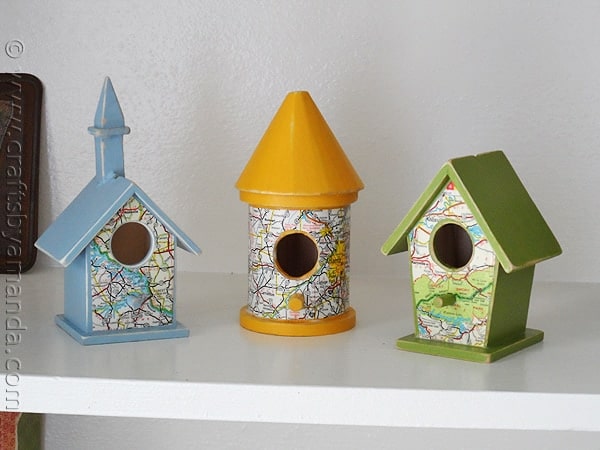 Latest posts by Amanda Formaro
(see all)