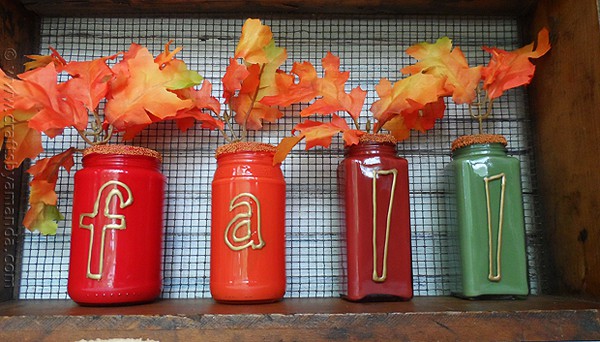 It's easy to create beautiful and colorful vases from recycled glass jars. Just add some acrylic paint inside the jars and swirl to coat! To embellish them and dress them up, I've added three dimensional paint and some pretty micro beads.
NOTE: These vases should only be used for holding silk flowers, not real flowers. If you add water to these vases the water can eventually soften and loosen the paint.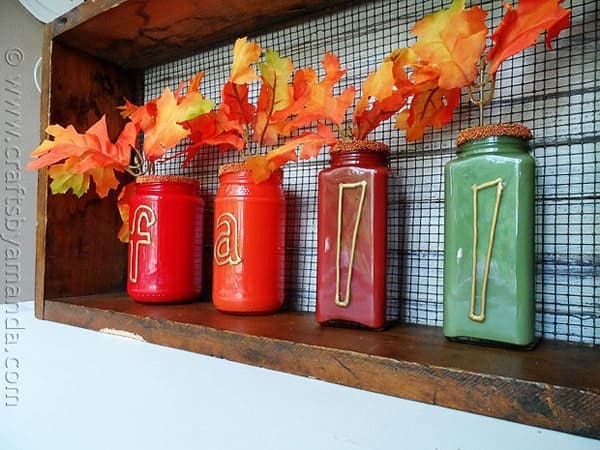 I have these pretty jars in my kitchen right now, but plan to display them in the living room for Thanksgiving. They will look really pretty filled with wheat stalks!
[Full printable instructions are below] Be sure the jars are clean, then add acrylic paint inside, a generous squirt is good. Move it around covering the inside. After they've dried embellish the outside with 3D paint and paint the rims with white glue and dip in micro beads!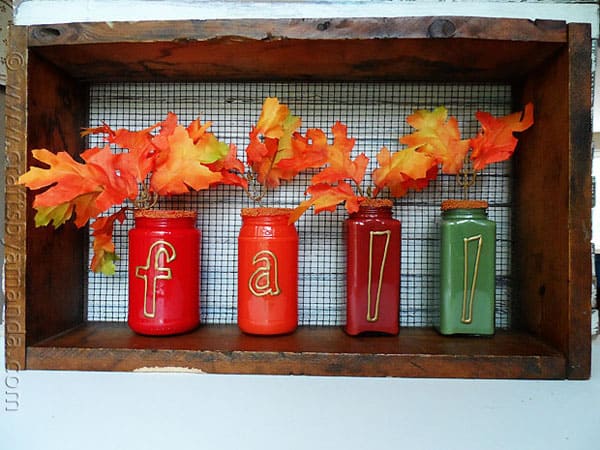 Print Project
Paint Filled Jar Fall Vases
Supplies
Recycled glass jars

Copper micro beads

White craft glue

Gold 3D Writer paint

Acrylic craft paint: red

orange, red-brown, green
Instructions
Wash and dry jars inside and out. Put some red paint into one of the jars and turn and tap it to move the paint around. Add more as needed until inside of the jar is completely covered.

Turn upside down and some scratch paper then repeat with other colors and jars. Leave upside down for about 30 minutes then lift up and move to another piece of scrap paper.

Use a paintbrush or pallet knife to put the excess paint back into the craft paint bottles. Don't waste it!

Leave the jars upside down for another 30 minutes then turn right side up on a clean scrap paper.

Use a paintbrush to add some white craft glue to rim and about 1/4" down the side of the rim. Carefully roll glued rim in the micro beads. Set aside to dry completely. Repeat for other jars.

Use a 3D Writer (I used Americana) in gold to write the letter F A L L on the jars, one letter per jar. Let everything dry overnight.
Expert Tips & FAQs
The excess paint inside the jar will pool at the bottom and could take a few days to dry up. Keep this in mind when adding silk flowers or other foliage to your vases.
Latest posts by Amanda Formaro
(see all)