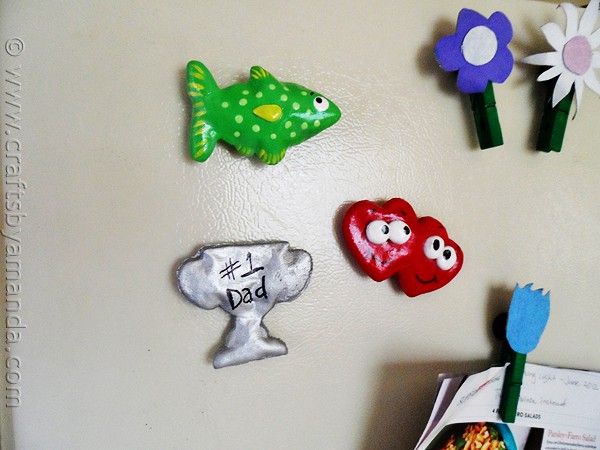 Salt dough is an old favorite that uses flour, salt and water to create fun shapes that are only limited by imagination. Father's Day is coming soon, so let's take some salt dough and a few cookie cutters and create these adorable magnets that dad will cherish.
Provided you keep salt and flour in your pantry, there's no need to head to the store. If you have little ones but don't have a set of cookie cutters, they are readily available from discount department stores and craft stores. If you don't have cookie cutters you can simply shape the dough by rolling and flattening it with your hands.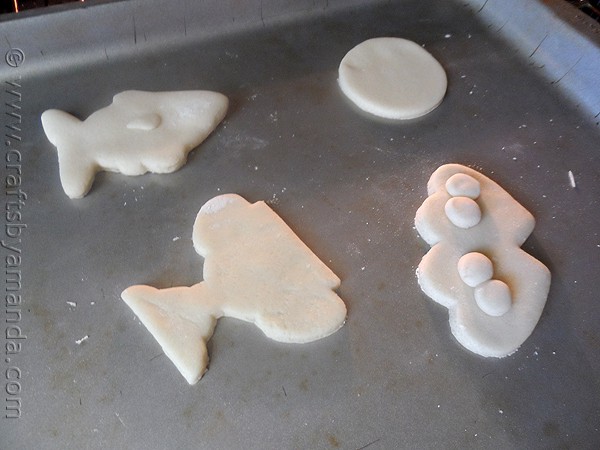 If using cookie cutters, roll out your dough and use the cutters to create your shapes. Place them onto a cookie sheet.
Hint: I use small sections of dough and flatten it right on the cookie sheet. That way I am lifting the excess dough from the sheet and leaving the shape in place. No worry about ruining the shape while moving it.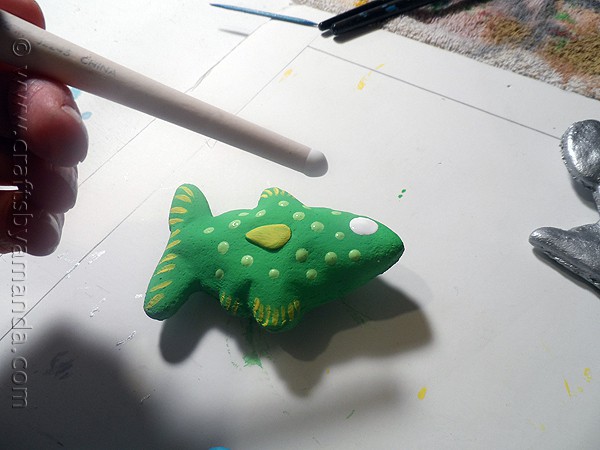 You'll bake them at a low temperature, 250 F, for about 2-1/2 hours. After they baked you can decorate them by painting the surface and using paint and markers to add the details.
A note about the fish. Yes he's puffy. Did I do that on purpose? I wish. You can't really control how the dough will react in the oven, you can tell that by looking at the trophy shape. I got lucky with the fish. He came out fat and puffy when I expected him to just be flat.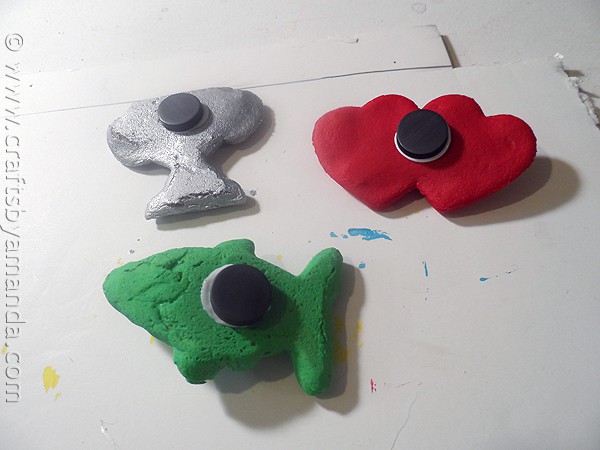 Use white craft glue to attach a magnet to the back and let it dry. Finish them off with a high gloss sealer to make them shiny!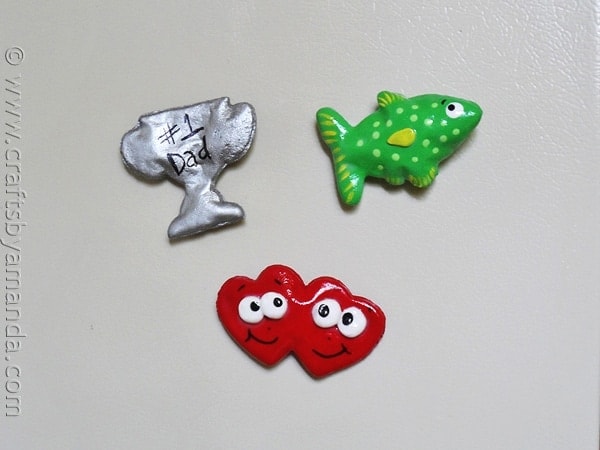 More Father's Day Crafts
Father's Day Blue Collar Uniform Shirt Card
Salt Dough Dad Magnets
Dad Rocks Paperweight
Father's Day Hero Stones
My friend Sherri did a nice round up of sports related crafts for Father's Day over on FamilyCorner.com.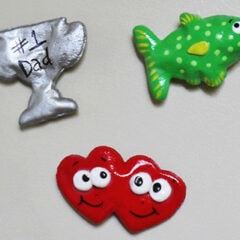 Print Project
Salt Dough Father's Day Magnets
Supplies
¼

cup

salt

½

cup

flour

¼

cup

water

Acrylic craft paint

Cookie cutters

Magnet discs

White craft glue

Sharpie marker

High gloss sealer
Instructions
Preheat oven to 250 F.

Mix flour, salt and half of the water together in a bowl. Add small amounts of water until dough comes together. Knead a few times until smooth then roll out like cookie dough.

If you find that the dough is too sticky, sprinkle lightly with some flour.

Use cookie cutters to create shapes and transfer shapes to a cookie sheet. To make three-dimensional shapes such as raised eyes or the fish's side fin, add these pieces before placing in the oven.

Bake for 2 – 2 ½ hours. Remove from oven and allow them to cool completely before painting.

Paint shapes, front and back and let dry. Glue magnet to the back and allow them to dry completely. Decorate shapes or leave plain, depending on the age of your child. Use Sharpie to add fine accents such as eyebrows and smiles. Let dry completely then add a coat of high gloss sealer.
Latest posts by Amanda Formaro
(see all)