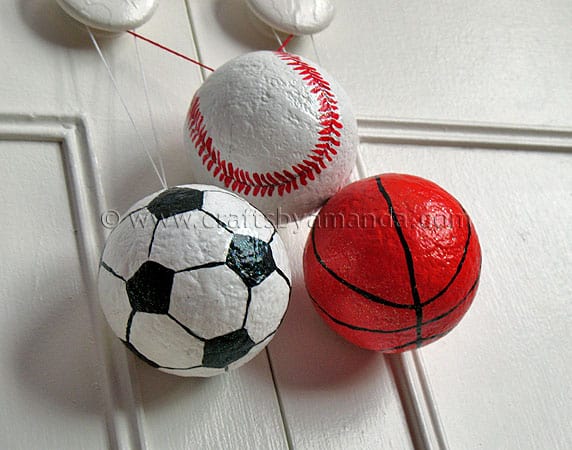 My daughter has been playing high school soccer since she was a Freshman. Now that she's a senior, driving her own car and getting ready to head off to college, even she can appreciate some of the crafts I do. ;-) These sports ball ornaments are a great example. She loved the soccer ball and immediately wanted it for her rear view mirror.
I made these for DecoArt when they asked me to try out their new MagiKote product. MagiKote is a fairly thick white liquid that, when applied to Styrofoam, creates a sandable, paintable surface. You might remember the Giant Sand Dollar I made using MagiKote as well.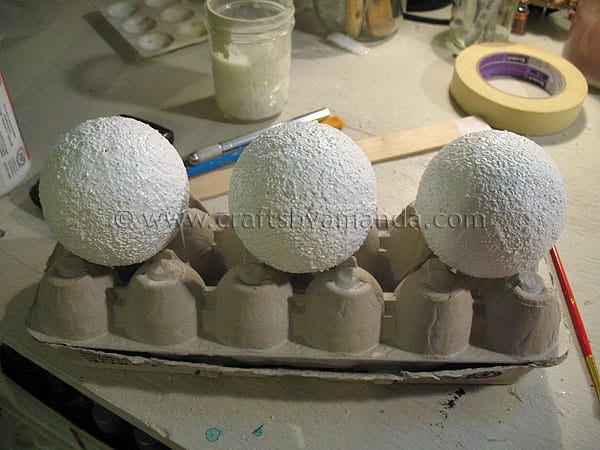 You'll want to use an empty egg carton to hold your Styrofoam balls while you work. You'll apply a coat of MagiKote to the balls then let them dry for 2-3 hours.I actually applied 2 coats to mine and you do need that dry time in between each coat. So make sure you plan this project accordingly.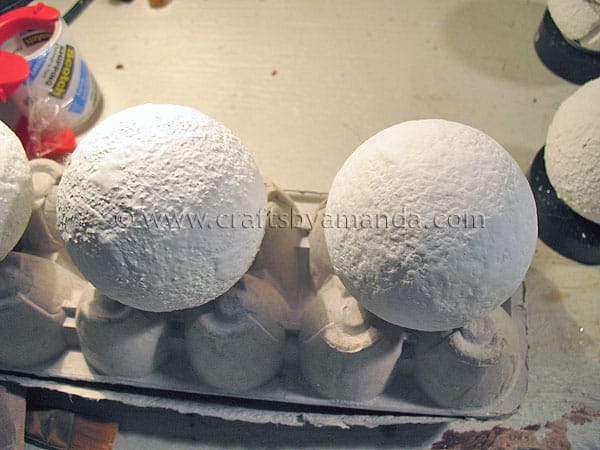 This is what it looks like when it's dry. At this point you can use a piece of sand paper to smooth the surface a bit.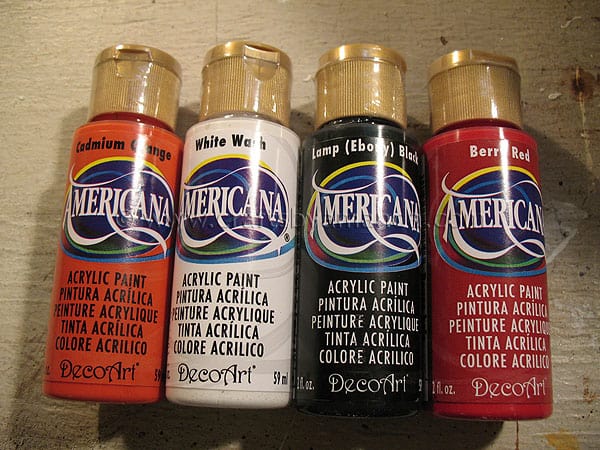 These are the Americana colors that I used.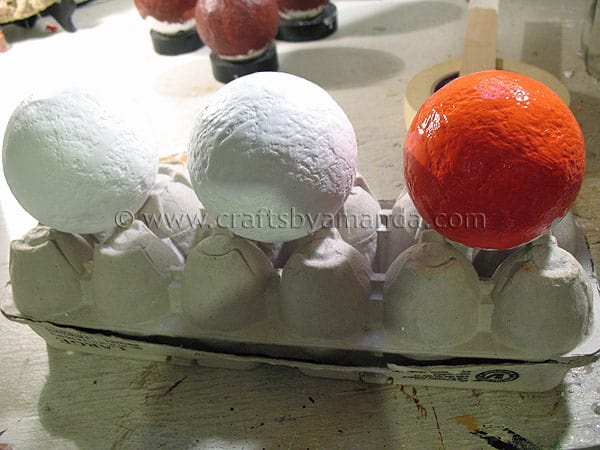 As you can see, the surface is paintable and there aren't little pieces of Styrofoam going everywhere and getting caught in your paintbrush. Nice! So here's the full printable tute if you are so inclined. These make a great gift for any sport's fan.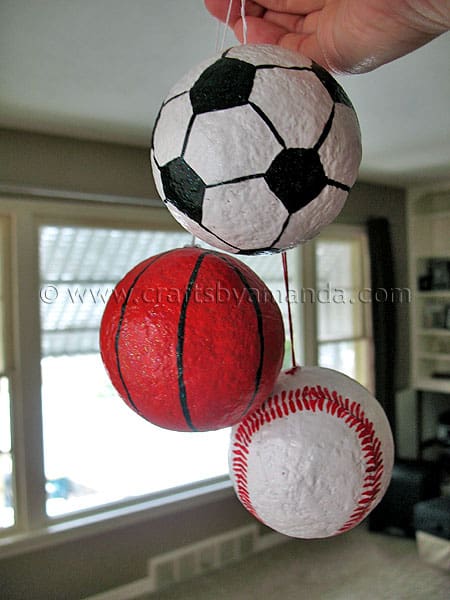 Have fun!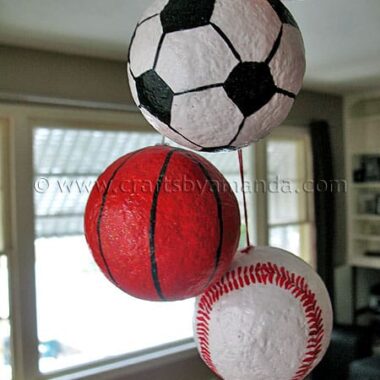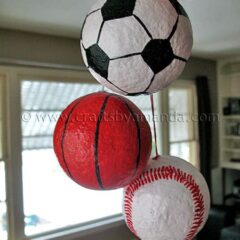 Print Project
Sports Ball Ornaments
Supplies
Supplies:
MagiKote

Americana Starlight Topcoat

Americana Cadmium Orange

Americana White Wash

Americana Ebony Black

Americana Berry Red

3 3

"-Styrofoam balls

Stick pins

String
Tools:
Flat paintbrush

Liner brush

Pencil

Sand paper

Hot glue gun

Scissors
Instructions
Using 3/4" Flat paintbrush, apply 3 coats of MagiKote to each ball, ensuring that you coat inside the indentations as well. Allow 2-3 hours dry time between each coat.

Sand the entire surface to remove any rough edges.

Using 3/4" Flat paintbrush, paint entire ball Americana White Wash for the baseball and/or soccer ball, and Americana Cadmium Orange for the basketball. Paint a second coat when first has dried.

Use a pencil to lightly draw the lines where the baseball stitches will go. Also draw on the soccer ball sections. After the painting step and the paint has dried, excess pencil marks can be easily erased.

Use liner paintbrush to paint the lines of the basketball and the soccer ball using Americana Lamp (Ebony) Black. Using the same brush, paint the baseball stitches using Americana Berry Red.

Use a flat paintbrush to fill in the black sections of the soccer ball.

Erase any excess pencil marks.

Use 3/4" flat paintbrush to add two coats of Starlight Topcoat.

Cut a piece of sturdy string to 12" in length. Holding the two open ends together, tie ends in a knots, inserting the head end of a tick pin just before tightening. Insert pointed end of stick pin into the top of the ball. Before pushing the pin all the way in, add a dot of hot glue around the pin, then push the pin all the way in.
Expert Tips & FAQs
If you find that using a marker is easier for you than paint and a liner brush, you can certainly substitute using this method. Consider drying time when planning this project. You will need 2-3 hours between coats of MagiKote and at least 2 coats for good coverage.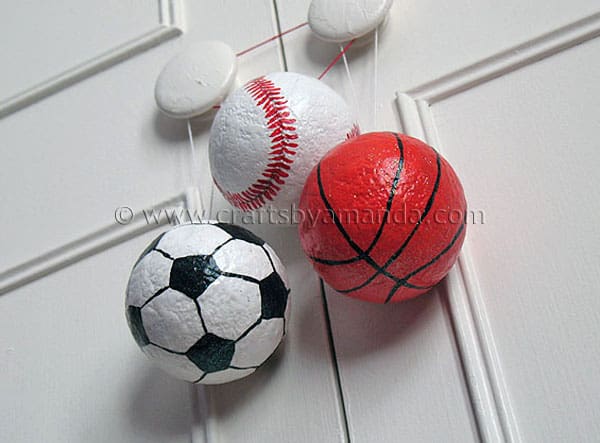 '); // ]]>

Latest posts by Amanda Formaro
(see all)