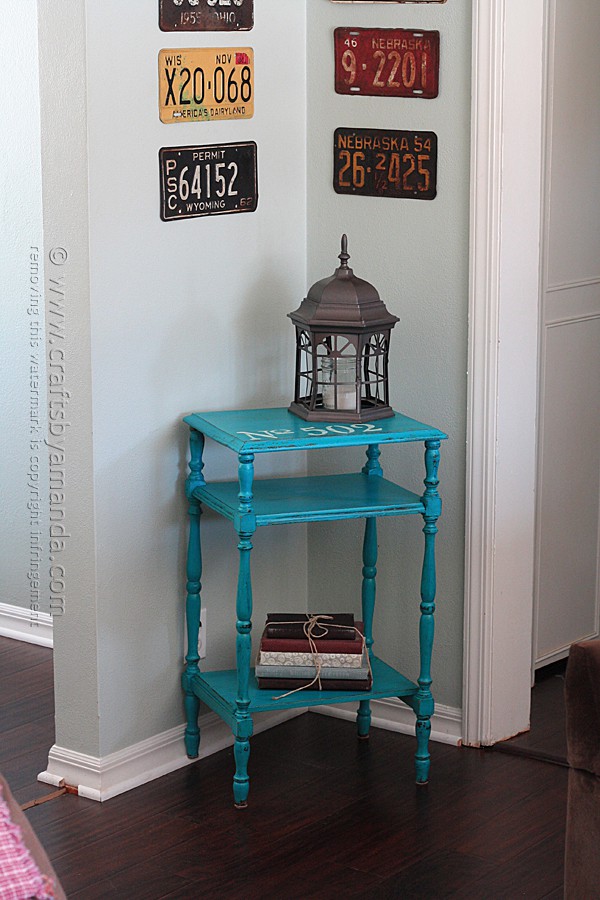 I've been dying to try the new chalky finish paint that arrived a few weeks ago. We just had our floors done so we had to move several pieces of furniture to make that happen, so I took advantage of that time to redo this rickety old corner table I have.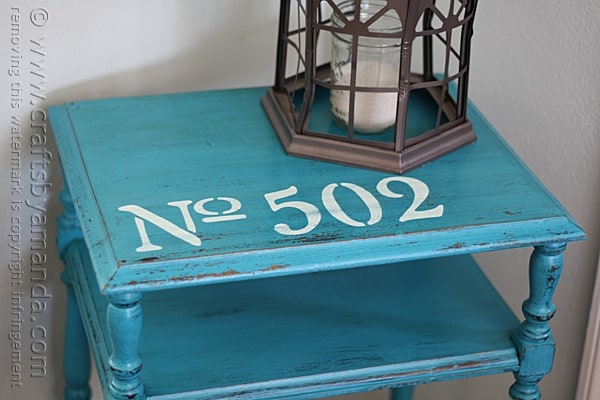 The changes I've been making to my living room and dining room include changing the wall color to a more calming seaside feel, adding dark brown elements, including the furniture, and making new coastal themed decor pieces.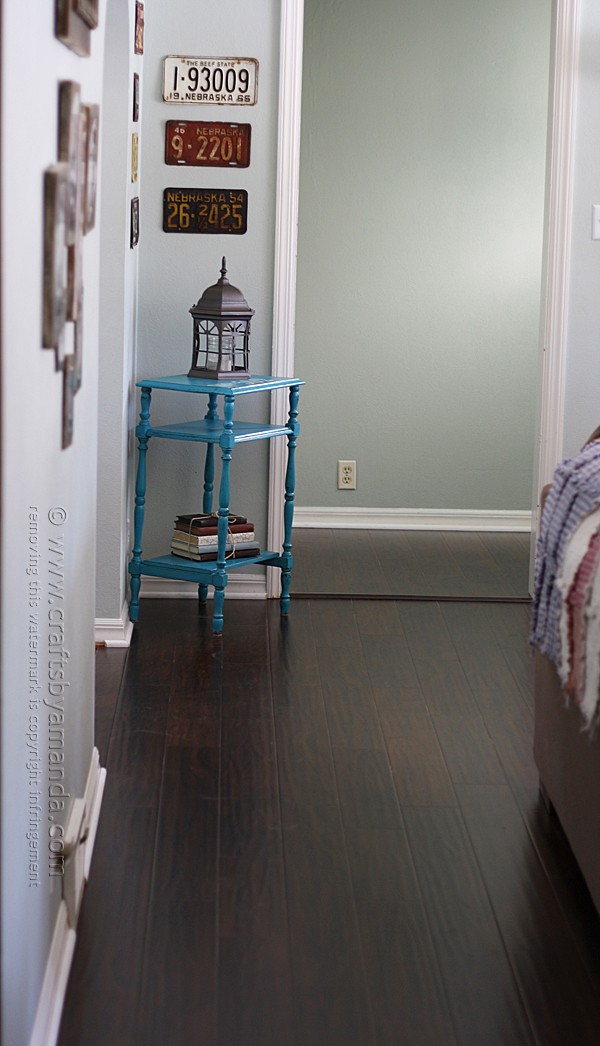 However, I didn't really have a pop of color anywhere, so I decided to take this old table, that really should have been thrown out a long time ago, and breathe some new life into it. I originally picked it up several years ago from a thrift store or a garage sale, I honestly can't remember which. It's wobbly and can't be tightened up, and when placed on a level surface, leans to the left.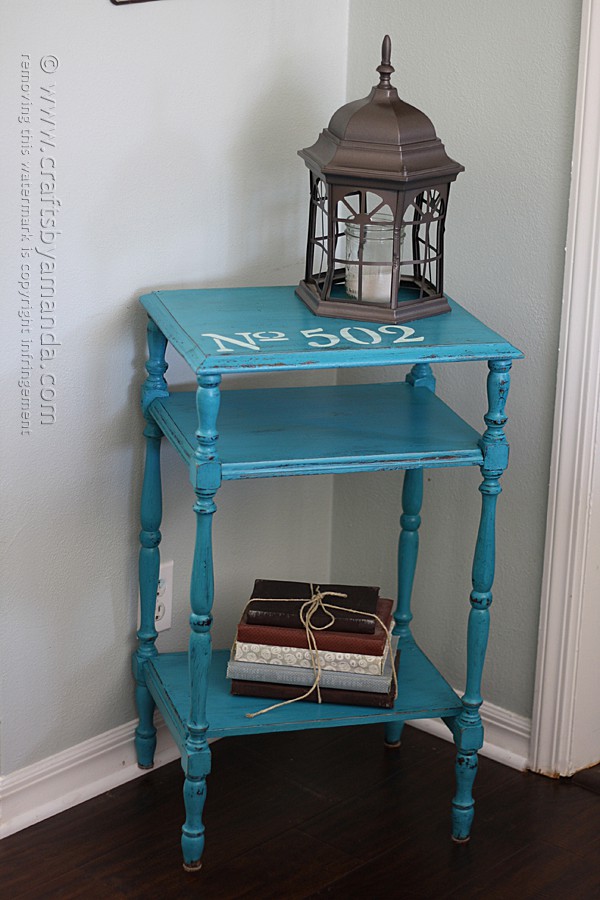 But I still really liked the curves of the legs and the old feel of it, so I've kept it as an accent piece for years. To make it stand up straight and not lean, I had to rest one of the back legs on the baseboard. Nobody will notice that though, so I'm okay with it. :)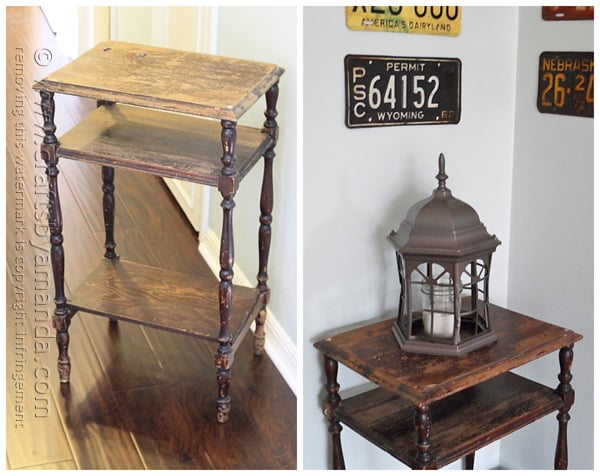 And see that old lantern sitting on the table? Here's the story on that. One day, about 5 years ago, I went out to my mailbox to get the mail. Laying on the road, right near my mailbox was a light fixture from someone's driveway light post (I'm guessing).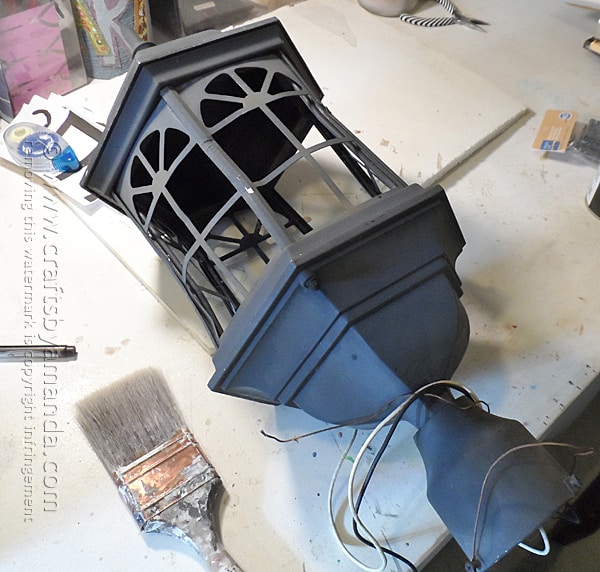 Not sure if it fell off of a junk truck, the kind that drive around before the garbage man comes and picks through furniture and scrap, of if some bored teenagers played a prank. It was pretty dented up, but I knew it had potential. I took out the wiring and lighting innards, discarded the bottom piece and painted it with hammered brown spray paint. A simple mason jar with sand inside is a great place for a tea light.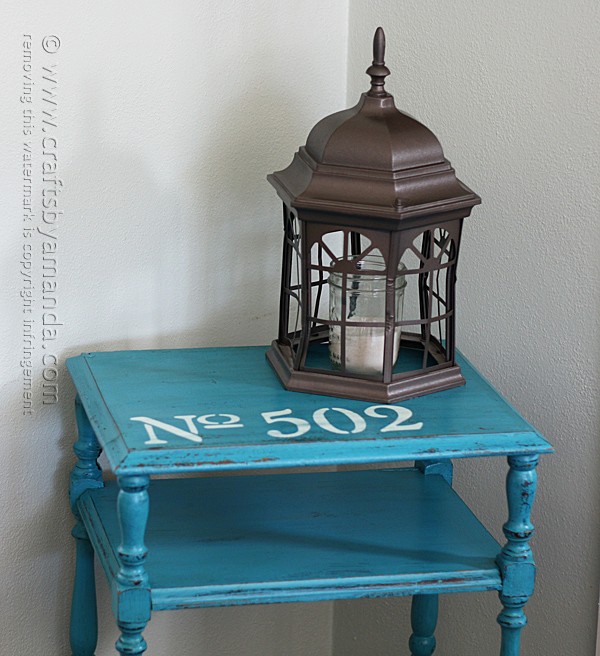 Back to the table project. If you follow along on Instagram or Facebook, you may have seen me working on this. Note that right now these paints are available only through Home Depot's website but will become available in their stores soon too. They will also be available in Michael's stores in April.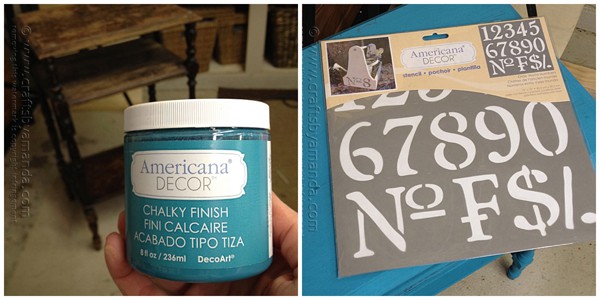 I used Americana Decor Chalky Finish paint, the color is called Treasure. Right now it's only available on Home Depot's website, but soon it will be in their stores as well. Same goes for the stencils. The one I used is called Olde World Numbers.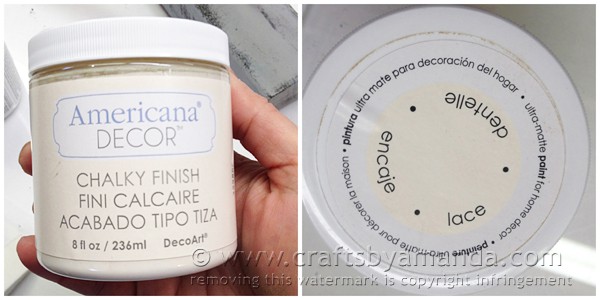 For the stenciling color, I used Americana Decor Chalky Finish, the color is called Lace.

When you place a stencil on a surface, especially one like this that has other elements you won't be using, you'll want to cover those outer elements with painter's tape. Just FYI here too, when I removed the painter's tape it did pull up small amounts of the paint, which was fine with me. That was less distressing that I had to do! I use a foam cosmetic sponge to stencil with. Best thing since sliced bread and you can get them at the dollar store.
After stenciling the "No." section, I wanted to make sure the numbers lined up. So ran a piece of painter's tape across the length of the table to use as a guide.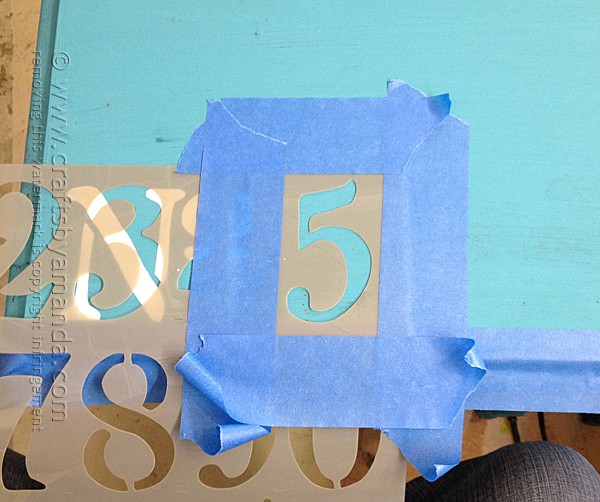 Next was the first number. Incidentally, in case you are wondering what the "502" stands for, it's my house number of my address. Anyway, do each number individually and don't press the painter's tape down too hard.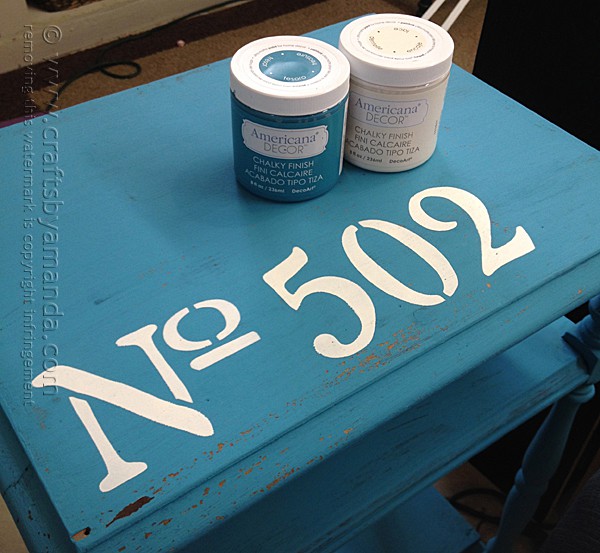 I did do about three very thin coats when stenciling. Thin works much better than thick coats and helps avoid any seepage under the stencils. Thin coats dry super quickly so that all three coats can be done one right after the other.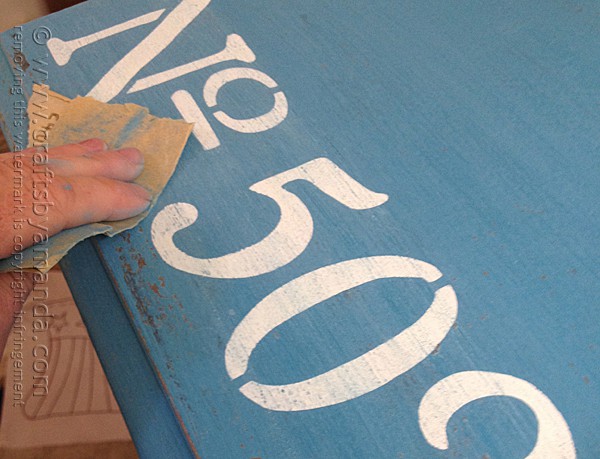 I used a fine grit sandpaper to distress the table. It took me about 2 sheets total for the whole thing. When distressing the numbers, rather than sanding back and forth, only sand over the numbers in one direction. It gives it a more wind worn look.

After all the sanding I dusted it off really good and wiped it down with a slightly damp rag. When that dried, I used Americana Decor Light Satin varnish. One coat was all it took and it left me with a nice sheen that isn't glossy. Incidentally, you can use Americana Decor creme waxes instead, but that requires adding the wax again every 6-8 months. Not something I wanted to do. However, creme waxes allow you to control the sheen and finish a lot more than a varnish does. You can even buff it to a high gloss polish. So it really depends on your personal preference.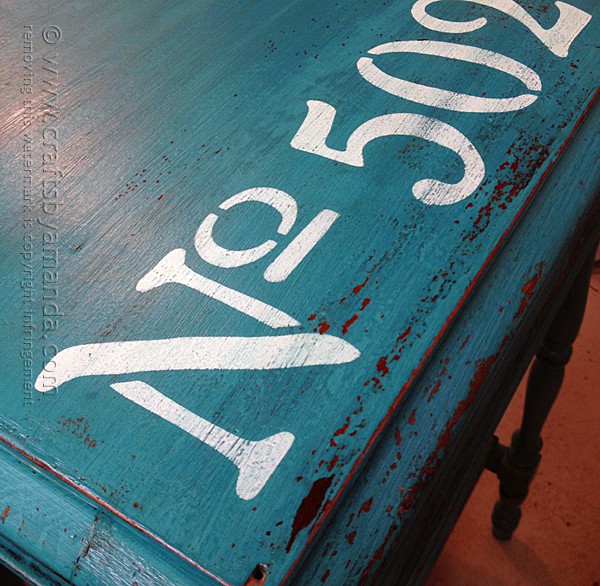 So there you have it. I love that this paint required no surface prep other that wiping it down and that I only needed one coat of paint and one coat of varnish. This paint dries really quickly, so I was able to finish this project in one day without a problem.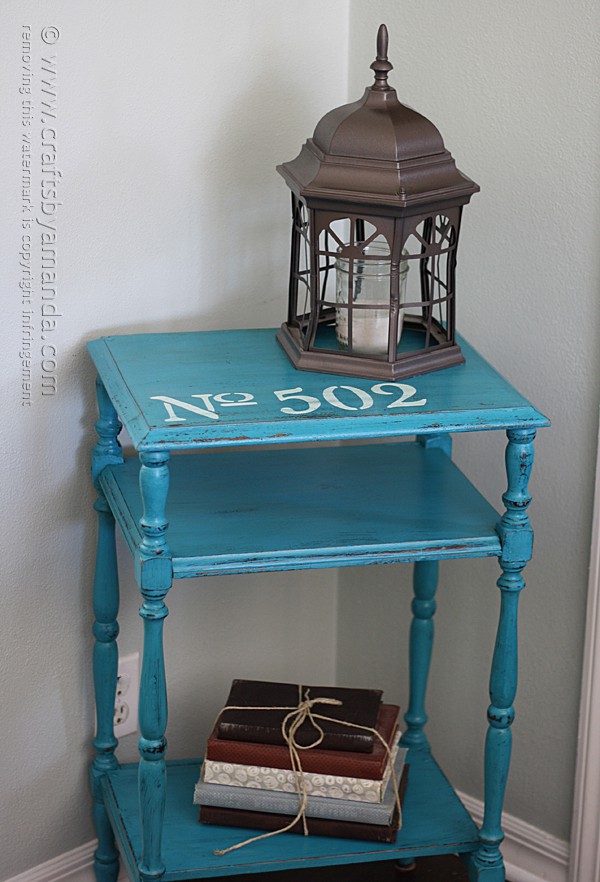 It's a great addition to my living room and adds a really nice color pop against my new floors! Hope you like it.
Oh and I have plenty of paint and varnish left, I would wager to guess enough to do 3-4 more tables just like this. :)
More Coastal Projects
If you enjoyed this and like the coastal or beach theme, here are several more of my projects that you might like. See all the beach projects here: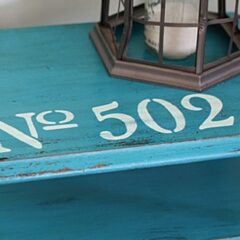 Print Project
Stenciled Chalky Finish Table Makeover
Supplies
Americana Decor
Chalky Finish paint - Treasure

Chalky Finish paint - Lace

Light Satin varnish

Stencil - Olde World Numbers

2

sheets 240-grit sandpaper

Painter's tape

Cosmetic sponge
Instructions
Wipe table down with a damp cloth.

Paint table with one coat of Treasure and allow to dry 2 hours.

Position stencil on table using painter's tape. Stencil on Lace paint with cosmetic sponge. Allow to dry 2 hours.

Distress edges with sandpaper. Sand in one direction only over the numbers rather than back and forth, to achieve a wind worn look.

Dust off table and wipe down with a damp cloth and let dry.

Paint on one coat of varnish and let dry for 2 hours.
I am a DecoArt Core Blogger. I was compensated for this post, but have always loved DecoArt products! Therefore, all opinions expressed here are 100% my own.
Latest posts by Amanda Formaro
(see all)