I learned how to do this several years ago. I've made pilgrim hats, leprechaun hats (will post those soon too), and these springtime hats. These springtime hats are the perfect craft for spring, Easter, and Mother's Day. They are really fun to make and the kids love watching them bake. It's like having Shrinky Dinks in the oven!
Most common question: Does it smell?
Not really. Maybe a slight scent to the sensitive nose, but I could never smell anything. :)
Styrofoam Cup Spring Hats
Note: The temperature and instructions in this craft are based off of a dark coated cookie sheet at 250 degrees F in an electric oven. You may want to experiment with different temps until you receive satisfactory results. I recommend baking one or two cups at the recommended temperature and time first. If they seem to melt too quickly or the ends curl up and under, try reducing the temperature and trying again.
NOTE: Below are two videos. The first one shows a successful shrinking of a cup at 250 F. The second video shows that at the same temperature another cup did not shrink all the way, even at almost 5 minutes. Out of 5 cups that I tried, 1 failed. I also show the successes at the end, and while watching a cup shrink in the oven is a little borning, I do talk during the video and try to give some explanations as to why it may or may not work for people. I hope these help!
VIDEO #1
VIDEO #2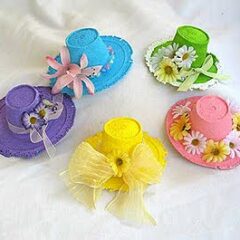 Print Project
Styrofoam Cup Spring Bonnets
Supplies
Styrofoam cups

acrylic paint in pastel colors

small silk flowers

small beads

pastel or sheer ribbons

hot glue gun

magnets

optional
Instructions
Preheat oven to 250 degrees F.

Place Styrofoam cups upside down (open end of cup down) on a dark coated cookie sheet, placing them about 1-2" apart. Note: we experimented with both dark coated and silver cookie sheets, the cups did not melt properly on the silver sheets.

Bake in the oven for approximately 3 minutes, don't walk away! It will take about one minute before you see any changes to the cups, then the heat will begin to melt and shrink them rather rapidly after that. It's lots of fun for the kids to watch, so be sure to turn the oven light on.

Remove the cookie sheet from the oven and set aside to cool completely. DO NOT try to remove the cups from the cookie sheet until they are completely cooled. As they cool, the Styrofoam that is stuck to the sheet will relax and release its grip from the sheet, allowing you to remove them easily. Most cups will melt rather well, thought you may end up with one or two that look rather distorted or disfigured.

Paint the "hats" with pastel colors, one coat is usually enough, and allow them to dry completely. Once they are dry you can embellish them with small silk flowers, pretty beads, and ribbons using a hot glue gun.

If you like, you can hot glue a small round magnet to the bottom of the hat at the brim and hang on the refrigerator.
Latest posts by Amanda Formaro
(see all)