When looking at knitting patterns, you've likely heard the term "yarn weight". So what are yarn weights anyway and how many different kinds are there? Below is a guide to the different yarn weights and what each are used for.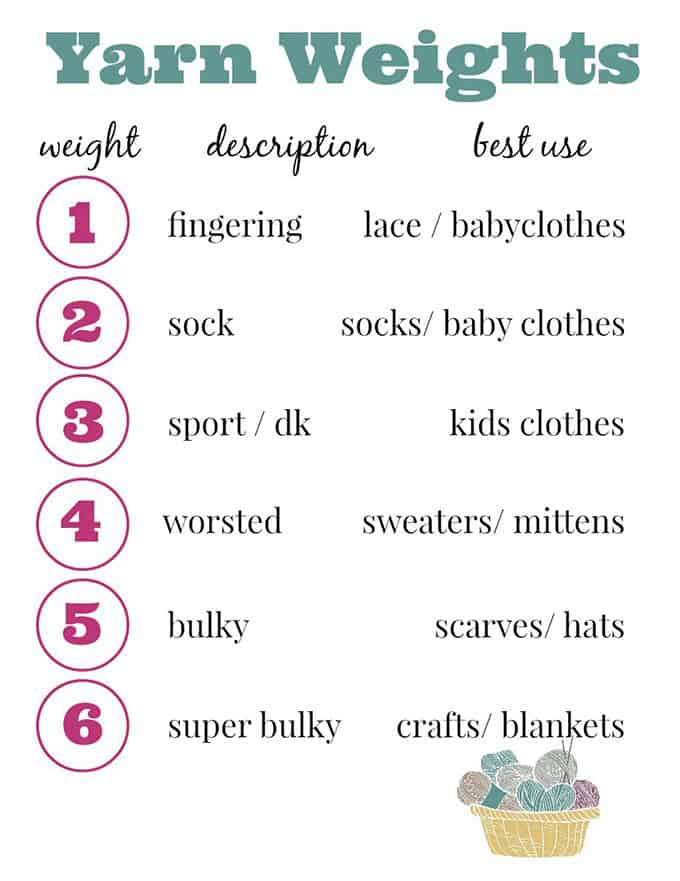 What is Yarn Weight?
Yarn weight, despite what it implies, does not refer to the weight of the ball of yarn.  Also, not to be confused with ply (the number of strands twisted together to make the yarn) yarn weight refers to the thickness, or the size, of the yarn.  I know, crazy right?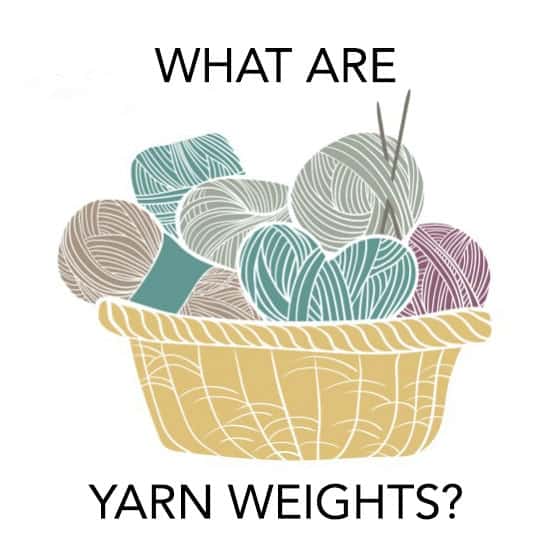 There are basically 6 different weight categories, although some yarn manufacturers have separated them out even further, and with the addition of the now popular giant yarn, I suspect a new official weight category will be added soon.
Yarn Weights & Categories
So about those 6 categories.  From smallest to largest, there are
Fingering
Sock
Sport
Worsted
Bulky
Super Bulky
The finest yarn, fingering weight will feel the softest, whereas worsted may start to feel a bit scratchy.  But then again, yarn has come a long way, and it is now entirely possible to get a worsted weight merino that feels lovely, and even a worsted weight synthetic that would still be super cozy.  But I digress.
Best Uses for Yarn Weights
Because of the softness of the fingering and sock weight yarns, it is often the popular choice for baby clothes and socks. Due to the fineness, it is also usually the yarn you would choose when making lace, or airy, delicate shawls and wraps.
Sport and DK (double knit) weight yarns are often the go-to choice for kids' clothes, and spring and summer wear.  You can use this yarn weight also for hats, scarves and sweaters. However, most patterns for those items are written with a bigger yarn in mind, such as a worsted weight or larger. In other words you would really need to mind your gauge.  We'll save the gauge talk for our next pontification.
Worsted weight yarns are probably the yarns that get the most use.  Good for sweaters, afghans, scarves, mitts, hats, thick socks, a cozy bath mat, kitchen and bath accessories, and many many other projects.  As I mentioned before it is possible to get worsted weight yarns (both natural and acrylic varieties) that still feel luxurious.
Bulky yarns and Super Bulky yarns are possibly my favorite weight yarns.  Not always the easiest to work with, but they add a certain level of instant gratification to any project, as using them helps the project work up much, much quicker.  Excellent for hats and scarves, and blankets etc.
You can customize your knitting and crochet projects by using a different color or texture yarn that has the same weight as the instructions call for. For those of you who are more advanced, you can even change out the weight in a project as long as you make a swatch to see what the finished project may look like and make adjustments accordingly!
Here are some of our favorite knit and crochet projects!
Latest posts by Evelyne Nemcsok
(see all)