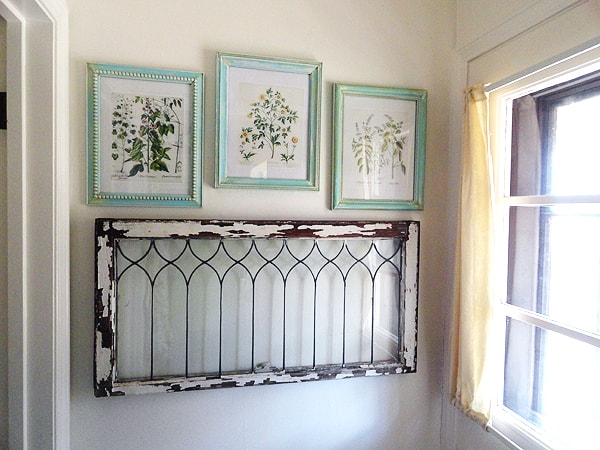 Last fall I visited a local flea market and found a truly amazing vintage farmhouse window. It was grubby and grimy and needed a lot of elbow grease to get it clean, but I knew exactly where I was going to hang it. At first I thought of painting a plank of wood to make a vintage looking sign, but I just kept putting it off. Then I found these pretty botanical book pages and knew just what I wanted to do.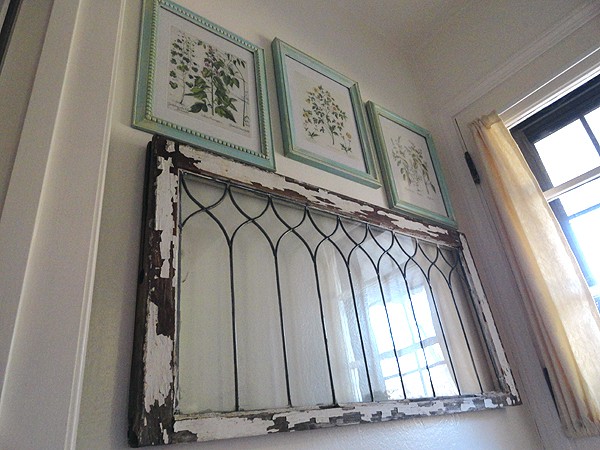 Have you ever had that happen? You see something and suddenly everything comes together in your mind? That's what happened to me with these book pages I found at the Randolph Street Market in Chicago a couple of weeks ago. As soon as I saw these I immediately envisioned them framed and hanging above that old farmhouse window I found at the flea market in September. I knew the color I wanted too… Robin's Egg Blue. And I knew right where I wanted it all to go.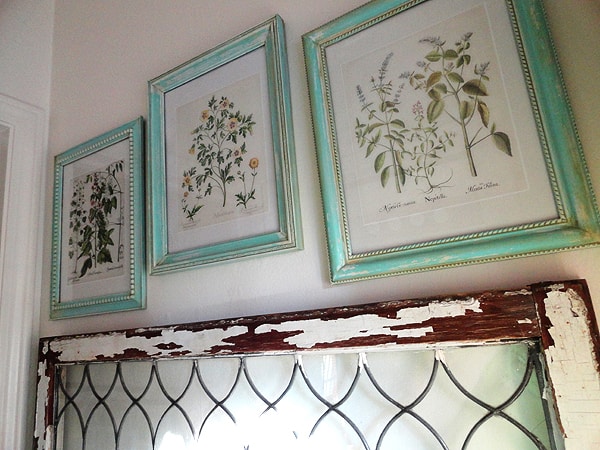 The look I was going for was – country. The book pages reminded me of pretty wild flowers that grow in the summer. The old farmhouse window was discovered in a barn covered in grime and straw. I live in a small town surrounded on all sides by lakes and farms. I buy my beef from the farmer and am not bothered by the hustle and bustle of bumper to bumper traffic like my Illinois neighbors. I enjoy the beauty of sprawling country roads every day.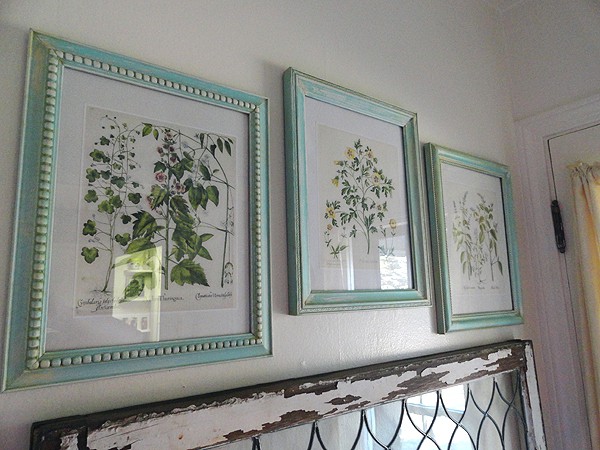 I had a blank wall in a small area where the door to my backyard meets my kitchen and the basement stairs. You come inside and turn to go into the kitchen, or just head straight down the stairs. It's not a pretty area, really plain and houses my garbage can and recycling can. Not glamourous at all. The wall was empty. I've had several ideas of what to put there, but as soon as I came across this window I knew that was where it was going.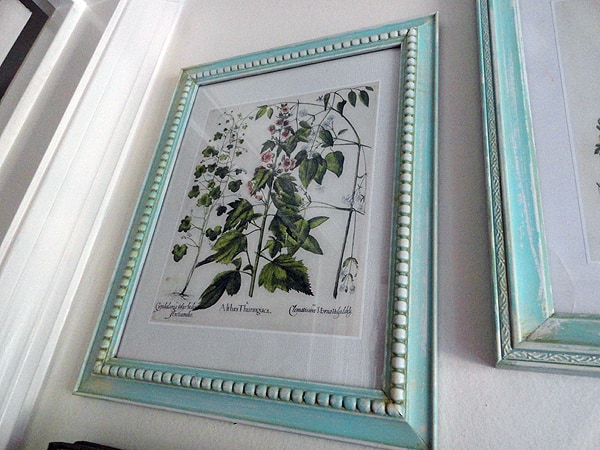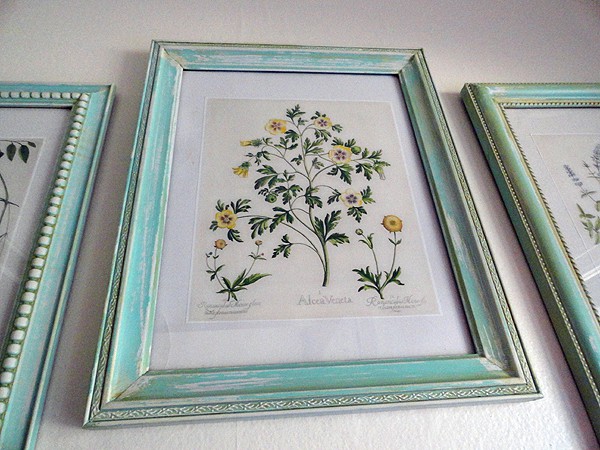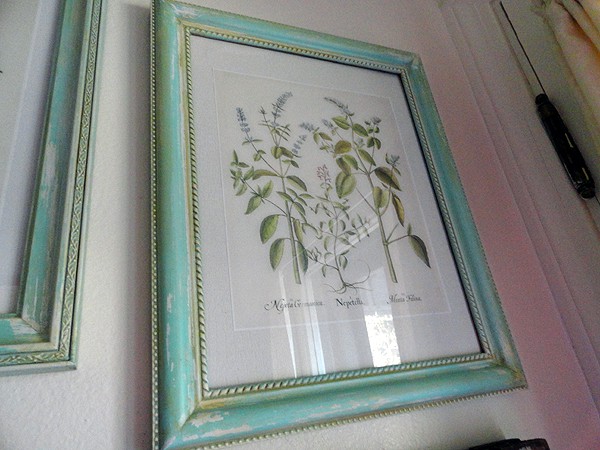 I love the new look of this formerly empty, boring area. It's bright and cheery and has a charming country feel. I can look at it anytime I want from the kitchen. That makes me smile. :) On another wall in that same area I was thinking of picking up some old milk bottles from the flea market and using these printable vintage labels on them. I think that would look great!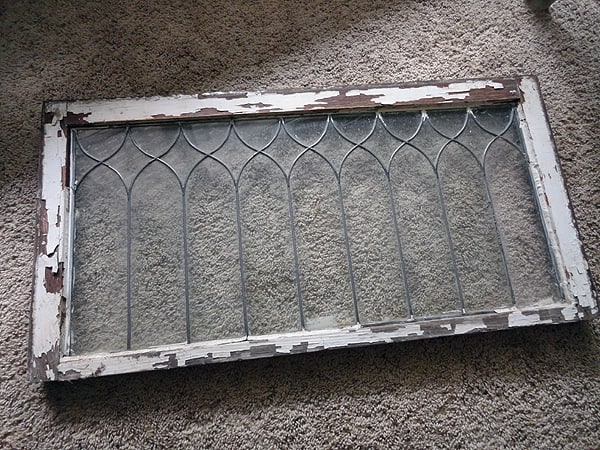 Here's what the window looked like when I bought it. I paid $10.00 for it!

When I sit down at my craft table, I don't always know exactly what I'm going to do until I'm sitting there. I knew I wanted the frames to be blue, but hadn't decided on the finish just yet. So I went ahead and removed the glass and inserts from the frames. I chose some $5 Walmart frames that were a litte ornate. I knew I'd be painting them anyway, so the color didn't matter.

Then I gave them a good couple coats of white spray primer.

Once the primer was dry I knew I needed to paint and glaze them, but I hadn't decided on the exact color yet. I had a paint color actually called "Robin's Egg Blue" but I also had a very similar color of Martha's paint called "Surf". I pulled out the tintable glaze and a brown paint called Chestnut Brown.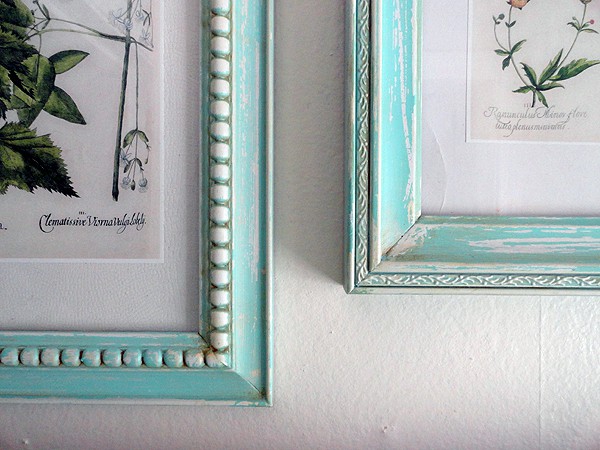 The next thing that happened was totally on accident. I discovered a new way to create a faux finish that I really liked. It looks like old peeling paint. I'm sure there has to be someone out there that's done this too, I know I can't be the only one.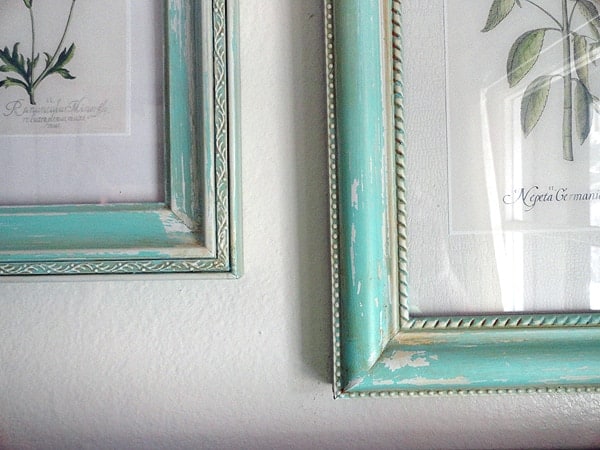 Here's some close ups…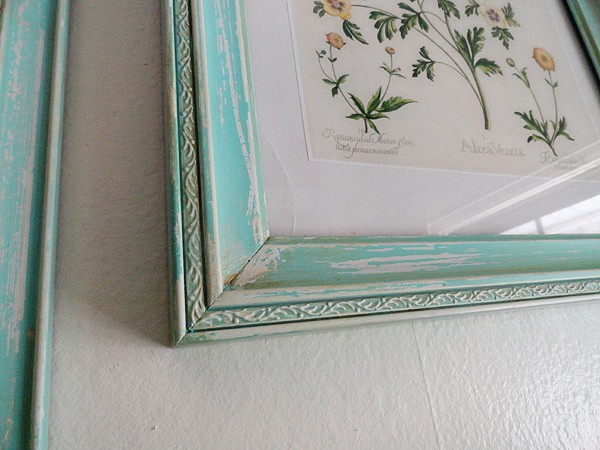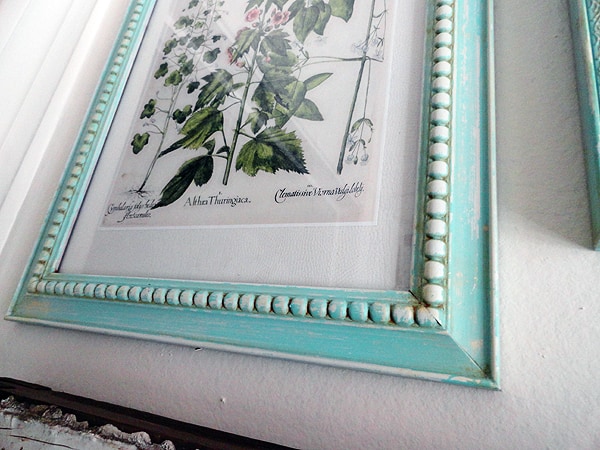 What happened was I needed to decide which paint color to use, so I grabbed a plain wood plank and sprayed it with primer. When it was dry I painted two sections with the different colors. Apparently I was a bit impatient when I put the glaze over the top, because when I wiped it off, some of the blue paint came off too. That's when I realized how cool this mistake really was!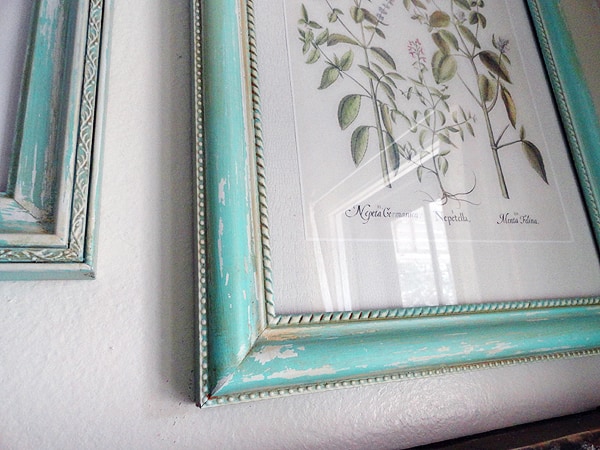 So after the primer was dry, I brushed on the paint I chose – Martha Stewart Surf. The key here is to let it dry until tacky, but not completely dry. You want to be able to rub a bit of it off after all.


Apply the tinted glaze with a brush, then using a light touch wipe off the excess.

Afterward, use a little firmer touch the wipe again, this time wiping some of the blue off along with the glaze.

Alternate light and firm wiping until it's to your liking. For the ornate areas, use a dry paintbrush to wipe out any excess glaze. Be sure to rub off the blue paint on raised ornate areas.

While the frames were drying, I trimmed the book pages with my paper cutter. I didn't have any mattes, so I used some recycled gift boxes I had left over from Christmas :) Once I measured and trimmed the boxes to fit the frames, I sprayed the back of the botanical prints with spray adhesive and smoothed them out onto the make shift mattes.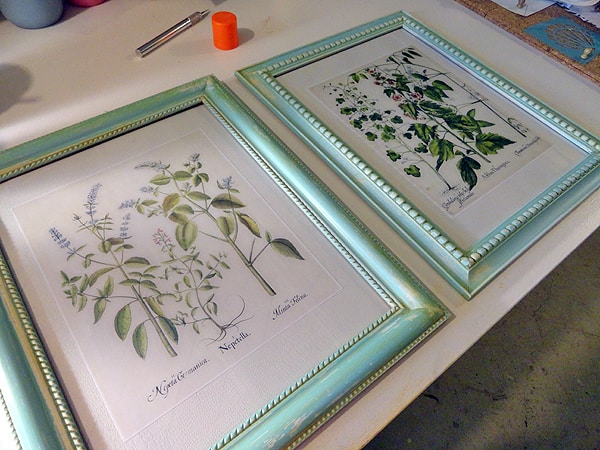 Then put them into the frames. :)
Let me know if you try the method I described here to create a faux paint peel. I know I'll be trying it again!
Latest posts by Amanda Formaro
(see all)