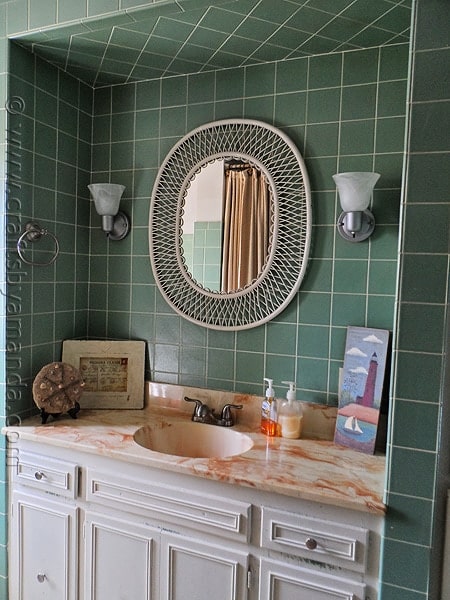 We have an ugly bathroom. Well, I really shouldn't say that. It's not as ugly as it was when we first bought the house. We've made little improvements here and there such as changing out the shower curtain, removing the Victorian wallpaper, replacing the pink toilet, and painting the cabinets. Then there were these ornate wall sconces that just had to go.
When I attended Evo Conference in Utah I really had a good time talking with the great people from Lowes. They have a fun new program called "$50 and Change". Lowes asked consumers about their budgets and small do-it-yourself projects. They have found that most people say that $50 is their sweet spot for spending money on basic DIY projects, and so they've created a challenge on their Facebook page. Lowes has asked their customers and fans to create their own projects for $50 or less and post their ideas to the Lowe's Idea Exchange on Facebook. I played along, always up for a good challenge!
Lowes has lots of ideas already – Projects to Update Your Home for $50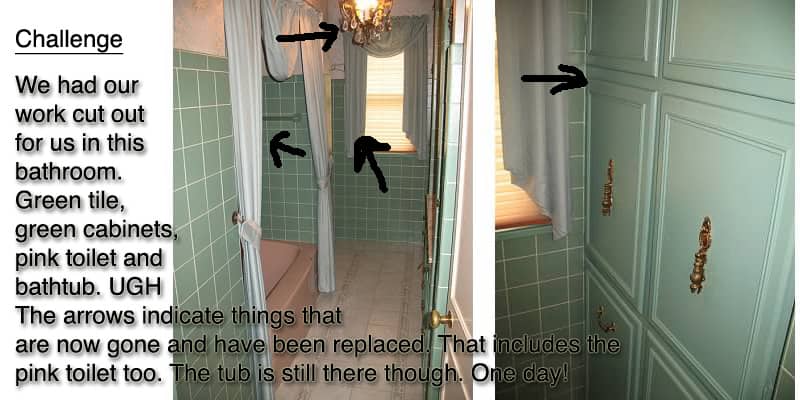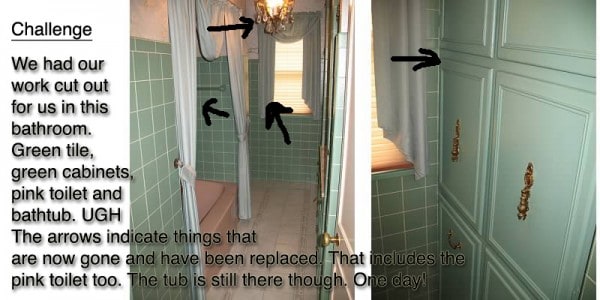 I started here. In this ugly bathroom. It's been "under construction" for several years. We make small changes as the budget allows, so this challenge was actually quite ideal for us.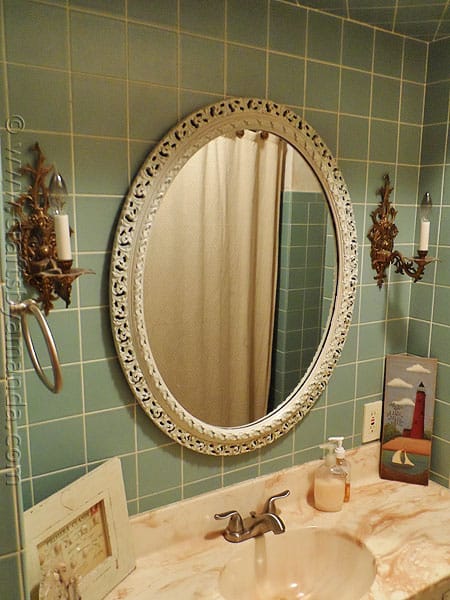 I have been wanting to get rid of these nasty looking ornate wall sconces since we bought this house in 2007. Finally… finally!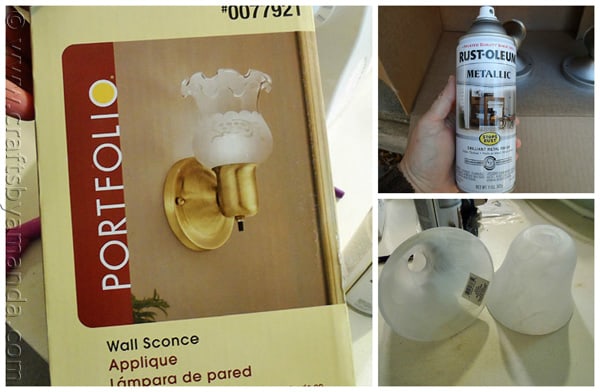 So armed with a $50 budget, I hit the lighting department inside Lowes. Buying brand new sconces can run anywhere from $25 to several hundred dollars, depending on what you choose. I actually played it pretty frugal and went with these simple brass sconces for $6.98 each. I really didn't care for the old fashioned glass light covers that came with the sconces. They had a large variety of light covers, but none fit this particular sconce, so we checked over by the ceiling fans. Score. We picked up 2 light covers, also for $6.98 each! Then it was off to the spray paint aisle where I grabbed some Rustoleum Metallic (Nickel Matte) to give the brass a brushed nickel look. Grand total = $36.21.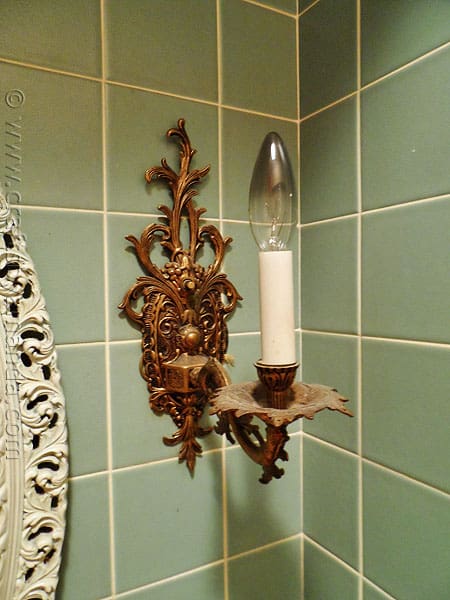 Bye bye Ugly Betty.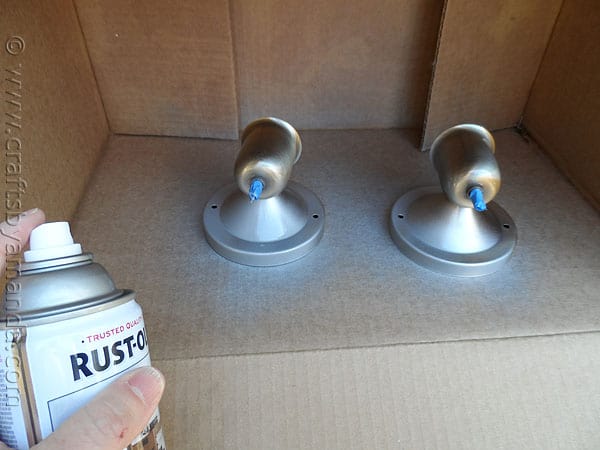 The first step was to paint those brass sconces. I gave them a couple of coats and let them dry thoroughly.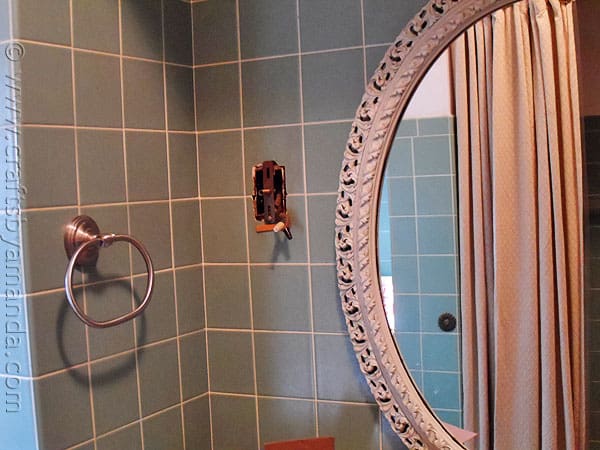 Hubby removed the old sconces exposing the wiring. For safety's sake we turned off the bathroom breaker beforehand.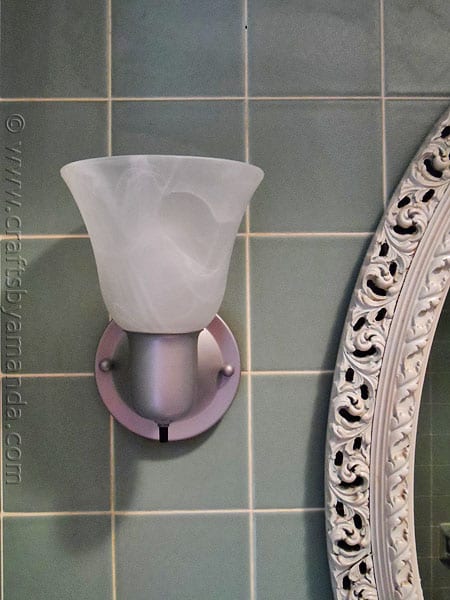 He put the new one on and that was that. Simple!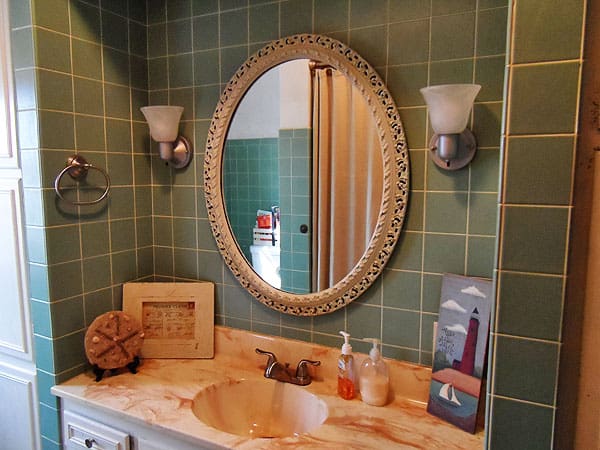 It was when I took this picture that I remembered the white wicker mirror I had found at the flea market a year ago. It had been sitting in my basement all that time. So I brought it up and replaced the mirror…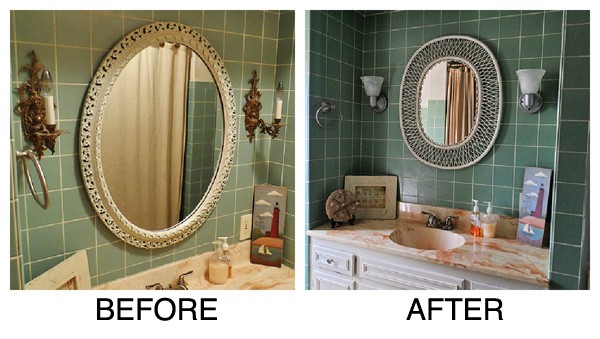 Much better! See, for under $50 it looks completely different. So now it's YOUR turn! How about if I give you a $50 Lowes gift card so you can post your DIY project too?
RULES: Must have a U.S. shipping address, be 18 years or older, and enter the giveaway by the deadline of 10/22/12. Good luck! Can't wait to see who wins and hope you'll take the challenge too!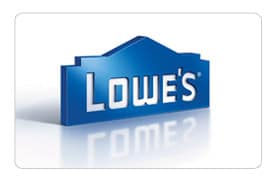 a Rafflecopter giveaway

Lowes provided me with a $50 gift card to create this project.
Latest posts by Amanda Formaro
(see all)