I love wreaths but admittedly with all the adult crafts I have, I didn't have one on how to make a burlap wreath. So I am going to show you how to make a burlap wreath using a wire coat hanger and a roll of burlap or burlap ribbon.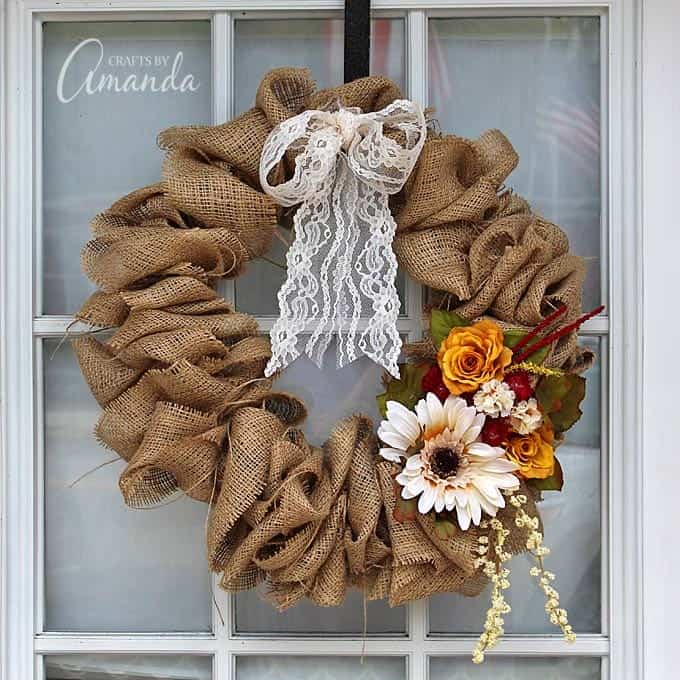 Why we love this project
There are several ways to make a burlap wreath. I'm using a coat hanger for the form, but there are instructions out there for using wired and Styrofoam wreath forms too. Some of them weave the burlap ribbon in and out of the wreath form while others tie strips of burlap to it.
Some are neat as a pin and others, like mine, have a more rustic and natural look. No matter what your style, make a burlap wreath that makes you happy! When you're done, you can embellish it with pretty silk flowers, little pumpkins, and scarecrows, or berries and twigs. It would look perfect next to this reversible scarecrow snowman sign or these mason jar lid pumpkins!
Tips from experience
When I saw this video on Facebook (via Just Call Me Homegirl) showing how to make a burlap wreath I knew I wanted to make one right away! In fact, instead of giving you the complete step by step here, I'm including the video below since it shows just how easy it is.. I made this wreath in September 2015. A few weeks after I noticed that the weight of the burlap started giving in to gravity and shifting down the hanger.
I would recommend using something as a spacer in between every other fold of burlap. Maybe add small wads of modeling clay to the hanger or even just hot glue the burlap to the hanger as you go.
RELATED: See how to make an adorable wreath made from doilies OR an adorable Burlap Pumpkin Wreath!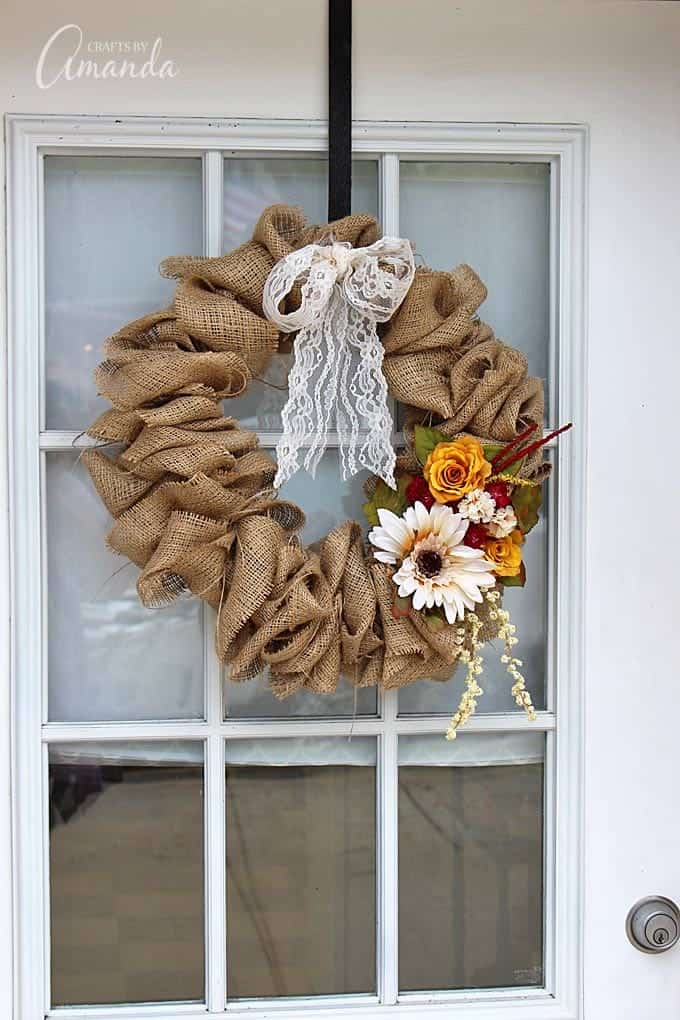 Here's what you will need
Wire coat hanger
Hot glue gun
How To Make a Burlap Wreath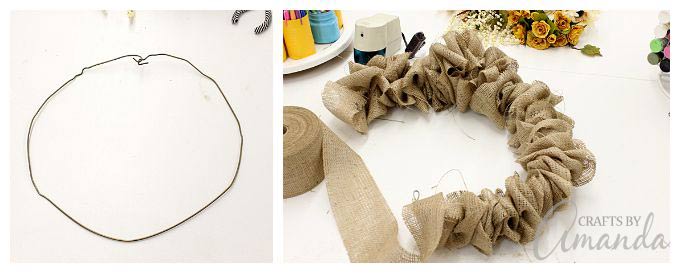 First I suggest watching the video because I'm not going to show you any of the assembly steps. It's one motion repeated over and over. So please watch then come back. :)
Basically, you need to use some small pliers to help you unwrap the wire hanger. Stretch it out and form a circle, creating hooks at each end so you can join it together when you're done.
Then thread the burlap on per the video instructions (see my "experience tip" above). When you're done adding burlap, join the hooked ends and tighten them with the pliers so they don't come unhooked.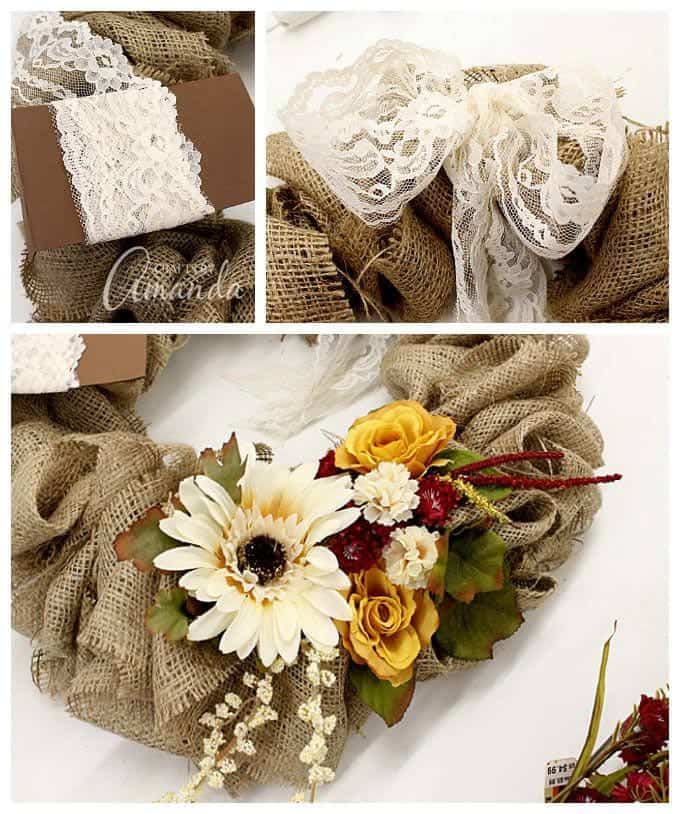 Use a hot glue gun to embellish the wreath with your silk flowers. Tie the lace ribbon into a bow and glue to the top of the wreath.
Other Embellishment Ideas
Use silk flowers in colors of the season. If you build the embellishment separately, you can attach a large pin or even a pipe cleaner that will allow you to attach it to the wreath. Then when the season changes, you can easily remove that embellishment and add the next season!
Using lace to add romance to rustic. You can buy lace in ribbon form, which makes it really easy to tie into a bow like I did on mine. You can also use it to add your embellishment flower arrangement.
Dress it up with personalization. A painted letter makes the perfect monogrammed touch to the center of your wreath. This is a great way to personalize your wreath to your family name.
Light it up! You can purchase battery operated mini LED string lights to thread throughout your wreath. This is great for the holidays, but it works any time of the year as well. I did this with my deco mesh poinsettia flower.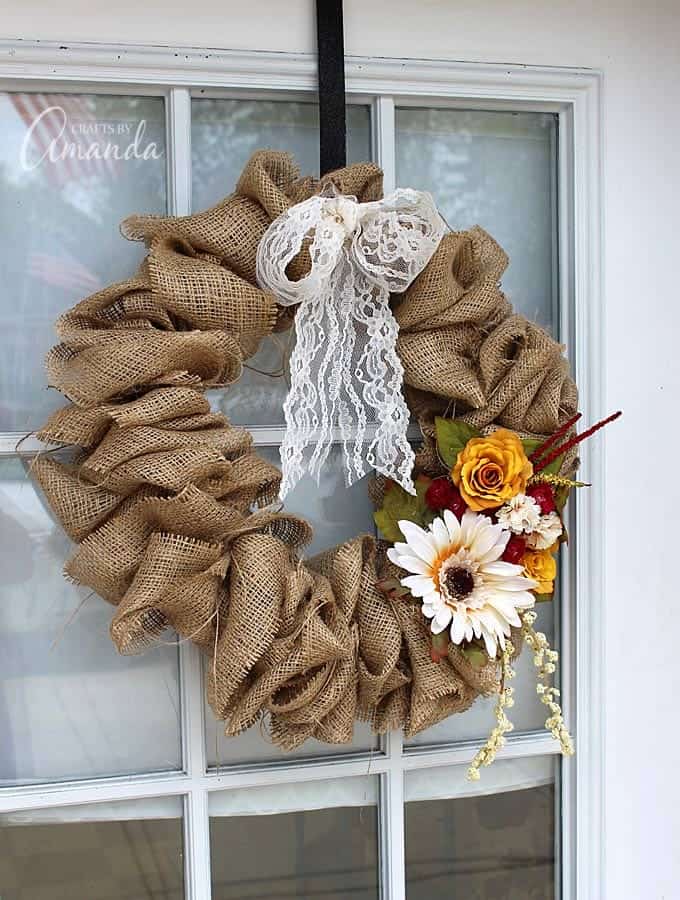 Now that you know how to make a burlap wreath you have an easy and awesome idea for holiday gifts AND no excuse not to have a wreath on your door. It's the perfect way to decorate the outside before people come inside!
Now that I've discovered how fun and easy making wreaths really is I've been collecting quite a few ideas. I really like this Indian Corn Wreath idea and think I'll try making one of those next.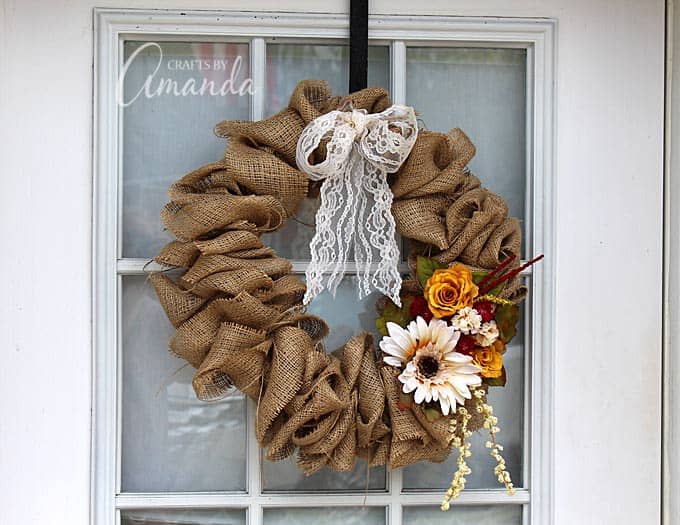 More of my burlap crafts
And if it's burlap crafts that you love, you might like my vintage jewel burlap wall letters and my burlap & doily luminaries. And it's kind of funny actually, but these bleached burlap vintage jewelry luminaries are kind of a cross between the other two projects I mentioned!
More burlap crafts
Hope you enjoyed learning how to make a burlap wreath! If you would rather buy a burlap style wreath, this one on Etsy is lovely and has a monogram letter in the center. You can obviously personalize it with your order! Have fun!
This post was originally published on this blog on Oct 4, 2016.
Latest posts by Amanda Formaro
(see all)