Butterflies are so beautiful, they are one of my favorite elements of spring! There are lots of butterfly crafts you can make with the kids. They are made from many different materials ranging from coffee filter butterflies to cardboard tube butterflies. Today we are going to make paper doily butterflies using paper doilies and food coloring.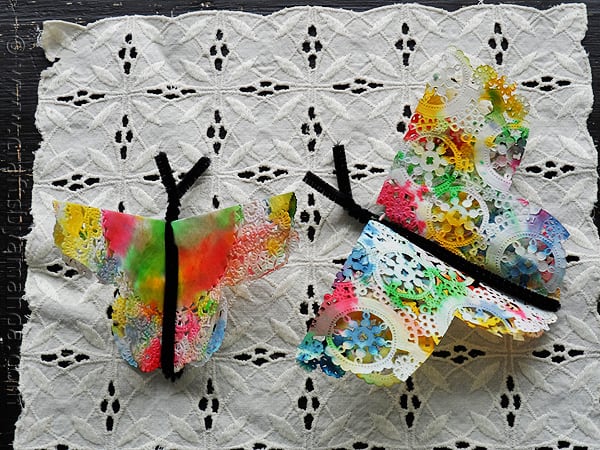 Butterfly Craft: Paper Doily Butterflies
I love crafts that are full of color. Kids do too. These paper doily butterflies can be as colorful as you like, but be careful not to use too much or they'll all blend together and turn into a brownish blob.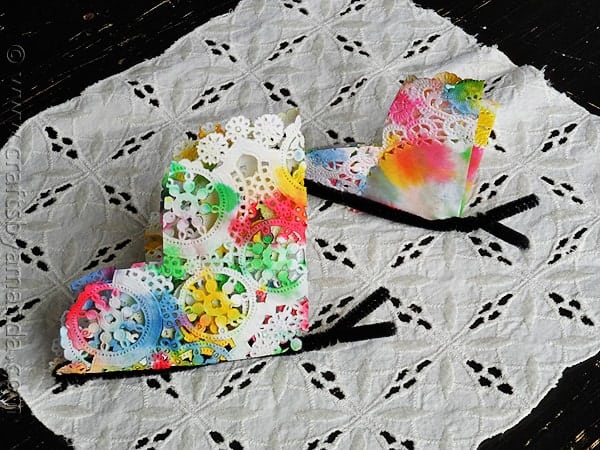 You can get paper doilies at the craft store or the discount department store. You might even be able find them at the dollar store. Check the wedding and party sections. A package comes with quite a few, so you can get plenty of butterflies out of a package.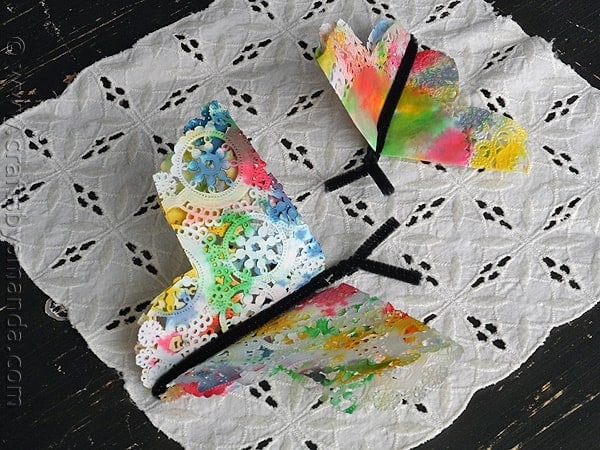 What you'll need to make paper doily butterflies
Making the Paper Doily Butterflies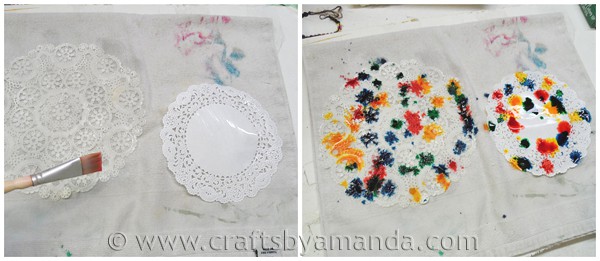 Place an old towel down on your work surface and place the doilies on top of it. Use a paintbrush to get the doilies wet. Be careful, they can tear easily when wet. Drip food coloring onto the wet doilies.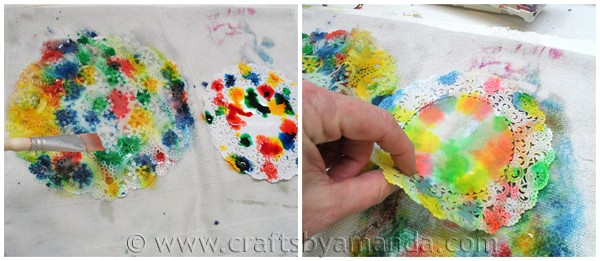 Blend the color and water with a paintbrush. Turn them over, the towel will absorb the extra moisture. Let them dry.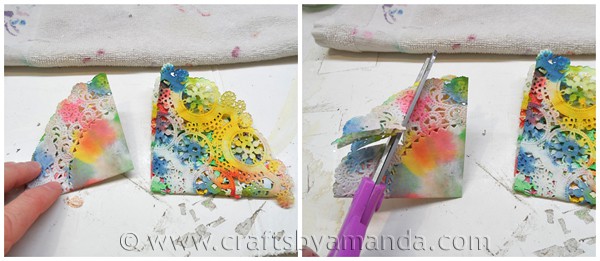 Fold and cut (see directions below)…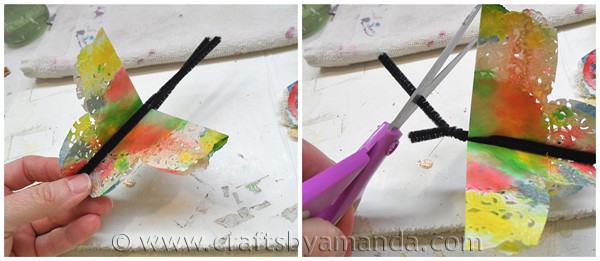 …and add pipe cleaners!
More Butterfly Crafts
Cardboard Tube Beaded Butterfly
Puffy Tissue Paper Butterfly
Butterfly Sandwiches – Taste of Home
Butterfly Snack – Hungry Happenings
Paper Plate Butterfly – TLC
Crayon Butterfly – Free Kids Crafts
Butterfly Craft: Paper Doily Butterflies
Supplies
1 large paper doily
1 medium paper doily
Food coloring or watercolor paints
Paintbrush
Water
2 black pipe cleaners
Scissors
Directions
Place the doilies on a towel that you are not concerned about staining. Paint both sides of each doily with water. Be sure to handle them carefully as they are delicate and can tear easily.
Drip food coloring onto the wet doilies and spread it around with a paintbrush dipped in water.
Turn the doilies over so that the towel will soak up the excess moisture. Let the doilies dry completely.
Fold doilies in half and then in half again. use scissors to cut a simple butterfly shape by cutting a small triangle section out of the center of the doily's side.
Fold a pipe cleaner in half. Run the pipe cleaner up the center of the doily and twist at the "head" of the butterfly to create the antennae. Trim ends.
This post was originally published on this blog on April 29, 2013.
Amanda Formaro is the crafty, entrepreneurial mother of four children. She loves to bake, cook, make kid's crafts and create decorative items for her home. She is a crafting expert and guru in the kitchen and has appeared online and in print publications many times over the years. She is also the editor for the Home & Garden channel at Craft Gossip and owner of FunFamilyCrafts.com.
Latest posts by Amanda Formaro (see all)