I had some clothespins, some crayon wrappers, and lots of coloring pages. This kid's craft project is actually a great mommy and me craft, the kids can color the decorations while you do the harder parts. This idea was a little slow coming.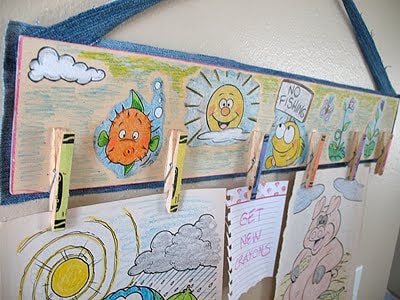 I knew immediately that I wanted to decoupage the crayon wrappers to the clothespins, but the rest is what took a while. A week ago I did the clothespins, glued them to the board, then it sat in a corner all week while I wracked my brain trying to figure out what to do next.
If you're a Dr. Seuss fan, try using these Dr. Seuss coloring pages for this project!
Today it hit me. Why not take pictures that your kids have colored to decorate the board? There's no paint in this project, it's all done with crayons. :) Dress it up with an old pair of jeans and you're all set!
Also, while I usually use white craft glue for all my projects, I decided to try something different. Elmer's came out with a new glue called "Glue-All". Have you seen it yet? I decided to try it, and I am definitely impressed! The glue grabbed immediately and held way better than my standard white craft glue. This is the first project I've tried it on, so we'll see how it performs on others, but so far I think it's a winner!
April 6, Update: how fun is this? Yesterday, April of Modern-Mama commented on this post saying that she had just made something extremely similar to this. Oh how great minds think alike! Check out April's Clothespin Art Display Hanger, I love her idea of using it to display photos as well! For those of us with stainless steel refrigerators (or OCD as April states it BAHAHA), this is a great alternative for hanging kid's artwork, photos, or even reminder notes.
If you'd like to make a clothespin art center, here's what you do:
Clothespin Art Center
designed by Amanda Formaro
PRINTABLE VERSION AT THE END OF THIS POST
You will need
6 wooden clothespins
24″ x 4″ wood slat
coloring pages
crayons
white glue
water
scissors
What you do
Remove the wrapper from 6 different colored crayons. I used a craft knife to cut along the seam and remove them. They will be very cylindrical, so you'll need to flatten them. I ironed mine, but you could also press them in a heavy book overnight.
Place clothespin on top of the crayon wrapper, use a pencil to draw a faint line. Cut the crayon wrapper so that it's just slightly smaller than the surface of the clothespin.
Mix some white glue and water together to make a decoupage mixture, then decoupage the wrapper to the clothespin.
Glue the clothespins to the wooden plank, you want about 2/3 of the clothespin on the plank, spacing them apart evenly.
Have the kids color some printables or coloring book pages. Make sure they color the background too! Cut them out, decoupage them onto the plank, only painting the back of the colored decals at this point. Don't decoupage over the tops just yet.
Use a crayon to shade in the background, use a secondary color as well, if you wish. I used blue with touches of yellow at the top since my pictures were related to water and nature. Choose another color (I used red) to outline the border of the plank. Decoupage over the top of everything, smooth any bubbles that may pop up on your "decals".
Cut a piece of denim to create a border for the plank. Place the plank on top of it to get an idea for the size you need to cut, mark with a pencil, then cut. Cut two strips of denim, about an inch wide, lay them across the front of the plank. Once you have them where you want them, loosely tie a knot at the top.
Place the ends of the strips under the plank. Once everything is positioned, trim anything that needs trimming, then cover the back of the plank with white glue. Press down onto the denim and let dry. Adjust the knot at the top, tie into a bow and trim ends.
Hang!