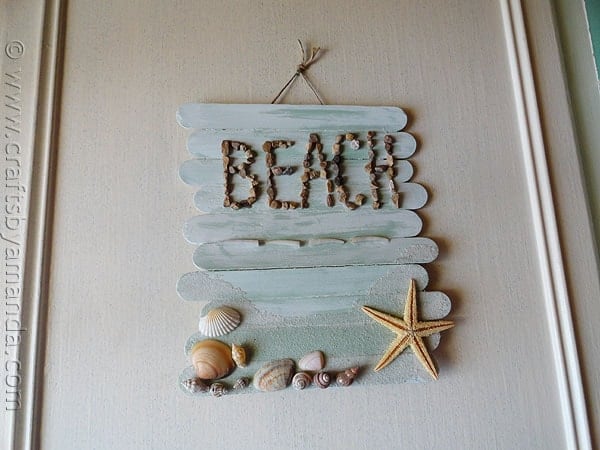 Summertime means family vacations and trips to the beach. If you've collected a bunch of seashells but just aren't sure how to display them, grab some craft sticks from your stash and make a beach plaque. Hopefully you brought a little sand back with you too!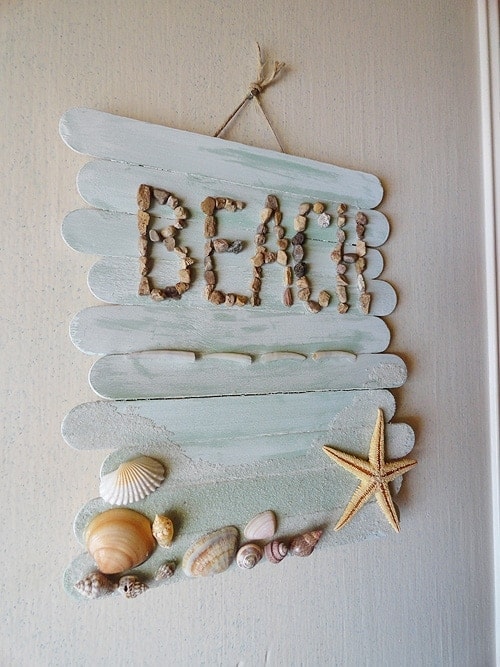 This is a fun projects for kids and adults to do together. It's easy to make and the variations are many. A fun decoration for the bathroom or entryway.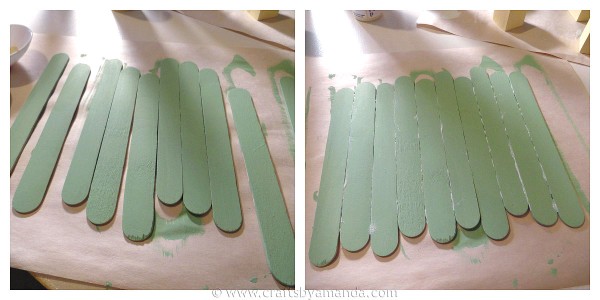 First paint the craft sticks then glue them all together. I made mine uneven and jagged.

Use white craft glue to write the word "beach" and gently press the pebbles into the glue.

Apply and spread some glue with a paintbrush to the bottom of the plaque where you want the sand to be. Cover the glued area with sand and let sit for a few minutes before shaking off the excess.

Glue seashells and a starfish to the bottom along the sand.

Here's a close up, I included some teeth as well. You can purchase seashells, teeth and starfish at the craft store if you didn't get lucky at the beach this year!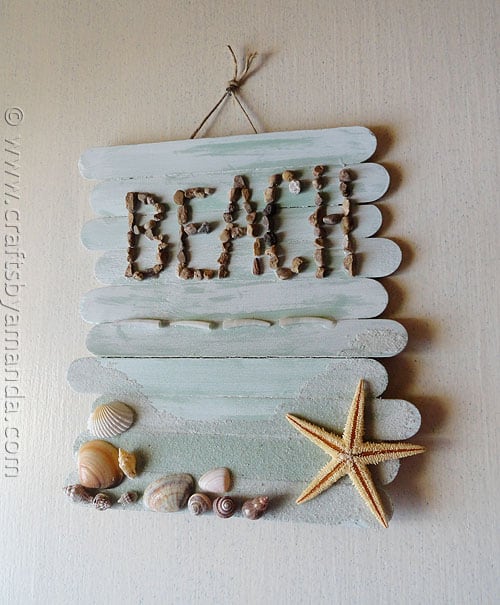 Did you hit the beach this summer?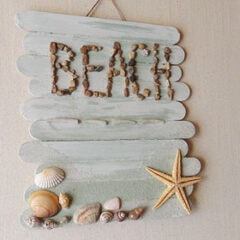 Print Project
Craft Stick Beach Plaque
Supplies
10

jumbo craft sticks

Small pebbles

Assorted shells

fish teeth and a starfish

Sand

White craft glue

Twine or string

Acrylic craft paint: Sea Green and White

Paintbrush
Instructions
Paint all of the craft sticks with Sea Green and let dry. Glue all of the craft sticks together, side by side. Do not line them up perfectly. Off set them so they appear jagged.

Dry brush white paint over the top to give the green a washed out look, leaving some green peeking through.

Use white craft glue to write the word BEACH in capital letters across the top of the plaque. Place small pebbles in the glue to create the letters.

Use a paintbrush or your finger to spread white craft glue across the bottom and a few inches up both sides, then cover the glue with sand and let sit for five minutes. Tap off the excess sand.

Glue starfish and shells along the sandy area. Glue the fish teeth in a row in the middle of the plaque.

Fashion a simple hanger from twine and glue it to the back.
Latest posts by Amanda Formaro
(see all)