So I fully intended to make and post these super easy craft stick mummies that make a great classroom or party craft. They're fast, use very few supplies, and don't involve anything intricate. Kids love them, and they are cute. Couldn't ask for too much more :)
But if you know me, I like color. 
White is so BORING, so I thought I would play around with my mummies today and add a little color. I'm thinking it probably would have been better to stick with purple or orange, but I chose pink and black. Why? Well, I was actually thinking along the lines of a "girl" mummy for the pink and then the black I just thought would look cool…
I'm not really sure what to think of these. I think they look like Ninjas. Hmm. Would be great for a ninja birthday party huh? Anyone having one of those soon? He he. Oh well, they're cute, they're easy, what's not to like. ;)
To make this craft into a kit, drop a craft stick, two eyes and several strips of felt into a sandwich bag. Print instructions (below) and tape to the front of the bag, or fold them and place them inside.
Would be fun at a party to stick the mummy craft kit into the Monster Treat Bags!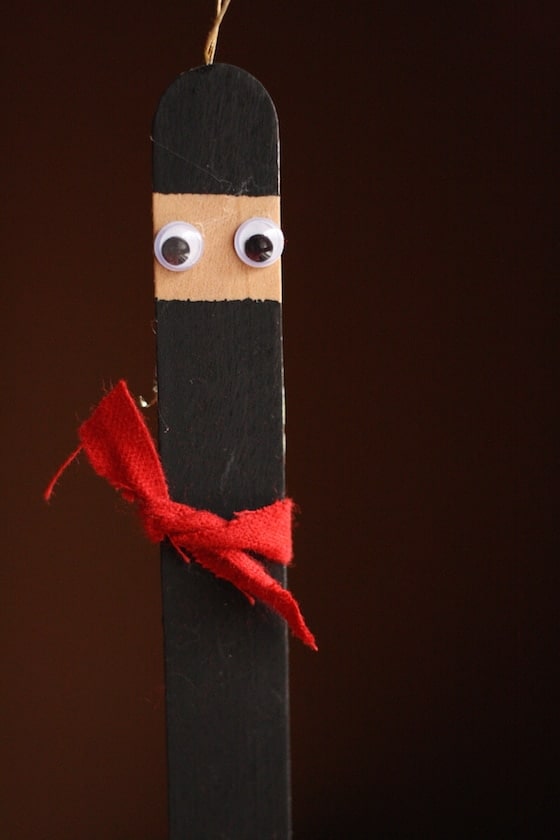 And aren't these craft stick ninja ornaments from Happy Hooligans totally adorable?? Complete with belts, I love it!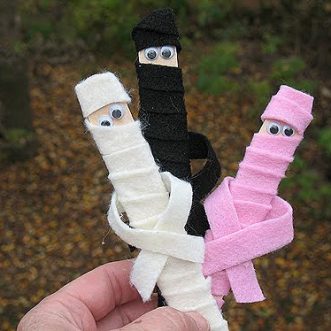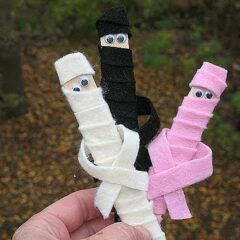 Print Project
Craft Stick Mummies (and Ninjas??)
Supplies
jumbo craft sticks

felt

cut into 1/2 strips

2

small wiggle eyes

felt glue or a hot glue gun
Instructions
Glue wiggle eyes to the craft stick. Glue strips of felt around the craft stick, just don't cover up the eyes. Each time you come to the end of a strip of felt, stop it in the back of the stick and glue in place, trim if needed. This keeps all the odd cut bits at the back. ;)

Glue one last strip of felt to the back of the mummy and wrap it around the front as arms. Cross the arms and glue together, trim ends.
Expert Tips & FAQs
If you use hot glue, remember it's best for grown ups or older, more experienced kids to handle this. Hot glue is much faster, but it can definitely be done with felt glue. For this project I wouldn't recommend white craft glue because it soaks right through felt.
Latest posts by Amanda Formaro
(see all)