So I fully intended to make and post these super easy craft stick mummies that make a great classroom or party craft. They're fast, use very few supplies, and don't involve anything intricate. Kids love them, and they are cute. Couldn't ask for too much more :)
But if you know me, I like color. 
White is so BORING, so I thought I would play around with my mummies today and add a little color. I'm thinking it probably would have been better to stick with purple or orange, but I chose pink and black. Why? Well, I was actually thinking along the lines of a "girl" mummy for the pink and then the black I just thought would look cool…
I'm not really sure what to think of these. I think they look like Ninjas. Hmm. Would be great for a ninja birthday party huh? Anyone having one of those soon? He he. Oh well, they're cute, they're easy, what's not to like. ;)
To make this craft into a kit, drop a craft stick, two eyes and several strips of felt into a sandwich bag. Print instructions (below) and tape to the front of the bag, or fold them and place them inside.
Would be fun at a party to stick the mummy craft kit into the Monster Treat Bags!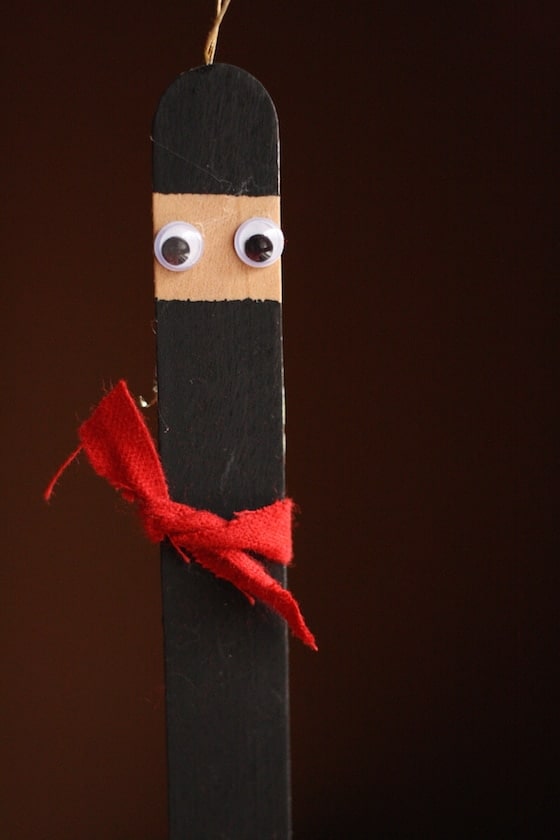 And aren't these craft stick ninja ornaments from Happy Hooligans totally adorable?? Complete with belts, I love it!