Aren't these lovely? This fun adult decoupage craft will last forever too. The are great for any occasion, but are especially nice for Valentine's Day. They give off a lovely glow and are perfect for a romantic dinner at home. I made these about 3 years ago and I still use them often. I keep them in my living room, they are great for any holiday!
A pretty addition to your home decor!
Decoupage Rose Votives
by Amanda Formaro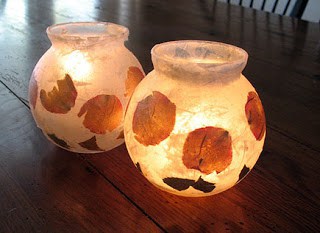 Print Project
Decoupage Rose Votives
Supplies
glass votive holder

white tissue paper

dried or fresh rose petals and leaves

Medium paint brush

white craft glue

water

small bowl

paper towels

wax paper
Instructions
If using dried rose petals you will need to soften them up by soaking them in a cup or dish of tap water. Do this for the leaves as well. You will need about 6 petals and 2 leaves for each votive. Set these aside to soak.

Tear tissue paper into 1" squares, no need to be precise. It's important to tear rather than cut as you will achieve a smoother result this way.

Mix together equal amounts of white craft glue and water in a small bowl. Mixture should be paintable but not too thick.

When the rose petals have soaked long enough to make them pliable, remove them and the leaves from the water and place onto paper towels. Cover with another paper towel and place a small book on top to flatten them out and squeeze out excess water. Leave book in place for 1-2 minutes, then check the petals. Carefully remove them from the paper towels and place on wax paper. If you leave them on the paper towels, they may stick to it as they dry. Break the leaves into smaller pieces and set aside.

To decoupage, paint the back of one of the rose petals with the paintable glue mixture and position onto the glass votive. Paint the mixture over the top of the petal as well. Repeat this step for each petal, working your way around the glass. Repeat this process again, this time using the leaf pieces around the bottom of the votive.

Working in sections, decoupage the torn pieces of tissue paper over the top of the rose petals and the leaves, completely covering the entire votive. Repeat again, covering entire votive with a second coat of tissue paper. Look at your finished votive and see if there are any thin spots and decoupage on more tissue paper wherever needed.

Let project dry completely, overnight is best.

Insert a votive or tea light candle and light!
Latest posts by Amanda Formaro
(see all)