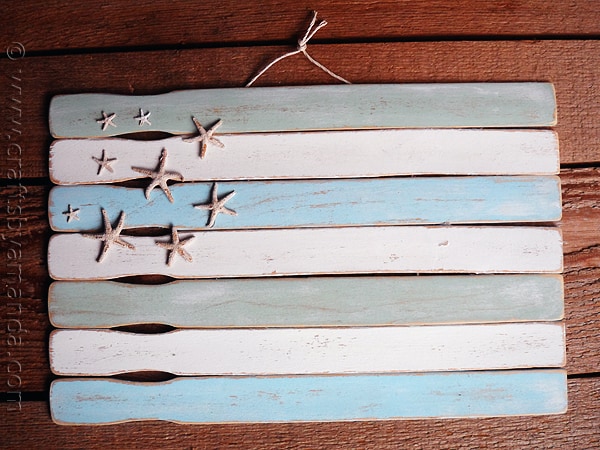 Beach decor is probably my all time favorite. I love making things with starfish, seashells, and sand dollars. There's something about beach decor that brings the ocean indoors and reminds me of how relaxed I feel when I'm there. I live in the midwest, quite a ways from the ocean, so bringing it into my decor is the next best thing.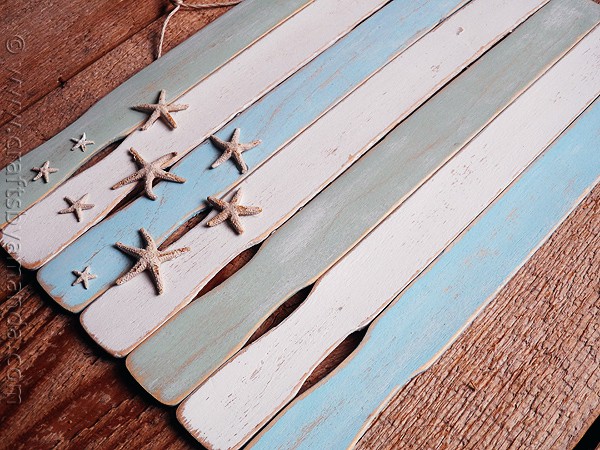 Recently, someone gave me a big box of paint sticks, so I tucked them away for a future project. I've actually been meaning to make this beach flag for quite some time and was finally able to sit down for a couple of hours and get it done.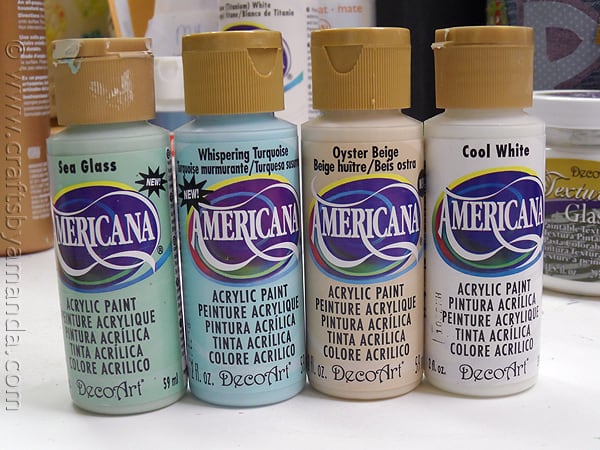 I'm in love with beachy colors. I chose to use DecoArt's Americana paint in Cool White, Sea Glass, Whispering Turquoise, and Oyster Beige. I've used DecoArt paints on many, many projects and love it!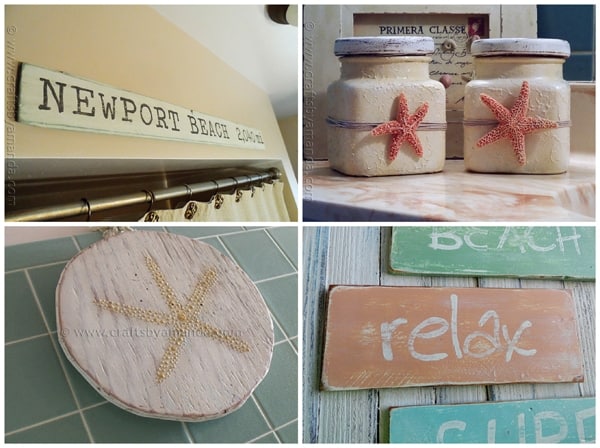 My bathroom is decorated with some other beach projects I've created, like this Weathered Newport Beach Sign, these Textured Glass Beach Canisters, and this Beach Starfish Plaque. The Weathered Beach Signs are among my favorites. Here are all my beach crafts if you want to have a look.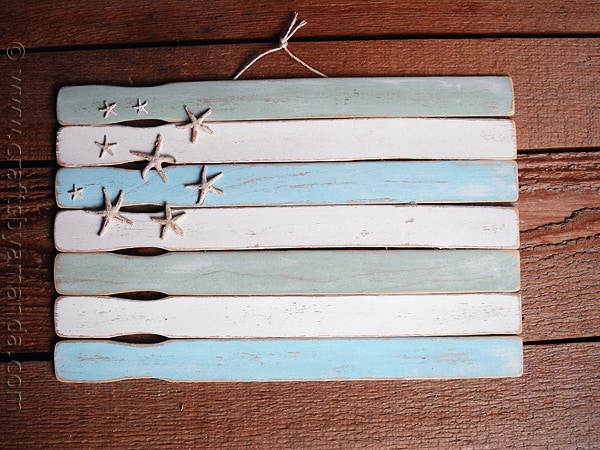 This flag measures about 12-inches wide. Eventually I'd like to make another one that's much larger, similar in size to my PB Inspired Rustic Colonial American Flag.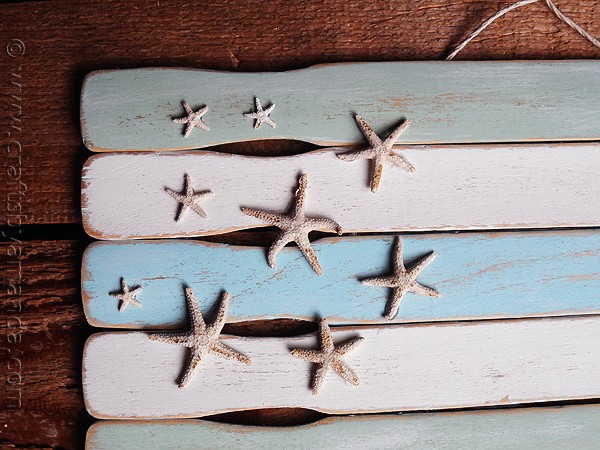 Before I show you how I made this, I should probably clear something up right away. I know that the American flag has 13 stripes. I also know that its colors are red, white and blue. This project was "inspired" by the American flag, it's not meant to be a replica. With that said, I hope that you enjoy the project!

I started by lining up seven paint sticks. Some of them were a little warped, but gently bending them with my hands helped bring them back to shape. I laid out the starfish to help me decide which ones to use.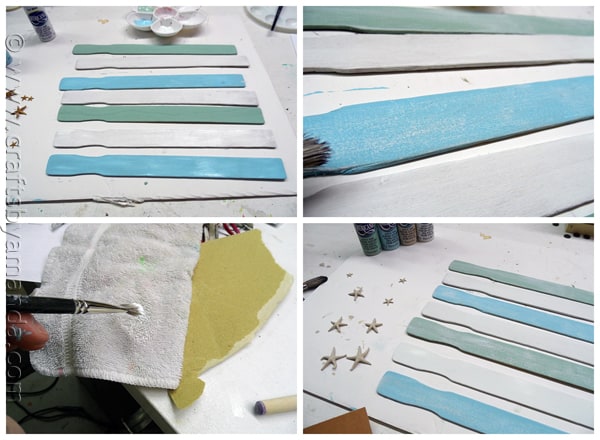 I painted the sticks, alternating colors as I went. The end result was 2 green, 2 blue and 3 white. After they had dried, I dry brushed white over the blue and green sticks. I used a sponge applicator to paint the starfish white, and once they were dry I added a layer of Oyster Beige.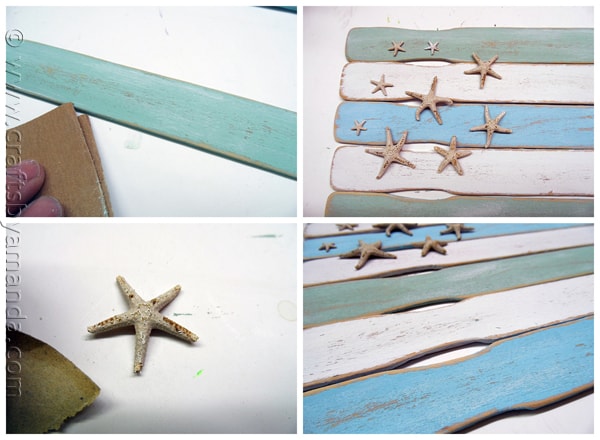 Sanding all the edges and corners came next. I also sanded the face of the sticks and the starfish.

I hot glued the sticks together, one by one, gluing from the backside so that the glue wouldn't show. Next, I tied a hanger out of twine and glued that to the back, then turned the whole thing over and glued the starfish in place.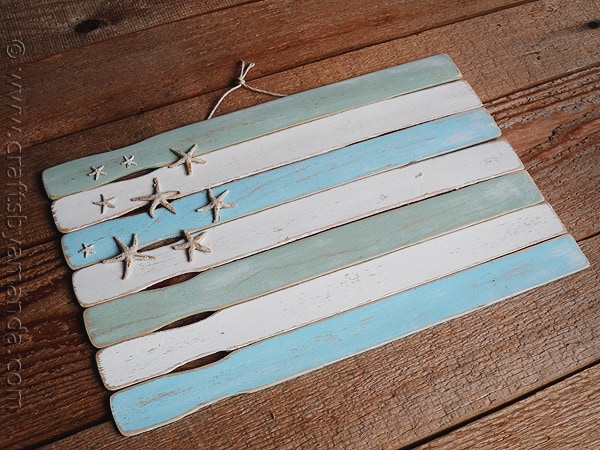 All done and ready to hang!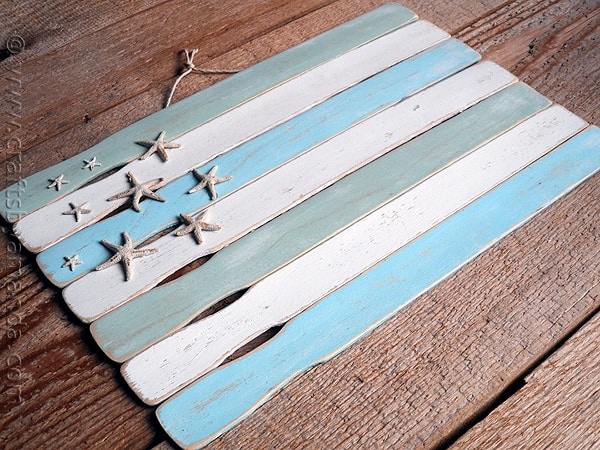 I am a DecoArt Core Blogger. I was compensated for this post, but have always loved DecoArt products! Therefore, all opinions expressed here are 100% my own.
Amanda Formaro is the crafty, entrepreneurial mother of four children. She loves to bake, cook, make kid's crafts and create decorative items for her home. She is a crafting expert and guru in the kitchen and has appeared online and in print publications many times over the years. She is also the editor for the Home & Garden channel at Craft Gossip and owner of FunFamilyCrafts.com.
Latest posts by Amanda Formaro (see all)