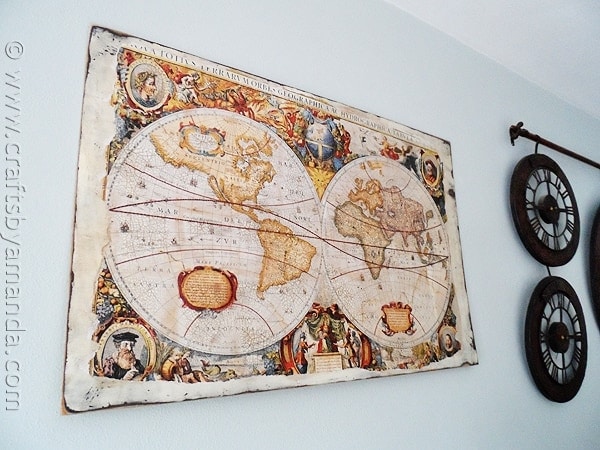 Using a map poster, a piece of plywood and some One Step Crackle, this beautiful piece of artwork was born. I'll show you how to use decoupage and a little antiquing gel to get this great look.
You may have seen a couple other projects I made with this One Step Crackle. I made this Vintage Crackled Flower Pot and these Vintage Crackled Cherub Ornaments I really love this stuff, there are so many possibilities!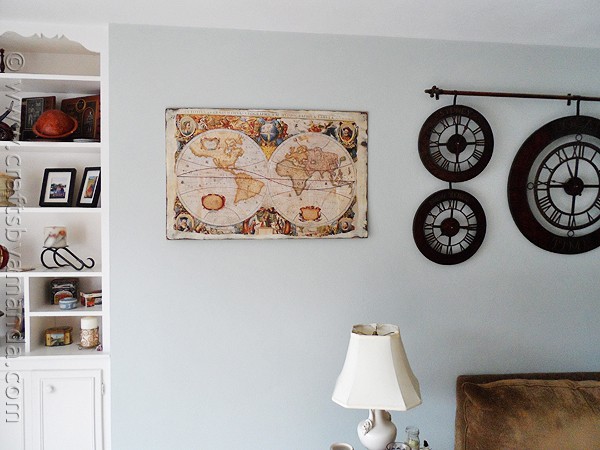 Funny thing is, this map was the first project I made with the One Step Crackle. So I actually learned a thing or two from this project.
1) The thicker the application, the larger the cracks
2) Cover all areas or you'll get sections without any crackle which can look strange after the stain is applied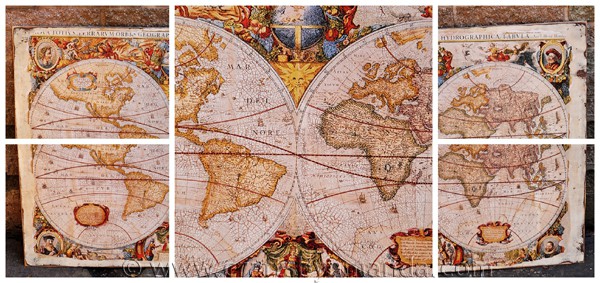 You may notice #2 above in some of these shots.
Just an FYI: Both Plaid and DecoArt carry similar products. Plaid makes Mod Podge and DecoArt makes a decoupage medium simply called Decoupage. Both companies make a one step crackle product, though I've been using DecoArt's. I only used Plaid's one step crackle once and it didn't work for me. I haven't tried it again, so it could have been the way I applied it. I will try it again some day, but for now, I know that DecoArt's works, and works well, so I am more than happy to recommend it to you.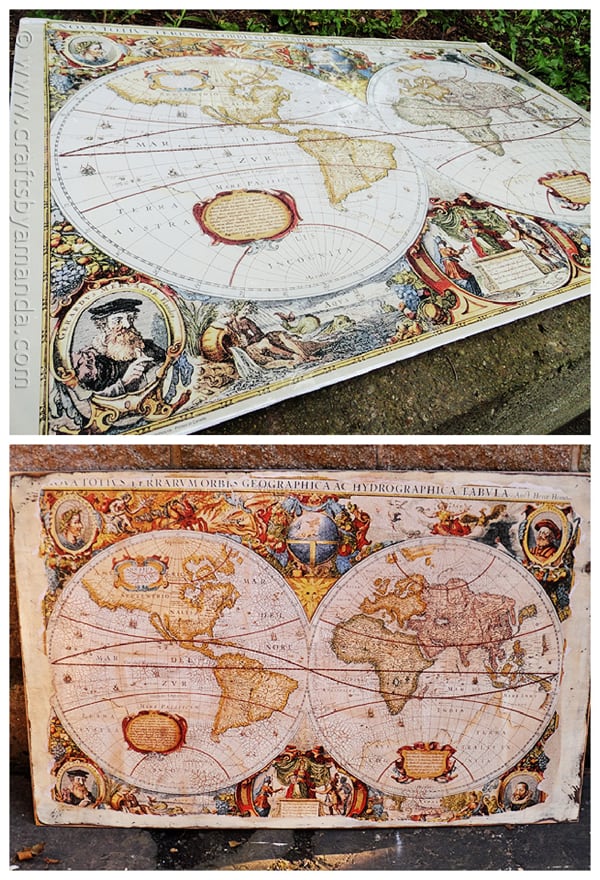 Overall though I love how the map turned out! Here's a quick before and after. I found the map at a flea market for $5.00, but I've seen similar maps online for around $15.00.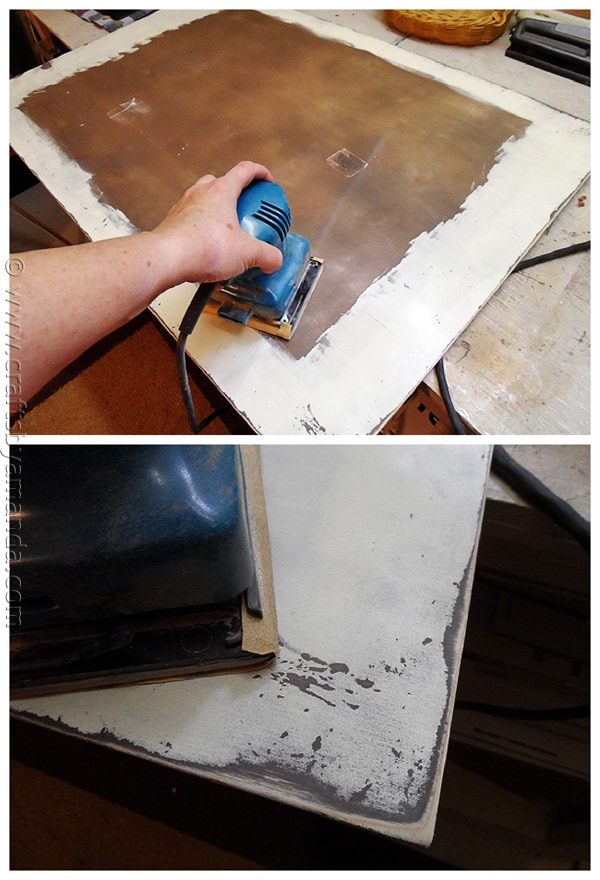 I started by painting a piece of plywood brown, then I painted the edges, about 4-inches inward from the edges, which an antique white. I only painted the edges because the map will be covering the center. I sanded the edges to reveal all the edges and corner and to reveal some of the brown beneath the antique white, to give it a distressed look.

I wanted the map to look old. I decided to tear all of the edges, I didn't want any straight sides at all. I was concerned about having issues decoupaging the entire piece without bubbles, so I decided to tear it into sections. I numbered the section on the back of the map pieces and corresponded them to sections on the board, just to keep it all straight. Once each piece was decoupaged onto the board, I added a coat over the top of everything.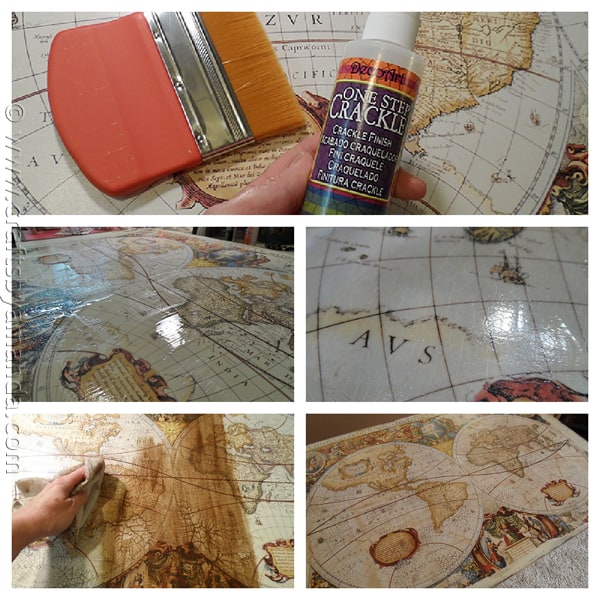 Once it was dry, I was ready to add the One Step Crackle. I used a large decoupaging brush to apply it. When you apply this product you don't want to overwork it. Apply once, maybe smooth it quickly with another stroke and that's it. No more. The more you work it, the less chance of the crackle working. let the crackle dry according to the bottle directions. Next you'll apply a stain. I used a brown paint mixed with antiquing gel. Apply and wipe back. This will leave the stain in the cracks.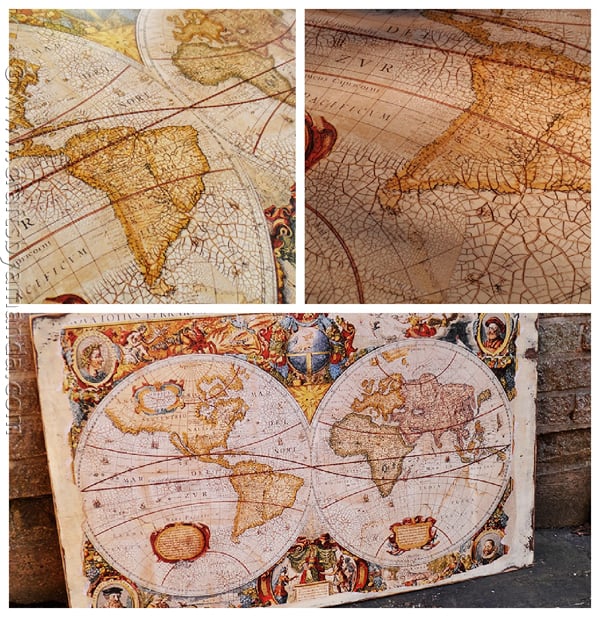 See? :)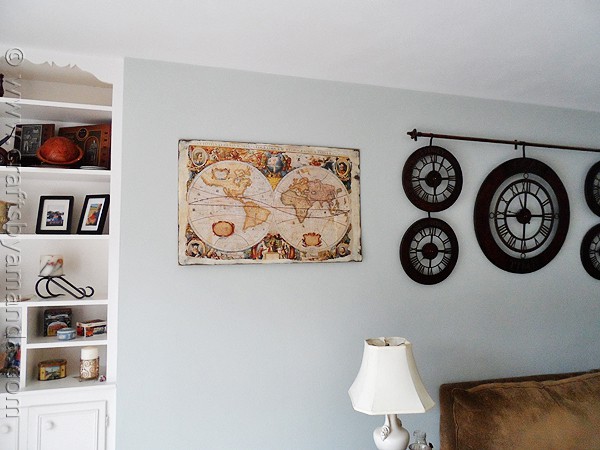 I had it hanging in my bedroom, but decided to move it to the living room so that it would be seen more. I love the way it looks next to my world clock and against our new wall paint color!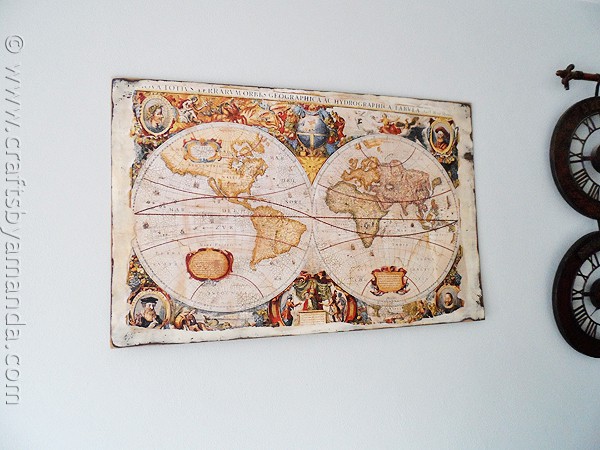 Hope you like it and it inspires you to try one Step Crackle, it's a lot of fun!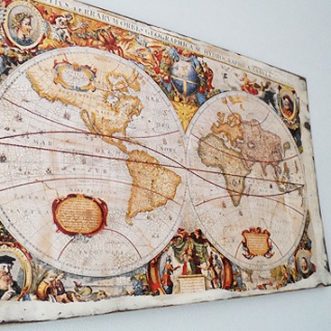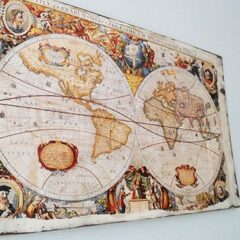 Print Project
Distressed Crackled Vintage Map
Supplies
Map poster

Plywood to fit poster

Brown and Antique White acrylic paint

Decoupage medium

One Step Crackle

Antiquing gel
Instructions
Paint plywood brown and paint edges with Antique White. Sand edges to distress.

Tear all edges of map poster and decoupage onto the plywood. Apply a coat of decoupage over entire map.

When dry, apply One Step Crackle according to the bottle directions. Allow to dry.

Mix brown paint with antiquing gel and apply over the top of the map, wiping back with a clean cloth.
Latest posts by Amanda Formaro
(see all)