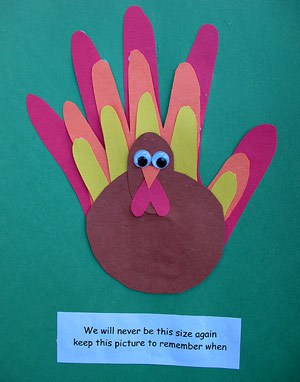 This cute twist on the handprint turkey uses handprints from not just your child, but you too! Mom, Dad and the little one are in this cute paper project. I made this several years ago and thought it was high time I shared it here.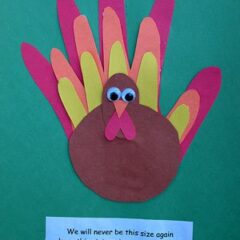 Print Project
Family Handprint Turkey
Supplies
construction paper in red

yellow, orange and brown

2

medium googly eyes

white craft or school glue
Instructions
Have mom (and dad) place their hand on a piece of red construction paper. Trace around their hand and cut out.

Note: If doing this as a class project, send home a note to parents to trace their hand on white paper and send back to school with their child. When the papers are returned, lay a piece of red construction paper under the white paper and use a pen or pencil to trace the hand, the indents from the pen will show where to cut on the red paper. Alternatively, you can send home a sheet of red construction paper with each child.

Trace the hands of each child in the family onto different colors of construction paper. Cut out.

Starting with the largest hands, layer smallest on top of largest, glue together.

Cut out a plump circle for the body and an oval for the head from brown construction paper. Glue on top of the smallest hand.

Cut out a small red heart for the gobbler and orange triangle for the beak, glue in place. Glue on wiggle eyes.

Print out the phrases below using Notepad, Word, Wordpad or similar word processing program, changing the name of the children and year if needed:

To Mommy & Daddy with Love

from TJ & Dominic on Thanksgiving 2011

We will never be this size again

keep this picture to remember when

Cut out poems, glue first one to the top of the green construction paper and the second one to the bottom, or just use the bottom poem if you like.

'); // ]]>

Latest posts by Amanda Formaro
(see all)