This was something I made a few years ago after a trip to the beach. Many people decorate their bathrooms in a nautical or beach theme, so this is a great addition to that decor. If you don't have any shells you've collected, you can buy them at the craft store. I hung mine on the wall and it looked lovely.
Unfortunately, it didn't survive my last move, so I guess I'll need to make another one. What a shame, it would have gone great in my current bathroom! :( Also, because I did make this several years ago, I'm afraid I don't have step by step photos, but the instructions should be clear enough. :)
Gone Swimming Beach Plaque
Note: Live creatures should never be removed from their natural habitat. Only collect shells that are empty and starfish that have expired. You can also purchase everything you need for this craft (including decorative sand) from your local craft supply store.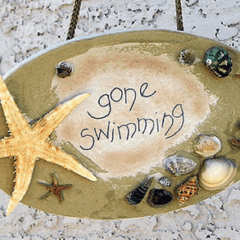 Print Project
Gone Swimming Beach Plaque
Supplies
oval paper mache hanging plaque

acrylic paint

antique white

acrylic paint

tan

black craft or Sharpie pen

assorted sea shells and starfish

sand

1

large starfish

scruffy paintbrush

flat paintbrush

hot glue gun

white craft glue

water

acrylic sealer spray

matte
Instructions
Using the flat brush, paint plaque with antique white. Repeat with a second coat and let dry.

Hot glue the large starfish to the left side of the plaque, and glue the seashells and remaining starfish around the right side and bottom of the plaque. Refer to photo for placement. Pull excess strings off left over from hot glue.

In the center of the plaque, use black craft pen to write "gone swimming".

Mix together a nickel size amount of white craft glue and a little water, just enough to thin the glue out and make it "paintable". Using the flat brush, paint on the glue mixture wherever you would like the sand to stick. This must be done in about 3-4 sections so that the glue doesn't dry before you add the sand. Start at the top of the plaque and work your way to the left, painting the glue mixture around the large starfish. Pour sand over the glue, let sit for a moment, then tap off the excess. Repeat this process around the shells and other starfish, wiping off any glue that may get on the tops of the starfish or shells (before adding the sand).

Dip scruffy brush into tan paint and dab off all excess onto a paper towel. Paint brush should be almost dry. Add tan touches around the words and along the edges of the sand.

Spray entire surface with acrylic sealer and allow to dry completely. Hang!
Stumbles, shares, tweets and faves are always appreciated! :)

Latest posts by Amanda Formaro
(see all)