Dang it! I missed National Pig Day which was on March 1st! I had every intention of sharing this with you then, but oh well, I'm late. :-P Regardless of my tardiness, this is a cute project I made what seems like a billion years ago (really it was in 2002). I found the pattern in some pattern book years ago, so it's not my design, but it's cute isn't it?? Would make a sweet laundry room knick knack or a gift for that Grandma who always says "hog wash!"
Hog Wash 
This would be a really cute addition to a laundry room or bathroom. And speaking of laundry rooms, I found this 3-ingredient homemade laundry detergent the other day that looks like it's worth giving a try! Let me know if you try it.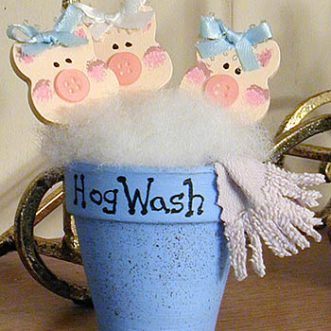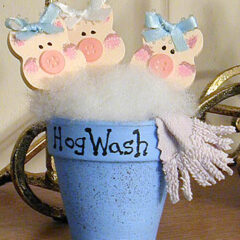 Print Project
Hog Wash - A pig craft
Supplies
1- 2 1/4

" diameter clay pot

3

wooden cat heads

3

craft or popsicle sticks

Styrofoam or floral foam

scrap of towel or washcloth

Fiberfil cotton batting

blue and white ribbon

or 3 premade bows

3

pink buttons

acrylic paint in flesh

light blue, brown, pink, black, and light brown

white craft glue

fine tip black marker
Instructions
With light blue, paint the outside of the clay pot. Again, two coats will probably be needed. Let dry. Using brown paint and a toothbrush, fleck brown spots on outside of clay pot. Use light blue to cover any flecks of brown on the rim of the pot.

Using flesh colored paint, paint cat heads on both sides, two coats may be needed. Let dry. Glue a pink button to the center of each face. Use the corner of a sponge to dot on pink paint to the ears and cheeks, highlight with light brown. Using black paint, dot on eyes with a toothpick or use a fine tip black marker. Fashion small bows from blue and white ribbon and glue to the top of the head between ears.

Glue a craft stick to the back of each head. Insert floral foam or Styrofoam into the clay pot. Insert the craft sticks into the Styrofoam. Trim an old washcloth or towel to hang over the edge of the clay pot, fringe the ends with scissors. Glue in place.

Finish up by gluing bits of cotton batting inside the top of the pot, covering the towel and concealing the craft sticks. Use a fine tip black marker to write "Hog Wash" across the front of the pot.
Latest posts by Amanda Formaro
(see all)