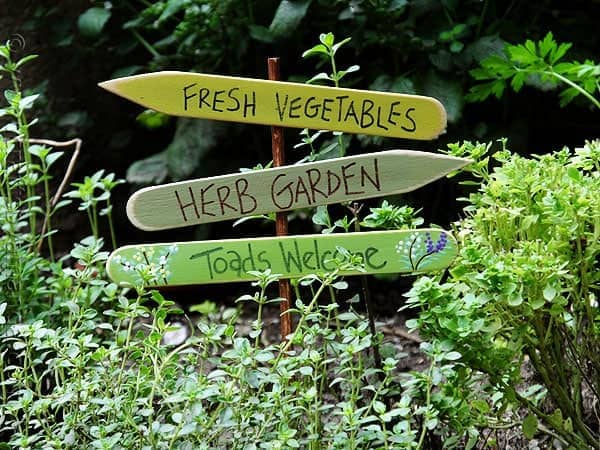 I decided to make this little garden sign for my herb garden after I noticed a couple of toads living in there. I have since found out that toads in the garden are a good sign because it means rich soil and healthy plants. I love that the toads keep the bugs out of my herb garden as well, but at first I was a little worried for them.
You see I thought that they might be trapped in my little garden and had no way to escape. I have a small herb garden in a brick planter outside my door.
The planter is tall, comes up to my waist, and originally held bushes as you can see from these before and after pictures.
You can also see that the planter butts up against my front yard. So I figured that the toad may have hopped down in there and wasn't able to hop back out again.
So I watched for several days, each day seeing the toad. Then one day it was gone.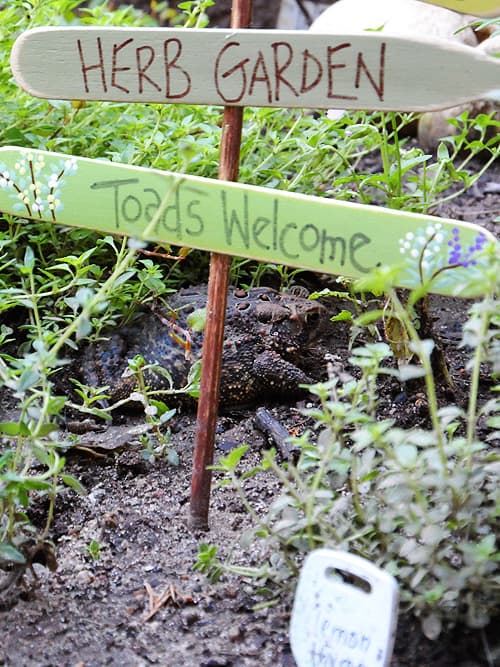 It was three days before it returned, and this time it had company, now there were two!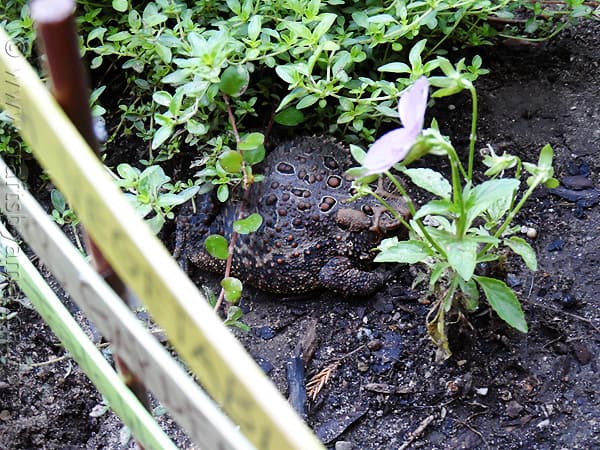 This photo and the one above it were taken today. There's only one toad today. Looks are deceiving though, this toad is only about 3 1/2 inches long, though I know in the picture he looks much bigger.
I grow herbs that I use in my recipes such as winter savory, flat leaf (Italian) parsley, green thyme, lemon thyme, English thyme, oregano, boxwood basil and Thai basil. I also have a lemon balm plant, but simply let it grow there as the leaves are only really good for tea. Having the toads in the garden has kept them bug free. Very happy about that!
So with the worrying out of the way, knowing that they were able to come and go as they pleased, I set about the task of creating an herb garden sign. I don't really have an ideal space for a vegetable garden, so I've thrown some tomato plants, a bell pepper plant and some cucumbers in where my front bushes are and they seem to be thriving just fine.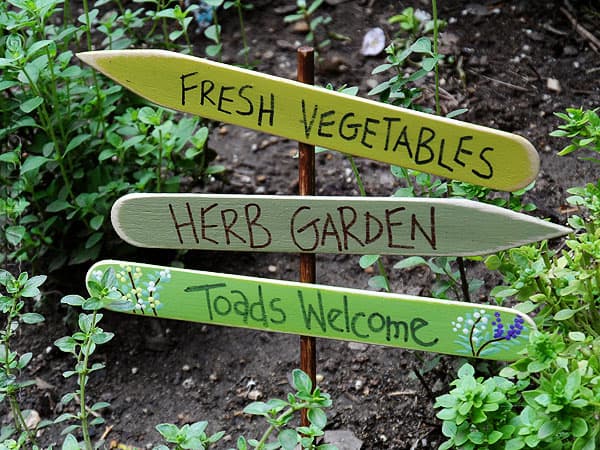 So on my sign I have an arrow pointing to my vegetables, another one to my herbs, and finally the welcome slat.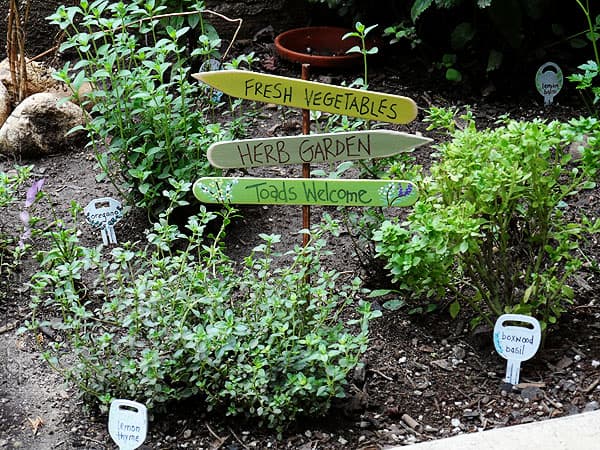 There are full printable instructions below. Oh, and if you're curious about the garden markers I made from recycled keys, you can see them here on FaveCrafts.
Basically you take three jumbo craft sticks, cut the ends to make the arrows, and paint them. Paint a dowel too, about 1/3 of the way down.
Use Sharpie markers to write the words. I write on a piece of paper first to practice how I want it to look and to make sure it fits.
Then draw a few lines for stems, and dot on some flowers using a toothpick.
A little sanding, some Hard Coat Mod Podge, and E6000 later and you're done!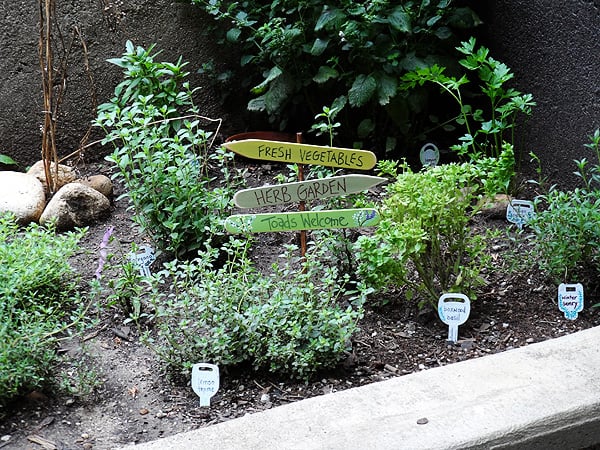 I hope you enjoyed my sign and the little trip through my limited garden. It works for me. :)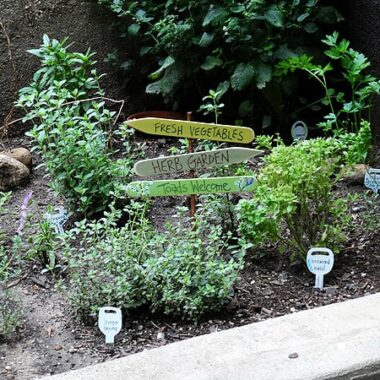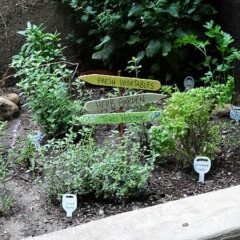 Print Project
Herb Garden Sign: Toads Welcome
Supplies
3

jumbo craft sticks

12

" wooden dowel

Scissors

Sandpaper

Mod Podge Hard Coat

E6000 glue

Toothpick

Sharpies

gray, brown, black

Paintbrush
Craft Paint (I used Americana, colors below)
Espresso

Foliage Green

Celery Green

Avocado Dip

Warm White

Lavender

Pineapple

Mint Julep Green
Instructions
Cut one end of a jumbo craft stick into an arrow. Repeat for a second craft stick, leaving the third in tact.

Sand off any rough edges and smooth both sides.

Paint the craft sticks using Foliage Green (Toads Welcome), Celery Green (Herb Garden), and Avocado Dip (Vegetables). Paint 1/3 of the dowel with Espresso.

Use Sharpies to write Fresh Vegetables, Herb Garden and Toads Welcome on the craft sticks.

Use a Sharpie to draw simple stems on the welcome slat, to the left and to the right. Use a toothpick dipped in Mint Julep Green to add leaves to the stems. Use a toothpick to dot on flowers using Warm White, Lavender, and Pineapple.

When dry, sand the edges of all the craft sticks to give them a worn look and lightly run the sandpaper across the words for the same reason.

Apply two coats of Mod Podge Hard Coat the craft sticks and the dowel, waiting an hour in between coats.

Use E6000 glue to attach the craft sticks to the dowel.
Expert Tips & FAQs
Do not substitute hot glue for the E6000 as it will not hold up well during inclement weather. It will soften and your sign will fall apart.
Latest posts by Amanda Formaro
(see all)