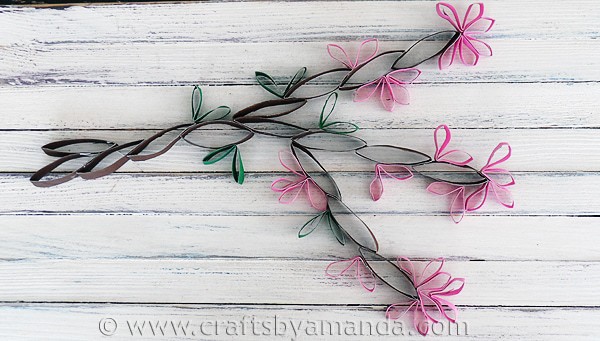 Earth Day is right around the corner, what better way to celebrate by creating some cardboard tube wall art. If you read this blog fairly regularly, you know that I do quite a bit of recycling in my projects. I love to turn cardboard tubes into crafts, but admittedly, they are usually crafts for kids. Surely, you've seem how you can turn cardboard tubes into pretty intricate wall art designs. I've put together a branch, just imagine how cool this would be as an entire tree!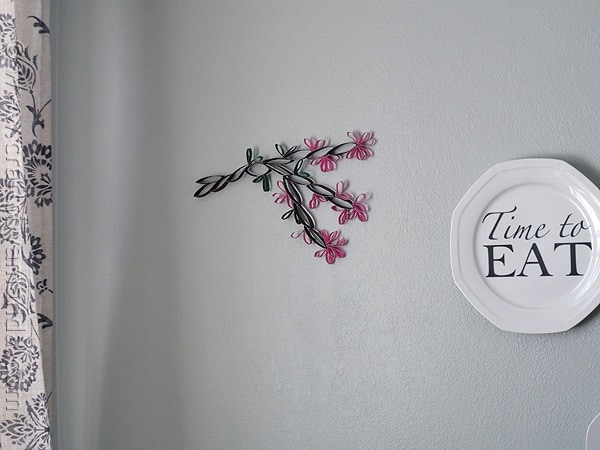 I chose cherry blossoms for this cardboard tube wall art because I think they are really beautiful and epitomize spring. You might remember the cherry blossom tree painting I made for my daughter. There's something about them that just makes me smile.
Apple blossoms are just as gorgeous. In my last house I had one right outside my front window and wow, the blooms in spring! So beautiful! These light bulb birds were hanging in it when I took the picture. i truly wish the blooms would last all summer!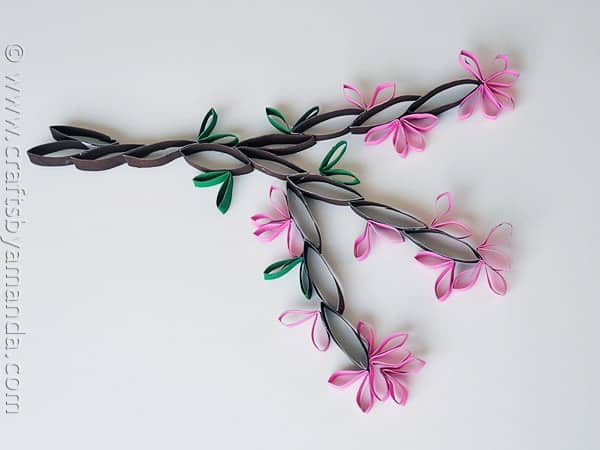 I don't have any step by step photos, but I think you should be able to get the gist from looking at the photos. I used hot glue to put it all together. The great thing about painting cardboard tubes is that they become quite stiff and sturdy once the paint has dried completely!
Have you created any cardboard tube wall art of your own?
More Cherry Blossom Crafts
Tissue Paper Cherry Blossom Branches – Creations by Kara
Cherry Blossom Craft for Kids – Alpha mom
Cherry Blossom Tree Mural – Just Paint It
More Cardboard Tube Wall Art
Recycled Wall Art – Homemade Mamas
Faux Metal Wall Art – Suzy's Artsy Craftsy Sitcom
Cardboard Flower Wreath – Noisy Pitta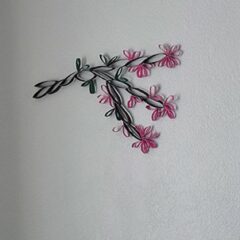 Print Project
Cardboard Tube Wall Art: Cherry Blossoms
Supplies
5

recycled cardboard tubes

from toilet rolls

Glue dots or wall putty
Craft Smart Paint:
Espresso

Grass Green

Pink Blast
Instructions
Paint 2 of the cardboard tubes Pink Blast and paint 2 of them Espresso.

Cut the remaining cardboard tube in half. Paint half of it Pink Blast and the other half Grass Green.

When the tubes have dried completely (they will be stiff), flatten them gently and cut them into: Espresso – 16 equal pieces; Pink Blast - 19 equal pieces; Grass Green – 5 equal pieces

Use a hot glue gun to connect the pieces together to form a branch.

Fold the Grass Green and Pink blast pieces in half to create flower blossoms and leaves and hot glue to the branch.

Hang on the wall with wall putty.
Latest posts by Amanda Formaro
(see all)