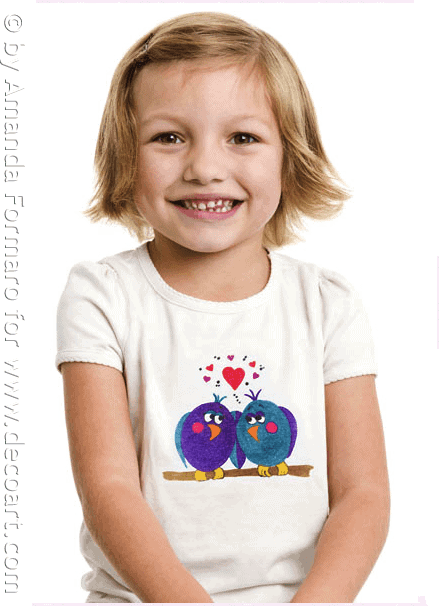 While I did design this ink effects pattern, I don't know who the cute little girl is wearing this shirt. You see, I made this ink effects project for DecoArt. I was pressed for time and really needed to ship the project out, so I didn't get a great final photo. It doesn't help that my kids are all wearing adult sized clothes now, so I certainly don't have an adorable little model at my disposal. So this photo above is from DecoArt's project library.
I created this iron-on using Ink Effects Fabric Transfer Ink. And one thing the photo above proves is that when you create an iron on with this product, it can be used more than once! If you look closely, you'll notice that the shirt the little girl is wearing is not the same shirt that I shipped to Decoart. I did ship them the painting as well, which means they used it to iron on the transfer to a different shirt to fit their little model.
I'm about to demonstrate how this works. I've made a few projects for DecoArt with Ink Effects, but this is the first one that I have shared on the blog. It's easy to do, in fact you could even paint a page from a coloring book and transfer it onto a shirt, tote bag, pillow case, etc!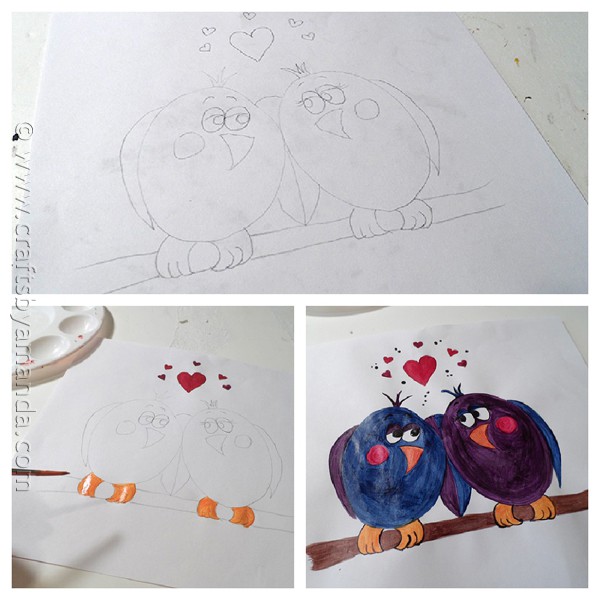 I drew the picture first, but there is a pattern for you if you would like to use the love birds pictured here. All you do is paint the design with your Ink Effects and let it dry.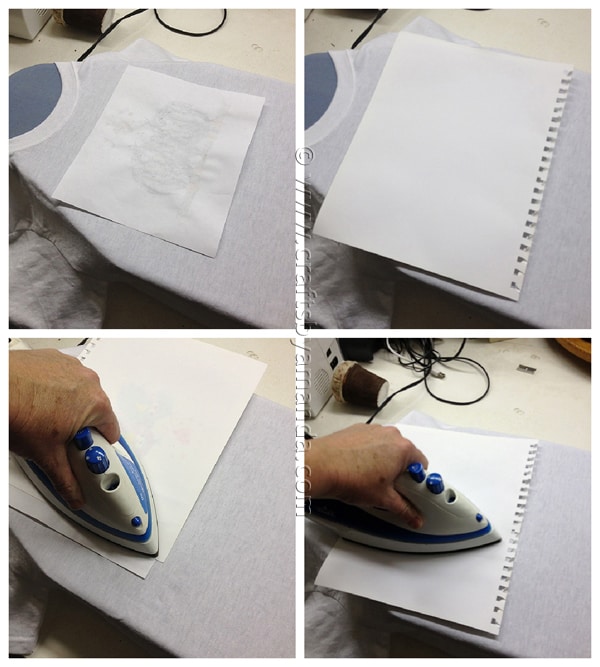 Place it face down on your fabric (keep in mind that your results will be reverse of you painted design) and cover it with a plain piece of white paper. Iron it according to the bottle directions. You can gently lift the paper now and then to see if you are getting the results you desire. Just be careful not to iron for too long as your design will start to blur, for lack of a better way to describe it, and will appear out of focus.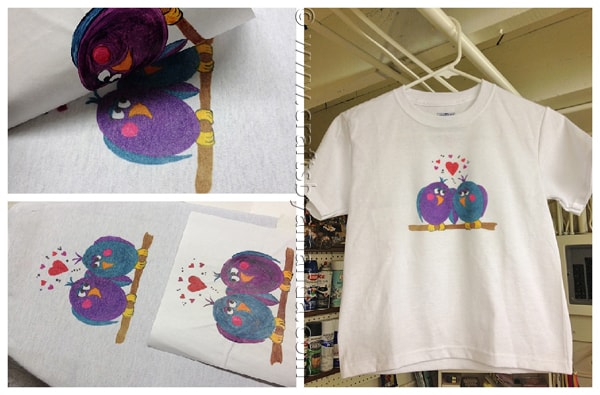 Follow the directions on the product. You can also check out Decoart's project gallery for other design inspiration.
More Ink Effects Projects
Pillow from Child's Artwork – A Couple More Hours
Arrow Baby Blanket – Whipperberry
Beach Towel Tote Bag – Skip to My Lou
Decoart's Ink Effect Pinterest Board – or more ideas and inspiration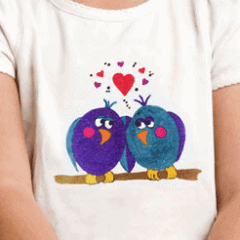 Print Project
Iron On Love Birds Shirt
Supplies
White t-shirt

50/50 cotton/polyester

Love birds pattern
Ink Effects
Brown

Yellow

Pink

Orange

Purple

Turquoise

Red

Violet

Black
Instructions
Print lovebird pattern.

Paint branch brown.

Paint feet yellow.

Paint cheeks pink.

Paint beaks orange.

For bird #1 (on left) paint the body turquoise. Paint wings, eyelids and hair purple.

For bird #2 (on right) paint the body purple. Paint wings, eyelids and hair turquoise.

Paint the large heart red. Paint the smaller hearts violet.

Paint the pupils of the eyes black.

Use a liner brush to outline the eyes, beaks, and feet with black. Add eyebrows to both and eyelashes to the purple bird using black.

Once the pattern has dried for at least 30 minutes, place shirt on ironing board and place painted pattern face down on shirt. Place a piece of clean paper over the top and iron on high setting for 30 seconds, keeping iron in motion.
Latest posts by Amanda Formaro
(see all)