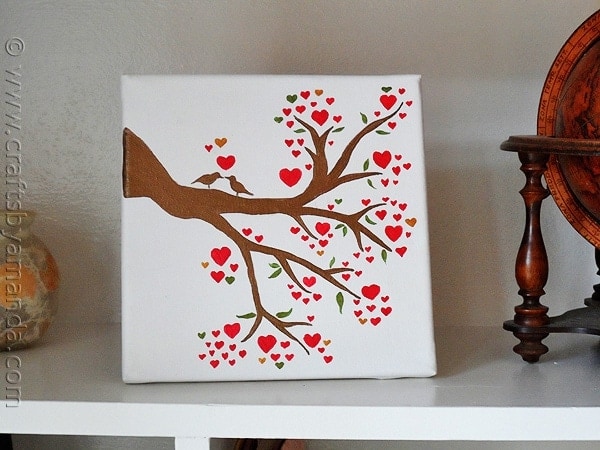 I'm sure you've seen a variety of different birds on a branch silhouette designs out there, I know I have. But what about love birds on a branch? Amazingly enough, there are lots of those too! I wanted to paint a small canvas with love birds on a branch, just for Valentine's Day as a fun piece of decor that isn't too big and intrusive.
After Valentine's Day, I put up my Shamrock Tree on Canvas!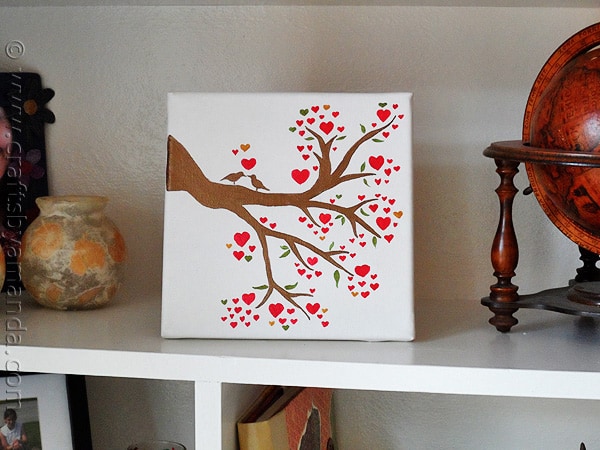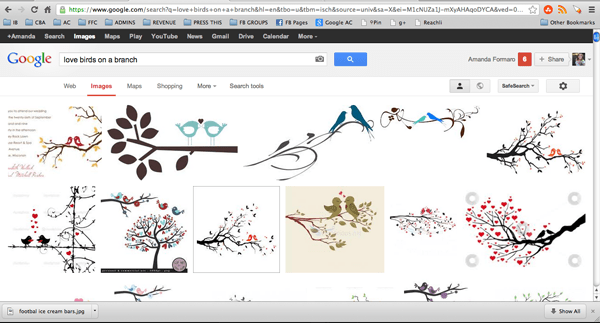 I did a google search and checked for images I could draw some inspiration from. As you can see, there's quite a few different versions, but the one in the lower right caught my eye because of the heart shaped leaves.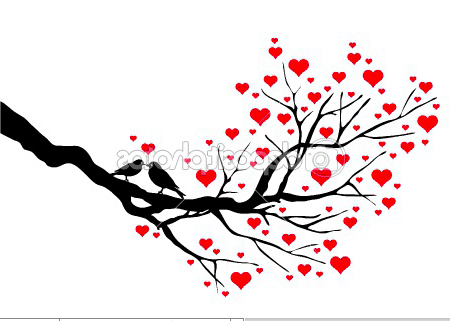 I'm not sure why, maybe it's because I'm left handed, but I wanted my branch to start from the left. So I opened the image in Photoshop and flipped it. Disclaimer here – this photo belongs to Deposit Photos I only used it as inspiration, my tree and branch design is considerably different.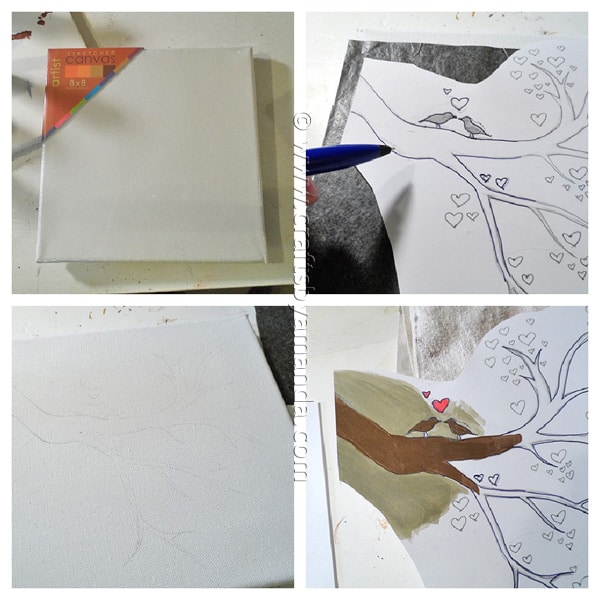 First I drew out my design, using the photo as inspiration. I started off with an 8×8 canvas and used graphite transfer paper (similar to carbon paper) to trace my design onto the canvas. When I was done (and after I made a pattern for you guys) I experimented with a dark color in the background, right onto my drawing. I didn't like it. But just for future reference, this is a great way to experiment on paper before actually painting your design on canvas.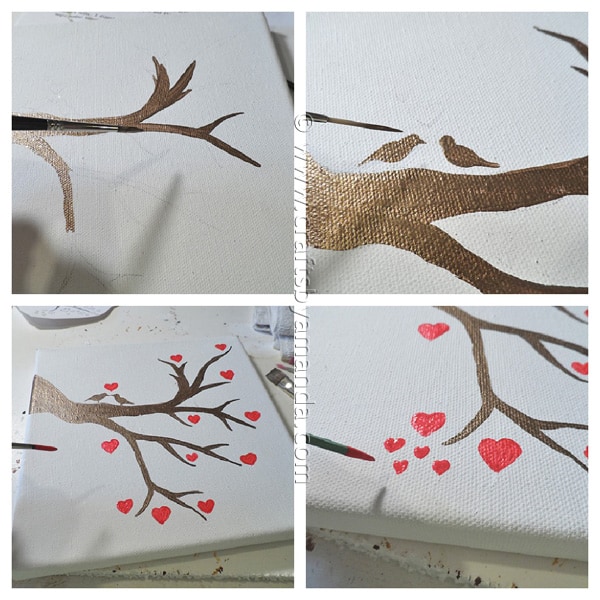 I painted the branches and the birds first. I actually used a brown metallic paint for the branches, specifically Americana Dazzling Metallics in Rich Espresso. Then with Dazzling Metallics Festive Red I added the large hearts. For really small hearts it was easier with a toothpick. I also used Emperor's Gold and Festive Green on the painting, but you can get all that info in the full printable instructions below. :)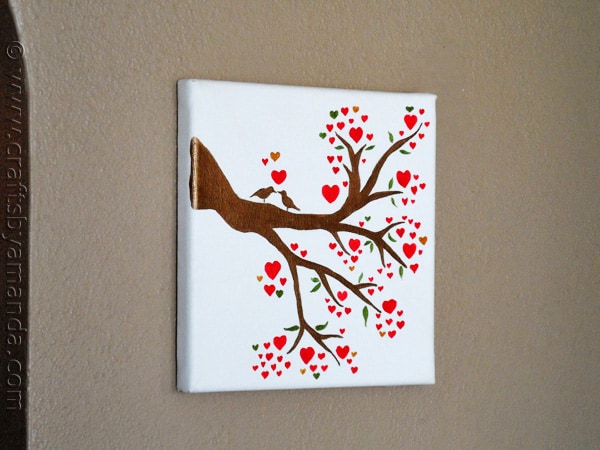 I originally made this painting for JoAnn Fabrics via DecoArt.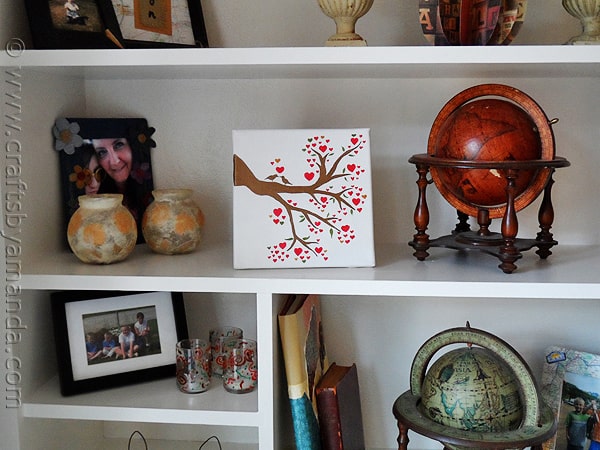 More Birds on a Branch Paintings
Silhouette on canvas – Crafts by Amanda
Another silhouette on canvas – Just Paint It
More of my wall art
White Cherry Blossom Tree Painting
Button Tree on Canvas
Colored Denim Circle Tree
Distressed Crackled Vintage Map
Weathered Newport Beach Sign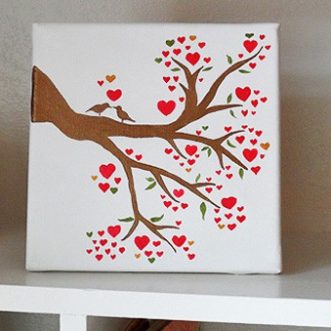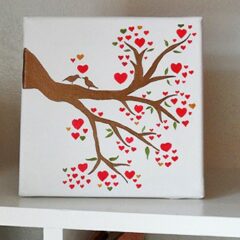 Print Project
Love Birds in a Heart Tree
Supplies
8

x8 stretched canvas

Flat

round and liner paintbrushes

Graphite transfer paper

Pen or stylus

Printable pattern
Americana Dazzling Metallics
Emperor's Gold

Festive Green

Rich Espresso

Festive Red
Instructions
Place graphite transfer paper carefully onto the canvas and place pattern over the top. Use a pen or a stylus to trace over the pattern, transferring it to the canvas.

Use a flat paintbrush to paint the bulk of the tree branches with Rich Espresso.

Use a round paintbrush to paint the thinner branches and the birds with Rich Espresso.

use a round paintbrush to paint the larger hearts with Festive Red.

Use a liner paintbrush to add the smaller hearts with Festive Red.

Use a round paintbrush to add leaves to the tree if you like.

Use liner paintbrush to add a few random hearts with Festive Green and Emperor's Gold.
Latest posts by Amanda Formaro
(see all)