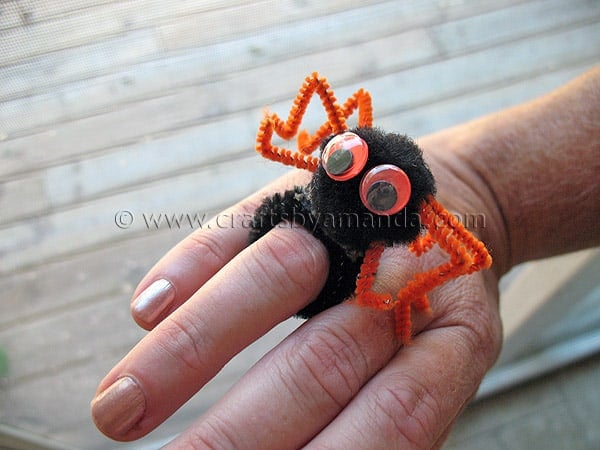 This simple ring is made from chenille stems and a pom-pom. It's easy for kids to make and fun to wear! A great Halloween party project, just pile all the supplies in the middle of the table and let the kids go to town. I used black, but your kids can use any color they want for their spiders!

First you'll cut and bend the chenille legs. Then attach them to the pom-pom. Attach eyes as well.

Then you'll wrap chenille around your finger to make the ring, then glue the spider to the chenille ring!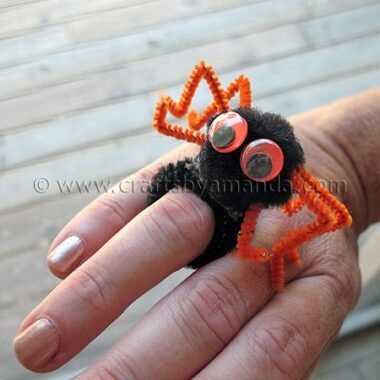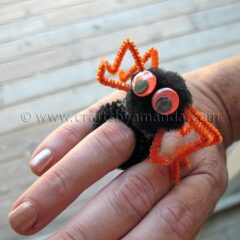 Print Project
Spider Ring
Supplies
1

black chenille stem

1

skinny orange chenille stem

1

medium black pom-pom

2

small orange wiggle eyes

White craft glue

Scissors
Instructions
Glue the wiggle eyes onto the black pom-pom and set aside to dry.

Meanwhile, cut the skinny orange chenille stem in half. Cut each half into three equal pieces; you should have six pieces all together. Cut two of those pieces in half for a grand total of eight (4 long, 4 short).

Bend each of the longer pieces in a 90 degree angle, then bend the bottom of one end just a little to create a foot.

For the smaller pieces, just bend the ends to create a foot.

Glue the legs to the pom-pom and set aside.

Wrap the black chenille stem around the finger you want to wear your ring on. Twist the two ends together. Glue the spider onto the twisted ends to hide them.

Set aside to dry completely.
Expert Tips & FAQs
Colored wiggle eyes are available at your local craft supply store.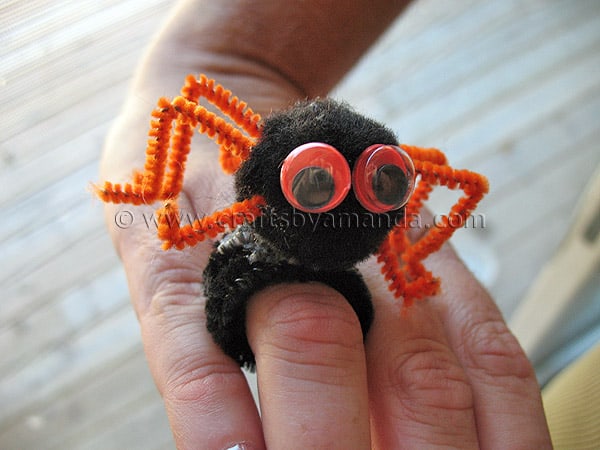 That's it, have fun!

');

Latest posts by Amanda Formaro
(see all)